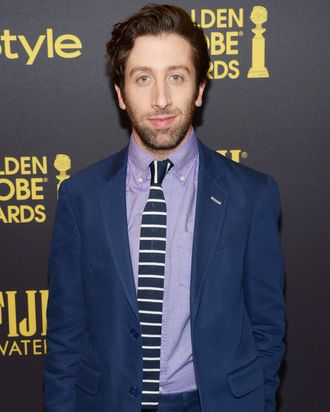 Photo: Matt Winkelmeyer/Getty Images
It might not surprise anyone to learn that Meryl Streep earned yet another Golden Globe nomination for playing the title role in Florence Foster Jenkins — nor, perhaps, that Hugh Grant charmed the Foreign Press Association enough to earn a nomination for his work as well. The news that Simon Helberg, who plays Jenkins's dutiful accompanist Cosmé McMoon, earned a nomination for Best Supporting Actor, however, is much more of a surprise. Vulture caught up with Helberg, still processing the news of his nomination, to talk about the experience of trying on a different kind of character, how he made sense of Jenkins and McMoon's friendship, and what he learned from working with Streep.
What was it like to find out about the nomination this morning?
It was crazy. I knew that they were coming out, but I tried to sort of forget it. I woke up at like 5:12 and I was like, Oh, fuck! They were announced at 5:15 and I got nervous. I was in the bathroom and I got a text, which was a crazy way to find out. I ran and woke my wife up and hugged her. I'm so proud of the movie. All of us – Hugh, Meryl, the film as a whole.
Have you guys all celebrated? I mean, it's great for Meryl — she's also getting the Cecil B. DeMille award
I just got to the Four Seasons and I ran into Hugh about one minute ago. Which is crazy. And this is also the hotel that I met Stephen Frears at for the first time, to talk about the film. It's really cool. It's been a journey. It was a huge undertaking, to take on that part and learn all that music and work with that caliber of talent. There's no better reward.
I imagine you don't have a ton of time off from The Big Bang Theory. What drew you to this?
There's nothing in it that could be more appealing. Stephen Frears is brilliant and has made movies that inspired me for my whole life. He's [made] the most eclectic list of films. I read the script, and then I saw Meryl's name on an email — that didn't hurt. But it was a tight schedule; I finished Big Bang and I went over to England a couple days later for rehearsing. I prepared for about four months, learning the music and the world and the character. I did a lot of work in my dressing room during Big Bang. I had to isolate myself in a little apartment to have a little alone time.
So much of Cosme is sort of responding to Florence and getting a little fed up, but also being drawn to her. What do you figure keeps him with her?
There was a lot in the actual situation that lent itself beautifully to the character — simultaneous awe and shock and gob-smackery and all the things that you would feel when you're in a room with Meryl, completely out of your comfort zone, playing classical music. I looked for the purity and the joy. Ultimately, what keeps him with her, rooting for her, is the celebration of the doing. Not necessarily how it's done. It's a journey: There are moments of career-mindedness that are quickly overtaken by loyalty, and then just the love of music, at the end of it all. And then I'm just watching Meryl do her thing.
Was there any specific thing you learned from her?
Surprise is a huge element in acting. Allowing yourself to be surprised, to do all this preparation and then go into the room with the cameras and live in that moment — she has an ability to live onscreen like nobody else. So we just listened to each other.
In Cosme, you're playing a real person who kind of faded to obscurity. There are these hints about his obsession with body-building, and possibly his sexuality. How did you come to terms with what might be true about his character without actually getting to know?
The script is a big part of it: There are a lot of insinuations of what his sexuality is, why he likes to look at men lifting weights. We're meeting him at a moment of discovery in his life: his career, his passions, his hobbies, his sexuality, all of these things. There's not a lot of known information about him, so I used the script, my imagination, and then just playing with everyone in the film.
One last thing. Big Bang Theory has gotten recognition on TV, but what has it been like to take a detour into film?
Different mediums, different characters. Luckily, it's different enough that a lot of people didn't recognize me in this. That's a good sign. I'm happy to try on as many characters as I can.
This interview has been edited and condensed.