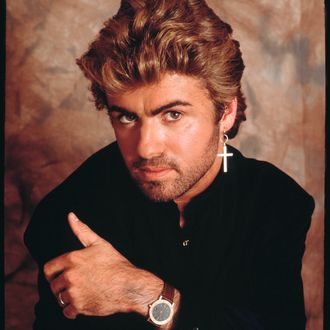 Photo: Michael Putland/Getty Images
Former Wham! member, gifted songwriter, and solo artist George Michael is dead at 53, according to a statement from his publicist. "It is with great sadness that we can confirm our beloved son, brother and friend George passed away peacefully at home over the Christmas period," the singer's rep told BBC news. Michael's boyfriend Fadi Fawaz said he discovered the singer unresponsive in his bed when he came to pick him up for a Christmas lunch; Michael's manager, Michael Lippman, has stated that the cause of death was "unexpected" heart failure and no foul play is suspected.
The British star formed Wham! with his friend Andrew Ridgeley in 1981; the group went on to produce pop hits like "Wake Me Up Before You Go-Go" and "Everything She Wants" and made Michael into a teen idol. As his time with Wham! ended and he ventured out as a solo artist, he grew increasingly alienated from the life fame afforded him; he did not appear in music videos for his second solo record, a decision thought unwise in the dawning age of music videos. However, it was also this decision that led to the casting of a bevy of lip syncing supermodels in the video for "Freedom '90." The video would become one of the most recognizable and iconic of the era.
Hits like "Faith" and the then-controversial "I Want Your Sex," followed, bringing him more accolades, including a Grammy win for his duet with Aretha Franklin, "I Knew You Were Waiting (for Me)," and widespread chart success for "Don't Let the Sun Go Down on Me," a duet with Elton John, who remained a lifelong friend. The early 90s saw Michael embroiled in a precedent-setting battle with his record label, Sony, which he said "appears to see artists as little more than software," according to The Guardian. Ultimately, the label won out and Michael and was forced to scrap his next solo album, Listen Without Prejudice Vol 2. 
The success of the 1994 single "Jesus to a Child" concealed its melancholy backstory: he wrote it, and his third solo album, Older, in tribute to his lover Anselmo Feleppa, who had recently died of complications related to AIDS. At the time, Michael had not yet revealed he was gay. In the years to follow, Michael made headlines for personal struggles, including drug arrests and an incident of lewd conduct after which he officially came out. He sent up his arrest — and reclaimed his career — in the 1998 video for "Outside," in which he dressed like a police officer and featured male officers kissed passionately on a rooftop party observed from above, surveillance style. The video made massive strides towards the mainstreaming of gay imagery in pop music at the onset of the late-90s club scene and cemented Michael's iconic status.
Through the late-1990s and early-2000s, Michael released best of albums and, to the surprise of some, re-signed with Sony for a series of releases which charted in Europe. Throughout his later life, he spent much of his time supporting charitable causes and became a vocal supporter of AIDS prevention and gay rights. Later on, much of this work was done quietly (according to a tweet and several media accounts after his death, he recently volunteered anonymously at a homeless shelter).
While Michael's star faded in the last few years of his career, he continued to be a touchstone for culture, a respected and beloved pop music icon, and a pillar of the gay community. His participation in a bit for BBC's anti-poverty charity program Comic Relief helped inspire James Corden's now famous Carpool Karaoke segment, and he recorded a version of Stevie Wonder's "You and I" as a wedding gift for Kate Middleton and Prince William.
At the time of his death, Michael was working on a film called Freedom: George Michael, and he was looking to reissue his 1990 solo record Listen Without Prejudice Vol 1. He died at home in bed, having missed the Christmas Eve church service which he usually attended.
This post has been updated throughout.