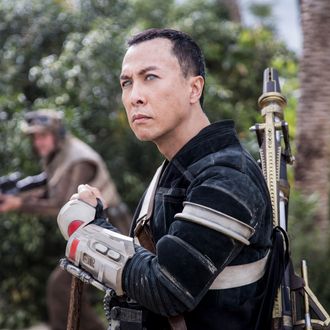 Donnie Yen in Rogue One.
Photo: Jonathan Olley/Lucasfilm
Jedis, take up your lightsabers: There is a threat to your very existence. And no, it isn't Darth Vader; it's the U.K. Charity Commission, which just ruled against a group seeking religious recognition for "Jediism." According to the New York Times, the commission ruled that in their view being a Jedi is, shall we say, more of a personal choice/way of life than it is a religious thing. Which is bad for the Temple of the Jedi Order, as the applying group is known, because approval would have meant eligibility for nonprofit status and tax breaks, among other benefits. The Temple argued that their work furthers "the religion of Jediism, for the public benefit worldwide, in accordance with the Jedi Doctrine," but shot down, their argument was.
Notably, the group includes 177,000 members in the U.K., which is, honestly, quite a lot of Jedi knights for a small cluster of islands. In the end, the commission's counterargument had something to do with Jediism's seeming inability to "promote moral or ethical improvement" in the people of Britain, which seems a little harsh, if you ask us. Might a weary group of charity commissioners, in a moment of weakness, have succumbed to the Dark Side? We'll never know. In the meantime, the members of the Temple of the Jedi Order continue to believe the Force is with them, always.