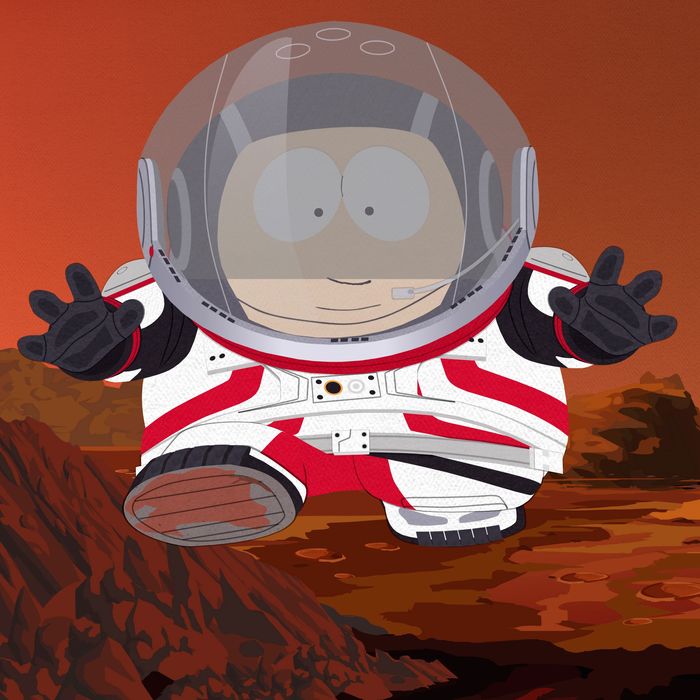 Trey Parker as Cartman.
Photo: Comedy Central
Somewhere near the midpoint of South Park's season finale, it dawns on you: Trey Parker and Matt Stone feel guilty about Donald Trump's election, the only topic really worth exploring on such a satirically minded show. Though they clearly did not intend to do so, South Park may have helped to engender the attitude of trollish behavior that helped a bloviating misogynist to attain the presidency. Parker and Stone must surely realize how many children have learned similar misogyny from Eric Cartman before they understood the ins and outs of satirical comedy, and "The End of Serialization As We Know It" is their attempt to explain themselves. A lot of South Park's denizens would probably be delighted by a Trump presidency — hell, Cartman would probably be one of those terrifying people Heiling at rallies — so Parker and Stone want to save face when it comes to the monstrous culture they may have helped create.
This heavily serialized season wraps up by dovetailing the ongoing TrollTrace plot with the subplot of Cartman and Heidi retreating to Mars so that she won't ever see his scandalizing email history. Cartman's fantasy of a matriarchal society wherein men are harvested for their seed and natural-born superior sense of humor puts enough terror in him that he agrees to ally with the crackerjack effort to shut down the Danish hacking site, but both halves of the episode branch off from the same core concept: that dickishness can be a force for good, that when deployed carefully, it can keep the world honest and deflate hypocrisy. Parker and Stone orient the whole episode, if not the back half of this season, around the crucial concept that South Park's rich legacy of obscenity and gleeful offense should not and cannot be used an excuse for Trumpism. It all comes back to the nobility of pissing people off.
"I wanna stand here and tell you we're different, but that's just not true," avowed troll Gerald tells the Danish political terrorist behind the TrollTrace hack. "All we've been doing is making excuses for horrible people. I don't know if you tried to teach me a lesson, but you have. I have to stand here and look at you, and I see a reflection of myself." These are resonant words, perhaps the most personal that Parker and Stone have allowed this season. They make Gerald their mouthpiece and state in no uncertain terms that satire can also be a force for good, that good intentions are the razor-thin line separating what they do from everyday assholery. That climactic confrontation contains the soul of the episode, where mealy-mouthed semantics arguments — like the Dane's suggestion that "maybe this is, like, the new post-funny era of satire?" — get cut down by a single thunderous declaration. The most cathartic moment of the episode comes when Gerald tosses the cretinous troll into oblivion and bellows, "FUCK YOU! WHAT I DO IS FUCKING FUNNY, BITCH!" It's a phrase that deserves to be painted on banners.
The episode concludes on an uncharacteristically upbeat note, as narration informs us that "Life goes on. The end of civilization didn't happen." In fact, South Park's vision for the future looks pretty utopian: The internet starts back from square one with a fully erased history, a digital equivalent of the economic reboot at the end of Fight Club. The threat of President Garrison has been far from eradicated, as we see him lording over his army of member-berries, but as long as people can treat one another decently, the world as we know it will not collapse into fiery chaos.
In the end, it's the definition of what decency means that gives Parker and Stone their finest punch line. Their idealized America is most assuredly not one where everyone can join hands of all colors and creeds to treat one another with sensitivity. After all, what's the first action taken on this brave new internet? As the old Floridian who accesses Online 2.0 confesses, "Sent him my dick, called him a fag." Parker and Stone want to live in an America where this remains a (mostly) harmless gesture between pals, not a foundation for society-altering hatred. Whether that's still possible has yet to be seen, but this episode valiantly argues for its absolute necessity. Combating our national headlong leap into nihilism, South Park concludes with an impassioned cry that the phrase "suck my dick, assmouth" still has to mean something. Even in a world such as this.