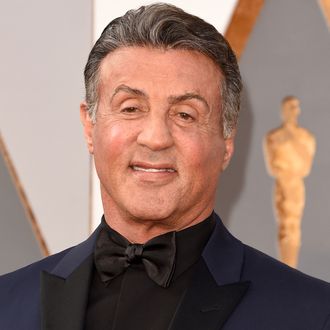 Photo: Getty Images.
Photo: Jason Merritt/Getty Images
Sylvester Stallone might pass on coming on board as a potential Trump hire. After rumors that the president-elect was eyeing Stallone for a National Endowment for the Arts role, the Rocky actor released a statement saying that he's honored his name is floating around, but prefers to focus his efforts elsewhere. The actor said he's "incredibly flattered to have been suggested to be involved with the National Endowment for the Arts (NEA)," but he'd be better suited for a role helping veterans. "I believe I could be more effective by bringing national attention to returning military personnel in an effort to find gainful employment, suitable housing and financial assistance these heroes respectfully deserve," Stallone's statement reads. Did he just apply for a job in Veterans Affairs or is he teasing another Rambo?