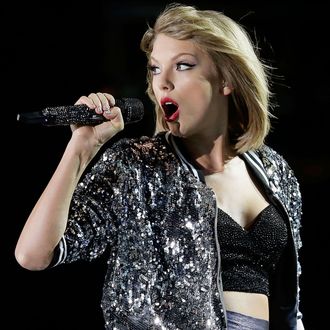 Cause no one lets Dolly down.
Photo: Mark Metcalfe/Getty Images
Following Dolly Parton's generous lead, more country superstars are putting their money back into the heart of Tennessee. Both Taylor Swift and Kenny Chesney have joined the relief efforts to aid the victims of the devastating Smoky Mountains wildfires, which killed 14 people and destroyed thousands of homes and businesses. Swift, who hasn't forgotten her country roots, has offered to match the Academy of Country Music's $100,000 donation to Parton's My People Fund, set up for those who lost their homes in the fires; Swift also donated $1 million to Louisiana flood relief back in August. Chesney, an East Tennessee native, has teamed up with the Country Music Association to collectively donate $500,000 to Parton's fund and help with overall assistance in the affected areas. Other country artists have also pledged to donate their time: Reba McEntire, Alison Krauss, Kenny Rogers, Chris Stapleton, Big & Rich, Chris Young, and more have signed up to perform at Parton's telethon on December 13. Because when Dolly works 9 to 5 for a good cause, everyone else better put in overtime.