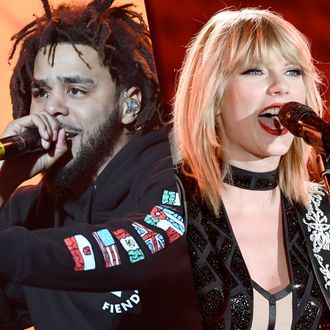 J. Cole and Taylor Swift.
Photo: Getty Images
Even a supposed "break" couldn't keep Taylor Swift off the charts for too long. After more than a year away from the Hot 100 elite, Taylor has begun her inevitable ascent back to reclaim her throne. Her new song with Zayn, "I Don't Wanna Live Forever," for the Fifty Shades Darker soundtrack, has debuted this week at No. 6. But even a mid-range start for the potential earworm — it'll continue to climb now that it's opened up to Spotify and has a video reportedly on the way — is a hit for Taylor. Her only song of the year (not counting the ones she ghostwrote) is now her 20th Top 10 song, making her the sixth woman in Billboard chart history to reach such a career milestone and 16th artist overall. It also extends her lead for the most Top 10 debuts to 13 songs; if it goes No. 1, it'll be her fifth. (Rae Sremmurd's "Black Beatles" has been No. 1 for six weeks and counting.)
J. Cole's new No. 1 album has also given him the biggest hit of his career so far, with "Deja Vu" debuting at No. 7, for his first ever Top 10 song; Cole's previous best was 2012's" Work Out" at No. 13. In fact, all ten 4 Your Eyez Only songs have charted this week, a relatively new phenomenon in the streaming era that's previously happened to Drake and the Weeknd. How one song from an album with virtually no singles and no promotional push for any individual song made it to the Top 10, though, has quite the rap-nerdy backstory: Upon the album's release, many were quick to notice that the beat for "Deja Vu" is the same as the one used on Bryson Tiller's "Exchange," released a year earlier. Vinylz, who produced Cole's version, quickly tweeted that he and Boi-1da created the beat, it was recorded first by Cole, but then the beat was allegedly stolen by another producer named Foreign Teck and given to Tiller. That sparked a chicken or the egg debate about the ethics of beat jacking that spilled over onto all of social media. And where's there's controversy, there's buzz, which likely led to a surge on plays of "Deja Vu" from people looking to spot the similarities (and catch up on the drama, let's be real). "Exchange," by the way, topped out at No. 26. The plot thickens!