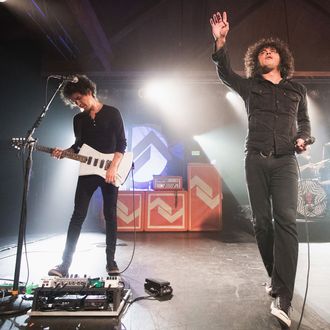 How nice of you to join us.
Photo: Mat Hayward/Getty Images
Following too many reunions, tons of internal miscommunication, and Jon Ward sadly quitting the band, At the Drive-In have decided to stop messing around and officially return with new music. They've released their first song in 16 years, "Governed by Contagions," which seems extra relevant given the current state of affairs. It packs a ton of punch in the form of frantic guitar riffs and Cedric Bixler-Zavala's usual vitriol. The song sounds about as bleak and angry as most of America feels right now, so even though At the Drive-In are 16 years late, they're essentially right on time. Their last release was 2000's highly influential Relationship of Command, but according to the lyric video for the new song, there'll be a new At the Drive-In album in 2017. If they can find a way to also double it up with a new Mars Volta record, this sick world might just be healed after all.