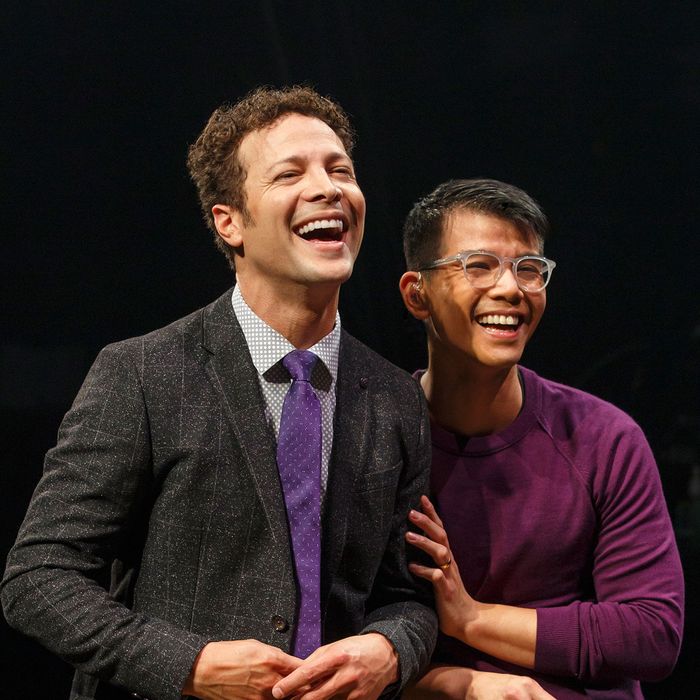 From In Transit, at Circle in the Square.
Photo: Joan Marcus
Maybe an a cappella stage musical could make sense: The sound of unaccompanied voices in tight harmony can be compelling, and the genre has proved successful in the Pitch Perfect movies. A bit less intuitive is the idea of making a musical set mostly in and around the New York subways; the two previous examples I can think of, Subways Are for Sleeping and Happiness, were hardly successes. In any case, milieus are not stories — but let's give that a pass for now. The bigger problem with the new musical In Transit, which opened tonight at Circle in the Square, is that it randomly jams the two gimmicks together and, lacking a more meaningful animating principle, promptly derails.
The subway element would likely have failed in any case: In its specifically underground aspects In Transit is less a musical than a collection of unrelated clichés strung together in the manner of a themed revue. All the expected touchstones, from Dr. Zizmor to Pizza Rat, are here, plus the kinds of commuting characters who would be trite in any form of transportation. Jane (Margo Seibert) is a long-aspiring actress and semipermanent temp finally up for that big Broadway role. ("I do what I don't really do / so I can do what I do do," she sings.) Nate (James Snyder) is a former Master of the Universe who lost everything in a misjudged "Reply All" incident and now can't afford to recharge his MetroCard. Trent and Steven (Justin Guarini and Telly Leung) are a gay couple on the verge of marriage except that Trent isn't out to his fundamentalist mother in Texas. And Ali (Erin Mackey) has recently been dumped by the med-school student she moved to New York for; she's not only unhitched but unhinged. Beyond these five principals, the next layer of characters — colleagues; employers; Texans; and a stony, stink-eyed token-booth clerk — is drawn with even broader brushes.
It took four authors to wield such big brushes: Kristen Anderson-Lopez (the co-author of Frozen), James-Allen Ford, Russ Kaplan, and Sara Wordsworth. Over the many years of the show's development (an earlier version was seen at Primary Stages in 2010) they seem to have recognized the story's structural weakness and to have applied various glues and rubber bands to hold the contraption together. One is a character called Boxman, who alone interacts with all the others; he's a subway beatbox musician and resident Sharer of Wisdom. Another attempted binder is the chain of one-to-one linkages among the rest that gradually reveals itself: Trent is Jane's agent; Ali is Nate's sister, Steven is Ali's friend from an a cappella group at college called Resting Pitch Face. But this trick, too, is a cliché, and not a very well executed one, in part because having a sister or a friend from college in New York is not very surprising, and in part because most members of the cast of 11 play so many characters that you aren't always sure which one is connected to whom. But the larger problem is that the theme with which the authors try to elevate the material is so baggy and banal. The show's characters, you see, are all in transit, heading from one place to another in what the finale calls "this limbo life we live between stations." Which when you think about it is a meaningless category, because it includes everyone always. You could squeeze a lesbian cartoonist or a demon barber into this story without violating its conceptual framework, and you often wish someone had.
The a cappella element is a great deal more successful, even if it's just as random. Credit to the same four authors for some clever lyrics and serviceable melodies, many of them doo-wop in flavor but adapting as needed to the contours of the situation. There's a country-western number for the Texan; a gospel rave-up for the big belty lady (who, more wittily than usual, bellows about the importance of giving up your dreams); and a song in which ice-hockey wingmen and romantic wingmen are tied together in an elaborate metaphor that is not perhaps ideally suited to a Broadway audience. Still, the full backup-band sound produced by Deke Sharon's terrific vocal arrangements raises these numbers to a Broadway-worthy level, and the performances of the ten singers, whether soloing or accompanying, are just as good, under Rick Hip-Flores's literally invisible musical direction. (He conducts entirely by voice, through the performers' earpieces.) No surprise that the finest vocal and acting performance comes from Seibert, who similarly stood out as Adrian in the misbegotten Rocky and is a star waiting for the right material. But if there's a lead role in this show, it's Boxman, played on the night I saw it by Chesney Snow. (Steven "HeaveN" Cantor alternates in the role.) Snow is nothing short of astonishing in his percussion effects, providing, as needed, everything from a pianissimo rattle of maracas to a full symphony of oncoming train. You would think he was a figment of John Doyle's imagination.
I can't square the musical sophistication of In Transit with its narrative hackwork. Kathleen Marshall's staging, with its let's-get-past-it rather than the let's-explore-it approach, doesn't help: It's definitely an express. (Even so, the show is a bit too long at 100 minutes without intermission.) If all of Marshall's cleverness as a director and choreographer goes toward smoothing and polishing the surfaces, perhaps that's because in a cotton-candy musical like this one there's nothing underneath. The cast, for instance, is admirably diverse, yet from the show's portrait you would think that the New York subway in 2016 represented a utopian post-racial environment. Nor is anyone poor, except for one smelly homeless person who is the butt of an obvious joke, and the once-rich white guy who is learning his lesson. Donyale Werle's charming set, with its treadmill tracks and mosaic motifs, gives the MTA a Museum of Transportation gloss, but it made me wonder, as did the show in its entirety: Have you been down there recently? And have you been up here? 
In Transit is at Circle in the Square.