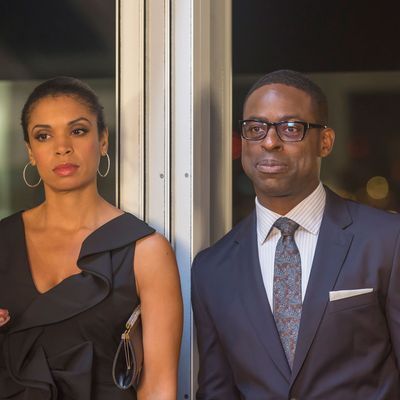 Susan Kelechi Watson as Beth, Sterling K. Brown as Randall.
Photo: Ron Batzdorff/NBC
"Last Christmas" serves as the This Is Us fall finale, so it's fitting that my feelings about this specific episode are more or less the same as my feelings about the series as a whole: The parts are greater than the sum. Don't get me wrong, I look forward to my weekly visits with the Pearson clan — we laugh! We cry! We talk of hats! — but I'm still waiting to fall head over heels in love. Most days, I think I'm only one more heartfelt floor chat away, but episodes like "Last Christmas" have me questioning that theory.
In addition to a look at Christmas Eve in 1989, we meet with each of the Big Three (and William!) individually on Christmas Eve in 2016, until they all come together at Randall and Beth's for a pot-roast dinner, a hilariously bad explanation of the major players at the nativity, and a final montage that leaves us with a big ol' cliffhanger. But instead of weaving story lines together throughout the hour, à la typical TV structure, each character had his or her own vignette, usually one or two scenes that played out in full. In theory, this could work — call it the Game of Thrones formula, if you will — but it doesn't really succeed here. Although each scene is emotionally impactful, the whole thing feels extremely disjointed.
Some stories only needed that one scene. Like William's scene! You guys, William has a never-before-mentioned GREAT LOVE. His name is Jessie, he's played by the wonderful Denis O'Hare, and he's both lovely and damaged, which is really the best combination when you're talking Great Love. After a few minutes in a Narcotics Anonymous meeting, where William learns that Jessie turned back to bad habits after he left without a trace, we get a full read on this very layered relationship. It really is that powerful: All it takes is a conversation and a back rub over a piano, and we've got ourselves some soulmate-level stuff.
Compare that to what goes down with Kate and Rebecca. The mother-daughter duo meet with Kate's gastric-bypass surgeon — on Christmas Eve, for some reason — and Rebecca is horrified to hear that the risks involved with this surgery won't end when the anesthesia wears off. Her daughter's entire life will change. Rebecca also learns Kate's current weight, that she was on Prozac for a hot second, and that she still binges. It's an eye-opening experience for Rebecca, and it later prompts her to ask the thing she dreads: "Did I do this to you?" It's a moving moment, but this relationship needs a much deeper exploration than what's being offered here. In short: What a tease!
At least Kevin gets an enjoyable moment in the holiday sun. His story is predicated on the ridiculous development that Back of an Egg was cancelled because Olivia Maine ran off after Kevin pointed out that she's an empty human shell (dramatic much, Olivia?), but the payoff is still pretty fun. Most of that fun is owed to delightful playwright Sloane (Milana Vayntrub) and her equally delightful family. In a sitcom-y twist (no, seriously, they've done this plot twice on The Man-ny), Sloane forces Kevin to pretend to be her boyfriend for her family's Hanukkah dinner as recompense for ruining her play. Sloane's sister is terrible, her mother is hilarious, and her father is clueless. Let us stay here at this dinner table forever.
There is a point to this whole setup, and it isn't just to let us laugh at Sloane's mother berating Sloane's sister for telling the story of Hanukkah "like it's a hostage video." As Sloane retells the story of the Maccabees and the oil lasting for eight days, Kevin is suddenly inspired. He wants to use his own money to produce Back of an Egg, with Sloane in the role Olivia was meant to play. Kevin and Sloane are the cutest, and I'm positive Olivia Maine is going to show up and ruin everything.
Then we get to Randall's scene. Don't get me wrong, guys: I'm always up for a Jimmi Simpson sighting, but what the hell was this? Here, Jimmi pops up as Andy, a random co-worker who has, much to Beth's chagrin, sold Randall a boat. Since Beth reminds Randall that "this boat is not a boat […] this boat is sadness," Randall sets off to find Andy at the office holiday party and renege on the deal. Yes, this is essentially an attempt to fill the hole in his heart caused by his father's terminal illness and his broken relationship with his mother. As luck would have it, Randall comes across Andy at the exact moment he is preparing to jump off the side of the building after destroying both his marriage (with an affair) and his job (with a string of bad investments). Randall eventually talks Andy off the ledge by reminding him that forgiveness is possible, even if it takes years. He tells Andy everyone has pain, and stresses that Andy has a daughter to think about. Is it nice to watch two talented actors perform a mini-play on a Tuesday evening? Sure. It is a big stretch to connect this scene with the Randall and Rebecca situation or even the "kindness" Dr. K asks little Randall to show another person during the flashback? Yes. Yes. A thousand times yes.
So that's where things stand when our people all gather at Randall and Beth's house on Christmas Eve. It's been a dramatic day, but ultimately a healing one for most of the gang.
Back in 1989, as the Pearson clan comes together when little Kate needs an appendectomy, Rebecca calms everyone down by reminding them that "nothing bad ever happens on Christmas Eve." That statement certainly seems to hold true in 1989 as Kate and Dr. K — whom Rebecca and Jack come across in the hospital after the kindly doc suffers some major internal injuries during a car accident — both come out of their surgeries just fine.
Rebecca's sentiment seems to apply to 2016, as well. Even Toby shows up to make one final declaration — he can live without cookies, but not without Kate — so things are looking up. And by "looking up," I of course mean that they run upstairs to do it. So, Kate is making progress with the things that matter most to her. Kevin is feeling inspired. William is in love. Randall and Rebecca can be in the same room without crying. Everything's coming up Pearson … until the montage. And let's be honest: We all came for the holiday montage.
It starts out as one might imagine: We see this big family spending time together as they sing, play games, and throw things into Randall's mouth. You know, the real heartwarming stuff. It's interspersed with moments from 1989, where the Pearsons become Dr. K's de facto family so he's not alone in the hospital. Then, just when you think you've made it out of the This Is Us fall finale without any major shake-ups, Toby suddenly collapses while clearing plates at the dinner table. The last image we see is Toby having surgery — and judging by the sound of those beeps, it's not going well.
Time to add "nothing bad ever happens on Christmas Eve" to the list of things Rebecca has lied about. Liar!
This Is the Rest:
There were a lot of tear-inducing moments throughout "Last Christmas," but the one that really hit me the hardest was little Randall spending his $20 on a snow globe to give to Dr. K after Jack tells his son that Dr. K was the reason they found him. Little Randall breaks my heart faster than anyone else on this show.
Little Kevin holding his side in pain while little Kate was in surgery was a nice nod to their twintuition.
How can I outright hate BFF Miguel when he loves decorating his front lawn and Douglas Firs that passionately? Stop confusing me, show.
Am I the only one who feels personally offended by the fact that Chrissy Metz and Mandy Moore were in a car with Christmas music playing AND THEY DID NOT SING TOGETHER?!
Beth and Randall Pearson are the next Tami and Eric Taylor. That is my truth, please don't throw things at me.
"William Hill, I loved you and you left. Now I'd like to spend whatever remaining time you have together. Would you?" No big deal, just currently living for William and Jessie.