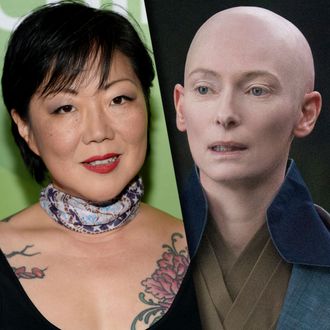 Margaret Cho and Tilda Swinton.
Photo: Getty Images, Marvel
Margaret Cho has been vocal about the erasure of Asian-Americans from Hollywood films, including the casting of Tilda Swinton as the Ancient One, a Tibetan monk, in Marvel's Doctor Strange. Cho led public conversations online about how Asian-Americans are whitewashed in media earlier this year after the controversy erupted, and apparently she also had private conversations with Swinton herself. "Tilda eventually emailed me and she said that she didn't understand why people were so mad about Doctor Strange and she wanted to talk about it, and wanted to get my take on why all the Asian people were mad," Cho tells Bobby Lee on his podcast TigerBelly. "It was so weird."
Lee joked, "You are the president of all Asians: American division." "I don't have a yellow phone under a cake dome!" Cho laughed.
Strangely enough, Swinton initially got into contact with Cho through Alex Bornstein. "She hooked us up. Which is the most ironic," Cho said, referencing Bornstein's infamous Asian-ish nail-salon owner character Ms. Swan during her days on MADtv. "'Is it cool if I give Tilda your number because she wants to talk to you?' And I go all right."
Cho and Swinton had a "long discussion," after which Swinton told Cho not to "tell anybody." "It was a long fight about why the part should not have gone to her. That's what I thought: The part should not have gone to her," said Cho. "We'd fight about it and basically it ended with her saying, 'Well I'm producing a movie and Steven Yeun is starring.'" (This is no doubt a reference to Bong Joon-ho's upcoming film Okja in which Swinton stars with Yeun.)
"Oh, like I have a black friend," Lee joked.
"It was weird because I felt like a house Asian, like I'm her servant," Cho said. "Like the ones when they have in the raj, they would have the house servant who was your confidante … The servant that was close to you. That's sort of what I felt like, like I was following her with an umbrella. I had a weird feeling about the entire exchange, especially the part of Don't tell anybody."
The conversation began because Cho and Lee were talking about navigating an industry where there were no other people like them. "The fact is we're not given roles that are worthy of us," Cho said. "We're constantly having to wade through and do what we can."
Update 5:35 p.m.: A rep for Swinton replied to Vulture's requests for comment by releasing emails that he claims are the only exchanges Swinton has ever had with Cho. Read the emails here.