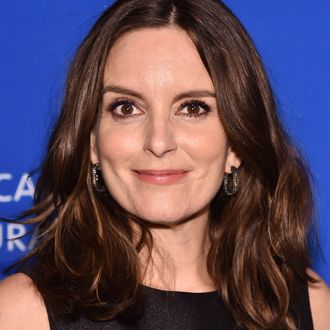 Tina Fey, who is not a propagandist.
Photo: Michael Loccisano/Getty Images
In the wake of the election, Tina Fey would like you to think really hard about Leni Riefenstahl, mostly so that you don't become her. In an interview with David Letterman in The Hollywood Reporter, Fey said that she has been thinking recently, "In a world where the president makes fun of handicapped people and fat people, how do we proceed with dignity? I want to tell people, 'If you do two things this year, watch Idiocracy by Mike Judge and read [Nazi filmmaker] Leni Riefenstahl's 800-page autobiography [Leni Riefenstahl: A Memoir] and then call it a year.'" Riefenstahl, as Fey explains to Letterman, was a brilliant innovator and artist, but she quickly caved to the demands of the Nazi regime, in ways that contemporary artists might give in to Trump's politics. "What she claimed in the book was, 'He was the president, so what was I supposed to do?'" Fey explained, "and I feel a lot of people are going to start rolling that way."
Another way to deal with Trump: Get into some very intense fights with the president-elect on Twitter. Later in the interview, Fey brings up "her friend Mr. Baldwin's" recent spats with Trump over his portrayal of him on SNL. "At one level, it just makes me feel sick for the state of the world because it's so beneath a president," Fey said of those fights. "But also my feeling is: 'You think you're good at being a jerk on Twitter? You will now face the grandmaster of being a jerk on Twitter.'" Too bad 30 Rock didn't embrace the Twitter era. We can only imagine what might spew from Jack Donaghy's account, much less his author page on Medium.