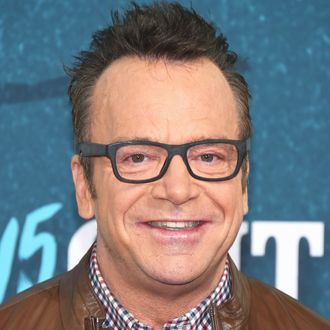 Photo: Getty Images.
Photo: Larry Busacca/Getty Images
Despite the fact that Tom Arnold says he'll never be the one to leak Donald Trump's infamous Apprentice outtakes, the actor confirmed that the footage is indeed as filthy as it's rumored to be. "It was him sitting in that chair saying the N-word, saying the C-word, calling his son a retard, just being so mean to his own children," Arnold told KIRO Radio's Dori Monson, according to The Hollywood Reporter. The comedian says the repugnant mash-up of Trump's worst comments was originally sent to him by Apprentice staffers who thought the supercut would make for a fun holiday gag. "[When] the people sent it to me, it was funny. Hundreds of people have seen these. It was sort of a Christmas video they put together. He wasn't going to be president of the United States," Arnold said, adding that those producers won't ever release the footage because they're afraid of being blacklisted in their industry. No one — including Arnold Schwarzenegger's agent, who asked him — could convince Arnold to leak the tapes, which he said show the president-elect saying "every bad thing ever, every offensive, racist thing ever." Someone get Tom Arnold a Kim Kardashian lesson in Snapchat leaks, stat.