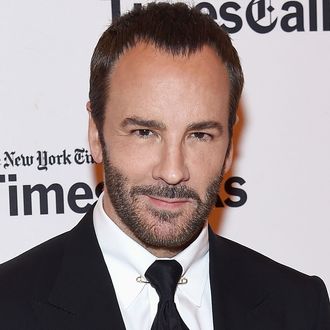 Tom Ford takes a position.
Photo: Jamie McCarthy/Getty Images
Once upon a time, Tom Ford propositioned a heterosexual male magazine writer and professed his belief that men — yes, all men — should experience penetration at least once in their lifetime. "Oh, God, what was I thinking?" Ford says in an interview with GQ about the comment, which he says he meant but didn't mean to say out loud. He elaborated further anyway: "I think it would help them understand women," Ford said. "It's such a vulnerable position to be in, and it's such a passive position to be in. And there's such an invasion, in a way, that even if it's consensual, it's just very personal. And I think there's a psyche that happens because of it that makes you understand and appreciate what women go through their whole life, because it's not just sexual, it's a complete setup of the way the world works, that one sex has the ability to literally — and is expected to and is wanted to — but also there's an invasion. And I think that that's something most men do not understand at all." Bottoms up, guys. Do it for empathy.