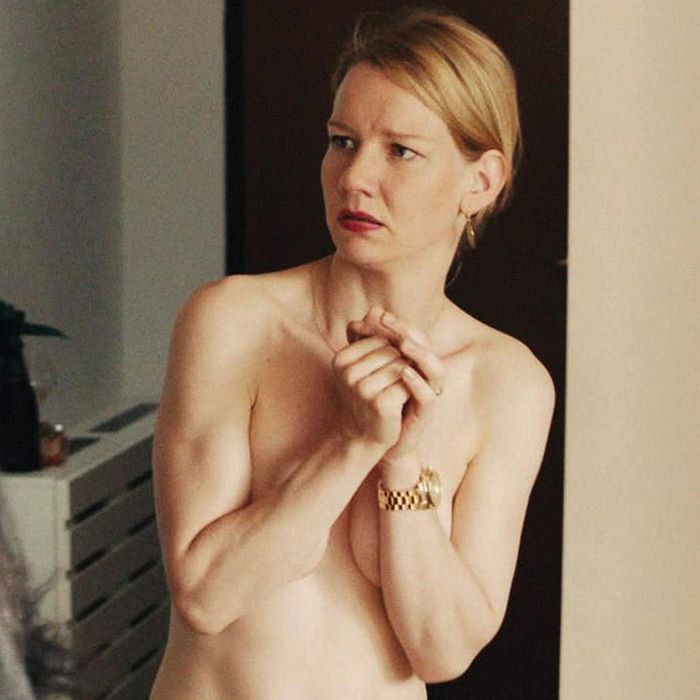 Sandra Hüller in Toni Erdmann.
Photo: Komplizen Film
Much of the digital conversation around cinematic nude scenes generally has to do with sex, and how uncomfortable the actors felt to be naked or nearly naked on set. Did the actress have to get drunk to go through with her sex scene with her very handsome married co-star? Did the fake genitalia used in a scene actually make the actors feel more comfortable being naked? It's naturally difficult for viewers (not to mention the censors) to separate nudity from a sexual context, and there's no movie this year that exploits our discomfort with nudity for comedic effect better than Maren Ade's Toni Erdmann.
The bizarre, meandering, and often uproariously cringeworthy German-language film centers on the relationship between aging prankster father Winifried (Peter Simonischek) and his tightly wound consultant daughter Ines (Sandra Hüller). Hurt by Ines's indifference to his paternal affection and shooed out of her Bucharest apartment after he visits her on a whim, Winifried decides to inject his daughter's joyless life with some fun by infiltrating Ines's work and social circles in Bucharest as a bizarre prankster alter ego, whom he dubs Toni Erdmann.

Much of the film plays out like a strange cat and mouse game of familial button pushing, in which both father and daughter see how far they can go in irritating each other. But somewhere along the way, amid a deluge of presentations and contentious meetings, something in Ines begins to change as she slowly warms to her father's often disastrous but well-meaning attempts at levity.
While a more traditional film about an uptight daughter and her freewheeling father might instead culminate with an argument and a maudlin display of reconciliation, Toni Erdmann's climax, which involves some truly uncomfortable displays of nudity, is far hairier. Exhausted by the demands of her job and her father's pranks, Ines reaches an emotional breaking point while hosting an extravagantly catered birthday brunch for herself. After struggling to get changed into a cocktail dress while the doorbell rings for what seems like hours, Ines breaks: Suddenly, she decides to ditch clothes altogether and answers the door naked.
"She doesn't really have a plan at all," Hüller told Vulture recently while explaining the scene. After telling her smug ex-pat friend, the first to arrive, that nudity is mandatory at the brunch, Ines watches stone-faced as the woman, refusing to strip down, leaves in astonishment. "It's not a decision to make the party a naked party, the decision is to open the door naked and that's the first thing," Hüller continues. "Then she has a lot of [opportunities] to change [course] but she doesn't. She decides over and over again to go one step further." It's a master class in comic escalation.
A few minutes later, the co-workers arrive. Her boss, Gerald, is stunned, and leaves immediately. The jackass she's been hooking up with is convinced it's a prank, and refuses to enter. But her devoted young assistant Anca is so stunned by Ines's conviction that she nervously strips down and joins her inside. Then her boss comes back: He's decided to go through with it, too. In the apartment, he sheepishly covers his penis while trying and failing to make small talk over wine and canapés, utterly perplexed by the fact that he has for some reason agreed to get naked in his underling's living room.
Gerald's reaction underscores what makes this scene so unique. Not only is it hilarious — though it is, and I won't even mention the final comic beat, which is excellent — but it's the rare scene where onscreen nudity (both male and female) isn't used to titillate, but is instead used to underscore the characters' vulnerability and confusion. Taking a page from Toni's playbook, Ines has discovered that she can use performance, in this case the contrast between her steely demeanor and stark nudity, to put others in a compromising position. It's the ultimate power play, and yet while we're used to seeing Ines scheming to get ahead in the corporate world, this stunt, for obvious reasons, is riskier; the only reason she pulls it off is because she acts like she has nothing to lose. In a film that's all about loosening up, it's the freest we ever see her.