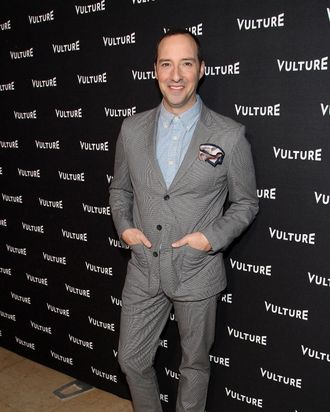 Tony Hale at the Vulture Awards Sseason party.
Photo: Tommaso Boddi/Getty Images for New York Magazine
Veep's parallels with real-world politics have always been uncanny, but during the presidential election they hit a little too close to home. With a Trump administration looming, how prescient will the upcoming season turn out to be? At last night's Vulture Awards Season party at the Sunset Tower Hotel, we asked Tony Hale, who plays feckless personal assistant Gary Walsh to Julia Louis-Dreyfus's Selina Meyer, what might change in the new world order. "Well, we're not gonna be a satire anymore. We're gonna have a political comedy on CNN," Hale joked. He continued:
No, what's fun about my show, which I love, is we take a look at what's happening behind the scenes — it's like the office politics, crazy stuff is always happening. So I think in any administration, there's shit behind the scenes going on all the time, but it just seems like in this administration the shit is going to be a little more on the surface. So we're going to maybe have a little more of a bird's-eye view of what's going on. There might be a lot of parallels happening between Veep and Trump.
What kinds of parallels might those be? "I don't know," Hale said. "What's been scary is sometimes we go crazy and sometimes it happens in the news. 'Continuity with change' was one of Selina's slogans, and then some Australian guy had his slogan as 'Continuity with change.' We're just like, 'What's happening?!' Many times it comes true, so I think our writers are a little afraid of what to write sometimes, because they don't want it to come out."