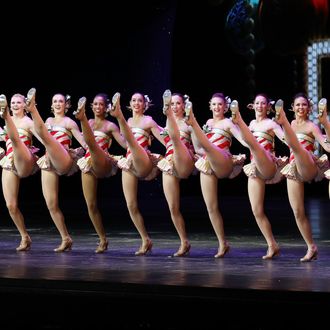 High kick for freedom.
Photo: Monica Schipper/WireImage
Like many an overwhelmed New York tourist, Donald Trump seems to have given up and resorted to the old Radio City standby. In an interview on CNN, Donald Trump adviser Boris Epshteyn announced that the Rockettes, best known for their Radio City Music Hall Christmas Spectacular and for their ability to high-kick with perfect synchronicity, will perform at his inauguration. The Rockettes, who confirmed the news in a statement, will join the Mormon Tabernacle Choir and 16-year-old America's Got Talent runner-up Jackie Evancho (probably not all onstage at once, but who knows?). The list of artists who have turned down the invitation to perform at the ceremony includes Céline Dion, Kiss, Elton John, and many, many more. But even if Trump's had trouble booking those quality performers, given that there are literally dozens of Rockettes, at least he has quantity on his side.