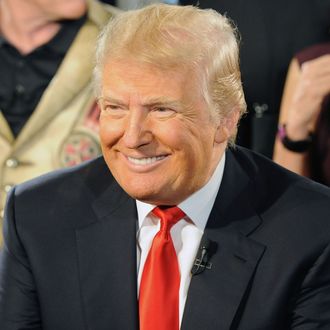 Donald Trump.
Photo: Slaven Vlasic/Getty Images
NBC may have ended its business relationship with Donald Trump last summer, but Trump's name will still linger over NBC's Celebrity Apprentice, even after he assumes the presidency. According to a report from Variety, MGM, which produces the Apprentice series, confirmed that Trump is keeping his executive producer credit on the series when it returns this January with new host Arnold Schwarzenegger. Trump's name will appear between that of Apprentice creator Mark Burnett and new host Schwarzenegger, who is an executive producer, in the credits. NBC hasn't commented on the news, and it's unclear at this moment whether, and how much, Trump will be paid for the series. Variety estimates that his per-episode fee, which would be paid through MGM, is in the "low five-figures, at minimum," and notes that NBC has ordered eight episodes of The New Celebrity Apprentice. Trump is also a profit participant in the Apprentice franchise, which is sold as a format around the world. "Mr. Trump has a big stake in the show and conceived of it with [executive producer] Mark Burnett," Trump's press secretary Hope Hicks told Politico. In a response to a question about royalties from the show, she added, "Additional details regarding his business interests will be shared December 15th."
As Variety notes, previous presidents have published books in office, so there is some precedent for the commander-in-chief to earn royalties while in office. Still, Trump's continued relationship with a large broadcasting corporation like NBC, if only in name alone, raises a dizzying number of potential conflicts of interest for his presidency. So too does his continued relationship with Burnett, who continues to be actively involved in producing the series. Burnett, along with MGM, has resisted calls to release footage of Trump on the set of The Apprentice that some have speculated could reveal actions and opinions akin to the endorsement and description of sexual harassment that came to light in Access Hollywood tapes that leaked in October. After that incident, Burnett disavowed the "the hatred, division, and misogyny that has been a very unfortunate part of [Trump's] campaign." Now, according to several reports, Burnett is actively involved in planning Trump's inauguration festivities.