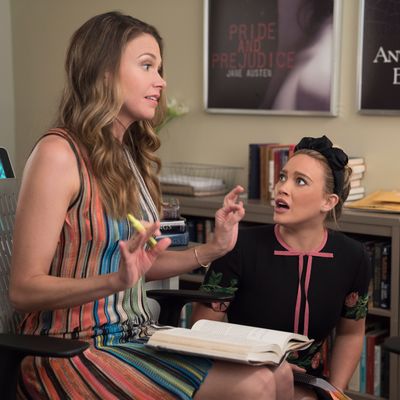 "Younger" (Airs 11/2 at 10pm ET/PT)
Photo: TV Land
Television struggles with how to represent the publishing industry onscreen. Need we remind you of the great Gilmore Girls debacle of 2016? But one series that seems to be getting it right is the charming TV Land show Younger, starring Sutton Foster and Hilary Duff as editors at a respected publishing house. Yes, Younger — which aired its season-three finale Wednesday night — is a very silly show about a 40-year-old woman lying to people about her age, but the truest aspect of the series is its representation of the book world. The literary jokes, the name-dropping of authors, the casual mentions of influential critics. To prove this point, we've compiled every literary reference made on the show. Get yourself a Tequila Mockingbird cocktail and enjoy.
SEASON ONE
Episode One
Lena Dunham
"My eat, pray, endure chronic diarrhea phase"
Katniss Everdeen
Jane Austen
J.K. Rowling
Stephanie Meyer
Jennifer Weiner
Episode Two
Joyce Carol Oates
Sue Grafton
Michiko Kukatani
The New York Times
Karl Ove Knausgård. The show references him with a fake author, Anton Bjornberg. 
The Goldfinch
Knopf
Episode Three
You've Got Mail
"Fair Verona"
Episode Five
Chinua Achebe
London Book Fair
Things Fall Apart
No Longer at Ease
Chimamanda Ngozi Adichie
Americanah
Tequila Mockingbird cocktail
Bridget Jones Daquiris cocktail
Episode Six
The show alludes to Candace Bushnell with a fake author, Annabell Bancroft (played by the incredible Jane Krakwoski) who has books with titles like She-donism, Man-hattan, and Goldman Sex.
Jay McInerney
F. Scott Fitzgerald
Episode Seven
PEN awards
Knopf
Philip Roth
Kurt Vonnegut
Jonathan Franzen
Episode Nine
Leo Tolstoy
The slush pile, a stack of unread manuscripts in  a publisher's office
A fake book titled The Scarf is written by an author played by Ana Gasteyer, who ripped the idea off another fake book titled The Babushka.
Japanese manga
Fifty Shades of Grey
The Handmaid's Tale
Margarita Atwood cocktails
Winter's Bone
Sisterhood of the Traveling Pants
The Alchemist
Goodreads
Episode Ten
Kathryn Stockett, The Help
Episode 11
The gorgeous Nadia Dajani makes an appearance as a fictional author Megyn Vernoff who writes New Tricks, about a woman in her 40s getting her sex drive back.
Episode 12
Mention of a fake Ellen DeGeneres memoir
Tina Fey, Bossypants
Gawker
SEASON TWO
Episode One
A joke is made about Tumblrs being turned into books, which, yes, does happen.
J.D. Salinger
Bobby Flay cookbook
Little Brown
Episode Two
Hachette
John Green is honored with a fake author named Rob Olive who writes books like Hashtag I'm Dying.
Sick-lit
The Fault in Our Stars
Galleycat, a blog about the publishing industry.
Lauren Hillenbrand
Seabiscuit
Unbroken
Episode Three
Richard Russo
Katie Lee cookbook
Elizabeth Warren autobiography
Ballantine Books
The Book Ninja, a website that guides authors through the world of book publishing
The Bechdel test 
Harper Collins
Episode Four
A tribute is made to infamous beauty blogger turned author Cat Marnell with the fictional Jade Winslow
The Jungle
The Devil Wears Prada
Vagina Monologues
Scribner
Vulture, world-renowned pop-culture site
The New Yorker. When referencing an article of theirs Sutton Foster's character says "They shouted and murmured the crap out of it."
Joan Didion
Jennifer Weiner
Episode Five
Books seen around the office by Janet Evanovich, Whitley Strieber
Hemingway
Episode Six
A fictional publisher called Achilles
The Feminine Mystique
Betty Friedan
92nd Street Y
"Condé Nasties," a not-at-all gendered term for people who work at Condé Nast
"Hearst circle jerks," a graphic description of the employees at the magazine company
"Marie Claire enema retreat." We're really hoping this is a fictional event at the famed women's magazine.
The Cut, widely loved women's lifestyle site
Episode Seven
By the Book, a column in the New York Times 
Cat Fancy
Leo Tolstoy
Thomas Pynchon
David Hume
Agatha Christie
Dashiell Hammett
Infinite Jest
Colson Whitehead
Tina Fey
Doris Kearns Goodwin
Rick James
Blue Stockings, local NYC bookstore
To Kill a Mockingbird
The Hulk
Robert Louis Stevenson
Dr. Jekyll and Mr. Hyde
Freedom
Jonathan Franzen
Episode Eight
T Magazine
Camryn Manheim appears on the show to play the fictional author, Dr. Wray who writes a self-help book for millennials called The Deciding Decade.
Philippa Gregory
Gawker
Episode Nine
Matthew Morrison cameos as the farmer turned author Sebastian who later — spoiler alert — has sex with a sheep.
Walden
Thoreau
A Year in Provence
Dennis Hastert
Episode Ten
"Page Six"
Angela Lansbury
Lean In
Episode 11
In Younger's silliest reference, an author named Edward L.L. Moore appears who writes a fantasy series called Crown of Kings. George R.R. Martin is counting his money somewhere.
Good Morning America
The Today show
Amy Schumer
Seth Meyers, Ice T, Misty Copeland, Diane Rehm, and Terry Gross all turn out to be fans of Edward L.L. Moore.
Amazon
Episode 12
Books around the office: His Bright Light, Edible America
Fictional author Stephanie Smith joins the company with a book called The Zodiac of Love. Perhaps an homage to astrologer Susan Miller?
Interview magazine
Random House
Little Brown
Scribner
SEASON THREE
Episode One
In a very on-trend tribute, a Marie Kondo–like author, Kiko Kagami publishes a book titled Blissful Living.
Kathie Lee and Hoda
Episode Two
BuzzFeed
Refinery29
The Ellen DeGeneres Show
A fake book called P is for Pigeon is mentioned, which gives us serious Ann Patchett vibes.
Anthony Lane of The New Yorker
Twilight
Episode Three
Bloody Mary Shelley cocktail
Borders
The printing press
The New York Times "Business" section
Episode Four
Warsan Shire
Many jokes are made about YouTube stars getting book deals, which, yes, does happen.
The Iowa Writers' Workshop
A fictional historical novel is pitched about Theodora, the Byzantine empress.
Doris Kearns Goodwin
Episode Five
The Shire
The New York Times "Fashion & Style" section
Vice
Cormac McCarthy
The Lion, the Witch, and the Wardrobe
The Great Gatsby
The Man Booker prize
Don Quixote
F. Scott Fitzgerald
Episode Six
"The time has come the walrus said."
The fictional Edward L.L Moore returns, this time writing under the female nom de plume, Aubrey Alexis. He refuses to appear in public, reminiscent of Elena Ferrante.
Young Lions, a membership group of the New York Public Library
Nancy Drew
Lena Dunham's new imprint
J.K. Rowling
Episode Seven
The Approval Matrix, a New York institution
BuzzFeed
Cosmopolitan
The Hollywood Reporter
The Today show
Charlie Rose
Elizabeth Gilbert
Vulture (we're blushing)
Jezebel
Gillian Flynn
Sarah Silverman
Tavi Gevinson
Gwyneth Paltrow
Jerusalem cookbook
Goop
The New School
Rachel Kushner
Daphne Merkin
Eve Ensler
Gawker
Lena Dunham
Toni Morrison
The New Yorker Page-Turner blog
The New Yorker "Talk of the Town" section
John Keats and Fanny Brawne
Episode Eight
Infinite Jest
Episode Nine
Bonfire of the Vanities
Entertainment Weekly
Jess Cagle
Scott Rudin, Hollywood producer known for adaption books into film
Random House
Episode 10
The Paris Review
Jack Kerouac
Philip Roth
The PEN awards
The National Book Awards
The Met Gala
Random House
Frankfurt and London Book Fairs
Reach Out and Read non-profit organization
The very fake Hamptons Book Fair
Episode 11
Simon & Schuster
Entertainment Weekly
Random House
The Bridgehampton Library
Mary Higgins Clark
John Irving
A fictional photographer named Amy Lynne Stone appears who reminds us of an Annie Leibovitz type.
The New York Times best-sellers list
Episode 12
A Sheryl Sandberg–style motivational speaker named Antonia Stewart gives a Lean In–esque fake TED talk called Get Real.
A book gets a Netflix adaptation.