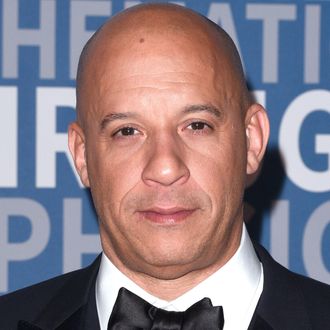 Vin Diesel.
Photo: C Flanigan/FilmMagic
When an actor releases a new film, they're usually required to go on some sort of massive press tour or junket to promote it. It's not always fun, of course, and certain coping skills are required. Actors and filmmakers have been known to do pranks, storm off, or otherwise derail things. But rarely is it that harassing the interviewer is a coping method of choice; that is, until Vin Diesel decided to do just that to a Brazilian interviewer during his press tour for his new film xXx: Return of Xander Cage, which is about to be released in Brazil.
In a video posted to Facebook, Diesel is shown interrupting, hitting on, and making extremely uncomfortable Brazilian interviewer and YouTuber Carol Moreira. Variety reports that Diesel began his harassment when talking about 1998's Saving Private Ryan, calling Moreira "so beautiful" and continued to do so throughout the interview, culminating in his asking her to lunch. Moreira was not amused, but had to power through because she was doing her job, dammit. "I just laughed because it was a very delicate situation," Moreira said. "I did not like it." We don't blame you. Coping with junket drudgery is one thing; harassment is another entirely.