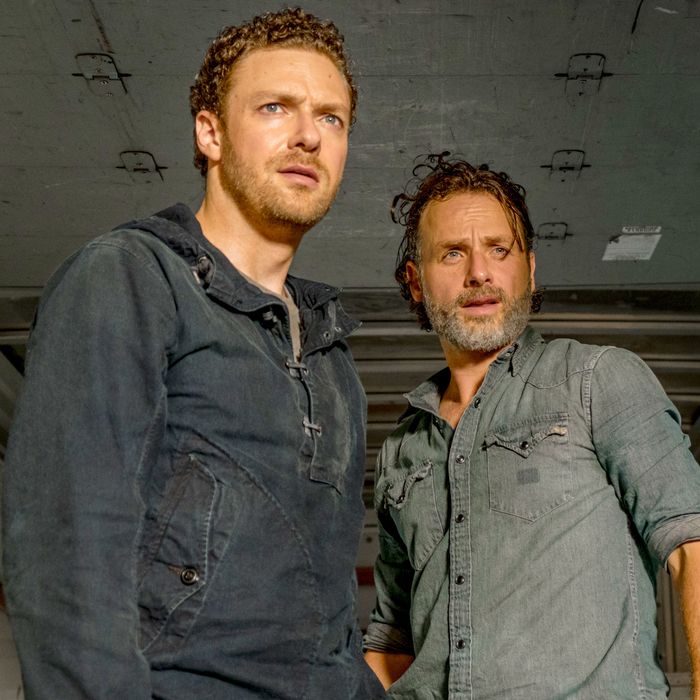 L-R: Ross Marquand as Aaron, Andrew Lincoln as Rick Grimes.
Photo: Gene Page/AMC
It turns out not even the zombies of The Walking Dead are immune to the ratings-shrinking virus that has hit just about every veteran show on TV this fall. First, the good news for AMC: The network's long-running megahit wrapped up the first half of its seventh season Sunday with Nielsen numbers for which just about any show on TV would kill: specifically, 10.6 million same-day viewers and a 5.1 rating among the advertiser-preferred audience of adults under 50. That's about double the same-day demographic performance of NBC's red-hot This Is Us or Fox's faded but still mighty Empire. But impressive as these numbers are compared to TWD's small-screen rivals, relative to the show's own recent performance, it marks a fairly notable decline — one that is not limited to the mid-season finale.
Exact comparisons between the 2016 and 2015 winter wrap-ups are a bit difficult since Sunday's episode ran 90 minutes and competed against what appears to be the top-rated Sunday Night Football game of the season, while last year's was limited to an hour. Still, TWD's season-six mid-season finale, airing on Nov. 30, 2015, pulled in 14 million viewers and notched a 7.0 demo rating. That puts the year-to-year decline in same-day ratings at a tad north of 25 percent. It's worth noting that when Nielsen releases its first batch of time shifting (when one records a TV show for later viewing) data Friday, TWD will likely see its audience increase between 40 and 50 percent, rising to around 15 million viewers and at least a 7.0 demo rating. TWD has also been doing much better than usual in DVR-adjusted ratings recently, suggesting the show will surge even more for its finale. But considering last winter's finale averaged 18.3 million viewers and a 9.3 rating after these so-called "L+3" adjusted ratings were factored in, even a historic DVR bump will likely leave TWD down about 20 percent year to year.
The finale isn't the only TWD episode to take a ratings hit compared to recent seasons. After the near record-setting season opener and a strong second installment the following week, the other six episodes of the show this season all have delivered the lowest same-day fall numbers TWD has seen since 2013, when the series was still in growth mode. Time shifting and what AMC says is a surge in video on-demand viewership has erased some of the deficit, particularly in key demographic groups. And when you factor in that big season-premiere surge, the overall decline for TWD this fall isn't nearly as dramatic. Through the end of November, the show's audience this season among adults aged 25 to 54 — another demographic targeted by AMC — was down a modest 9 percent versus last fall. That's on par with other big long-running hits such as NCIS (-13 percent) or Criminal Minds (-15 percent) and much better than veterans such as Once Upon a Time (-25 percent) or Elementary (-27 percent). In other words, while TWD is showing some serious signs of audience erosion, most established shows on TV are suffering similar shrinkage.
This is not to dismiss the show's ratings declines as meaningless. For one thing, the audience decline happens to coincide with an unusually loud chorus of complaints surrounding the show's story line this season. In fairness, people have been bemoaning the quality of TWD almost from the show's start, so to an extent, this is nothing new. But in past years, the nattering nabobs of negativity mattered little given the show's surging ratings. If TWD's ratings momentum has finally stalled — or even reversed — AMC execs and producers may have to start considering whether some of the show's Nielsen decline is the result of a significant number of viewers simply rejecting the creative direction of the series. It's easy enough in 2016 to chalk up falling ratings to the general shift away from traditional, linear viewing of TV. No doubt many of the millions who didn't watch TWD on Sundays this fall, or even within a few days of each episode airing, may yet catch up via holiday binges or even months from now via Netflix. Plus, let's be real: Even at diminished levels, The Walking Dead remains a ratings powerhouse, and one that is churning out tens of millions in profits for AMC (particularly when you count the success of spinoff Fear the Walking Dead and the easy money earned by companion talk show Talking Dead). Nobody at the network needs to start stockpiling supplies for a coming Nielsen apocalypse. And yet when a show loses a quarter of its same-day audience within the space of a year, it's never a good thing. AMC doesn't need to panic, but doing nothing doesn't seem like a good option, either.