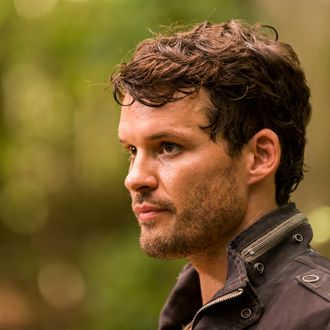 Photo: Gene Page/AMC/© 2016 AMC Film Holdings LLC. All Rights Reserved.
Spoilers ahead for the season-seven mid-season finale of The Walking Dead.
Another episode, another death. The mid-season finale of The Walking Dead saw off Spencer, who tried to make a backroom deal with Negan to replace Rick as the head of Alexandria, only for everything to go splat all over the sidewalk. Instead of respecting the move, Negan accuses Spencer of being cowardly and rips his guts out. Throughout the season, Spencer has played the naysayer in Rick's group, nitpicking his decisions and pouting over the fact that Rick took over from his mother, Deanna. Well, it turns out actor Austin Nichols shares your sentiments about sad, beautiful Spencer.
"It sucks," Nichols said of his character's behavior on The Talking Dead on Sunday night. "I spent a lot of time trying to figure out why Spencer is doing the things he's doing, I spent a lot of time trying to come up with a backstory and make things work for me. For two years, I've been drinking my own Kool-Aid and trying to believe in what I'm doing. As soon as I finished this season, I left Atlanta and I started watching the show as it aired and I went, That guy's a douchebag." Not untrue!
As for that gnarly death scene, Nichols said that he and Jeffrey Dean Morgan, who plays Negan, pulled it off in one take. "They had to build this chest plate, because Jeffrey had to stab me with a razor blade," said Nichols. "I was really frightened in the scene because I was literally scared that he was going to get through the chest plate and actually stab me. He has to get into the blood and gut bag, rip it open. It has to all work or else the gag doesn't work." Showrunner Robert Kirkman jumped in to add, "It was very safe, for the record."
"Jeffrey nailed it. He nailed the spot; it all fell out perfectly," Nichols said. "I'm proud of my death. I'm lucky to have such a great death. I'm glad it wasn't a walker in the woods, and it was Negan. It was badass." As Negan would probably say, no guts, no glory.