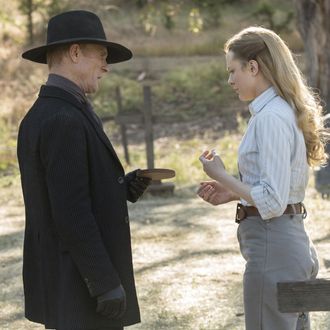 Spoilers ahead for season one of Westworld.
Just like Ringo Starr, all Westworld fans had was a photograph. But unlike Ringo Starr, they used that photograph as a launching pad into a massive internet Easter egg hunt, which somehow ended at a contestant on America's Next Top Model. But before we get to discussing whether Tyra Banks might be a robot — or, more likely, whether Rita Ora might be one — let's start at the beginning of this goose chase. As with many Westworld theories, this one begins with a small piece of ephemera: In the first episode, Peter Abernathy (Louis Herthum), Dolores's father, picks up a mysterious photo in the dirt, which shows a woman standing in front of Times Square. It drives him crazy, which is odd, because the hosts aren't supposed to respond to anything from the real world. Later in the season, we learn that this was a picture of Juliet, William's fiancée, which means she's also the Man in Black's dead wife.
The good (for the most part) people of Reddit took that photo and ran with it, hoping to find a trail of clues left by creators Jonathan Nolan and Lisa Joy's design for the series. Could Times Square really look the same in the Westworld universe? Who was this woman in the first place? Eventually, one Reddit user discovered that the photo was a stock photo from Getty Images. The photo happened to be taken by a photographer named Erik Von Weber, which has led to some speculation about whether there could be a connection between him and the fictional Westworld designer Arnold Weber — hey, Westworld hid a twist in an anagram; it's possible!
Anyway, the big news from this whole investigation came when Twitter user Anna Hulkower figured out that the woman in the photo was Claire Unabia, who was a contestant on cycle ten of America's Next Top Model. Unabia told the Huffington Post that she had no idea that her photo was used for the TV show, which means we probably won't get to see more of Juliet in the next season. Unless, of course, this is all one big misdirect … (C'mon, it isn't. People aren't that good at hiding things.) Thank you Internet for finding me on #WestWorld 😆 Apparently I am Juliet the deceased wife of the psycho Man in Black #EdHarris Score! Found out when a #HuffingtonPost Journalist contacted me. • •#bingewatching it soon. #hbo • •#impossiblecasting #toomanypicsofmyself out there in the world. #modernworld #timessquare #surreallife