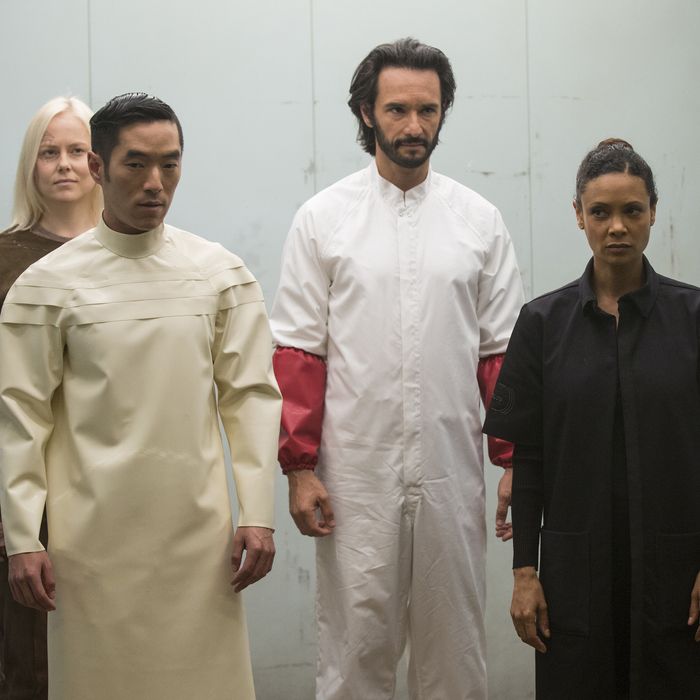 It took three years, upwards of $100 million in start-up costs, and one halt in production, but HBO's Westworld ended its first season on Sunday as what's arguably the network's most successful drama launch since Game of Thrones. It's not just that the ratings for the J.J. Abrams–produced fantasy thriller have been strong, though with each episode pulling in an average audience of nearly 12 million viewers across multiple platforms, HBO execs are extremely satisfied. Westworld also worked because it managed to generate intense and sustained buzz throughout the fall, despite facing off against the return of AMC's behemoth The Walking Dead and the usual slew of broadcast network fall premieres. Much the way Netflix's Stranger Things dominated the pop-culture discussion over the summer, Westworld broke through fall's TV clutter in a big way, so much so that the writers of Saturday Night Live felt comfortable using its plot as a punch line. One season does not guarantee long-term success, but for now, Westworld is a big (and much-needed) win for HBO — one made all the sweeter by the fact that many in Hollywood were convinced the show was destined to be a massive misfire.
The pre-launch skepticism surrounding the prospects for Westworld was mostly a function of its long and often messy journey from script to screen. HBO began development on the show all the way back in August 2013, initially ordering a pilot and then picking the project up to series in 2014.  Originally anticipating a 2015 debut, the network included the show in its Comic-Con and TV Critics Association press tour presentations that year, and even teased a 2015 launch via Vine. But as has been previously reported, HBO had to shut down production on Westworld for two months last winter in order to give producers Lisa Joy and Jonathan Nolan time to get a better grasp on what they wanted the show to be. Even though such hiatuses aren't all that unusual, particularly for ambitious projects with big budgets, they also inevitably lead to chatter that a series is "troubled" or that producers are struggling to get a handle on a show's creative direction. In the case of Westworld, it appears the latter description fit. Nolan and Joy "knew where they were headed, but they needed the time to put it all together," one person familiar with the details of the shutdown tells Vulture. "When people say they need the time, it's usually bullshit. But they literally did need the time."
According to sources, the problem for the producers was that, unlike Game of Thrones or True Blood, there wasn't a preexisting series of books on which to lean in shaping the show — just a couple of 40-year-old movies. "They had to world-build, and there was more world-building than they realized in terms of the narrative," our insider says. The shutdown was about "taking some time to gather their thoughts about where it was headed … It was a bit of a regroup and putting a puzzle together."
Still, talk of "chaos" on Westworld was also amplified by what was going on behind the scenes at HBO at the same time the series was taking its production hiatus. HBO drama chief Michael Ellenberg was pushed out of his gig in January, just as news of the Westworld break hit the TV industry trades. And a few months later, HBO programming president Michael Lombardo would also suffer a sudden departure from the network. It would be a stretch to suggest that these exits were directly the result of any problems with Westworld, but their timing certainly fed the notion, fairly or not, that both the show and the network were struggling. It also didn't help that HBO's nearly as ambitious Vinyl had gone down in flames just months earlier.
Of course, had viewers rejected Westworld, it's almost certain what is now being chalked up to "growing pains" would have been cited as an insurmountable problem that led to failure. Instead, while critical and audience response to the show's first season hasn't been unanimously positive, the freshman year grades have on the whole been very positive. Most high-profile new shows tend to score their biggest same-day ratings with their premiere episode, then slowly lose ground over the course of a season. But save for a bit of a dip around the time of the return of The Walking Dead, Westworld saw small but steady gains over the course of its first nine episodes. (Nielsen numbers aren't expected to be available until Tuesday.) More impressive is how the series is performing across various HBO platforms, including streaming and on-demand. So far, HBO estimates the series is averaging 11.7 million multi-platform viewers, a number network insiders expect will tick up to 12 million or more once audiences who prefer to binge entire seasons catch up in the next few weeks. Should that happen, Westworld will surpass True Detective's season-one audience and end up with the biggest viewership of any HBO first-year series ever.
Already, Westworld is doing much better than the most recent seasons of established HBO hits such as Ballers (7.1 million) or Silicon Valley (6.8 million), and it has easily surpassed the network's successful summer mini-series The Night Of (8.2 million.) And Kevin Tsujihara, CEO of HBO parent Warner Bros. Entertainment, last week told a media industry conference he's getting Game of Thrones vibes from the season-one numbers for the network's newest drama. "I am really, really excited about the opportunity that we potentially have with Westworld," the exec said.  "If you look at the viewer data on Westworld, its first-year viewing on all platforms is greater than Game of Thrones … I am not saying it's going to be Game of Thrones. But it gives you a context of where it sits this first year that just finished."
While Westworld's ratings success has been evident since its strong premiere numbers, new HBO chief Casey Bloys took his time making a decision about a second season. TV industry sources have suggested the show's high price tag — an estimated $100 million per season — and concerns over whether Nolan and Joy had a firm grasp on the show's creative direction caused the network to think hard before pulling the trigger on a renewal. In an interview with Vulture late last week, Bloys admitted to exercising a bit of caution before deciding. "This is a big show, financially and creatively, for us. I wanted to make sure it didn't start strong and fall off," Bloys said. "I wanted to make sure that what we had here was really working." In the end, Bloys says Westworld "fully met my expectations," and then some. "The nice thing about Westworld is, it's a broad-based hit," he explains.  "It's an audience hit. Critical reception is good. The fan interaction is good. It's hitting a number of metrics where one of the above would make me happy. The fact that it is doing all of these things is great."
But while he acknowledges that he didn't rush to renew Westworld after one or two episodes, as the network has often done in the past, Bloys — who only became involved in supervising production of the show in January, when production on half the episodes had been completed* — dismissed TV industry talk that has suggested he asked Nolan and Joy to come up with outlines for every episode of season two before he committed to a renewal. "I wanted to make sure I had as much information as possible … and part of that included Jonah and Lisa being excited about where they wanted to go for this next season," he says. "It wasn't outlines for every episode, they pitched out the entire second season. They know where they want to take it … They have a very, very detailed understanding of where they're going, and now, so do I."
Bloys also remains committed to giving Westworld's creative team all the time and money they need to make the show work. While he wouldn't confirm the $10 million-per-episode price tag that's been attached to the series, he admitted the ambition of the concept made it more expensive to produce. "You've got a big world here," he says. "And it's half period, which is always [expensive]. And when those characters have their story lines, they're in different places. You need more shooting days in order to put the episode together. For a show that is this big, you're going to pay for it." Similarly, the complex nature of the Westworld plotlines, and the need for the producer to juggle so many creative balls, means Bloys has all but ruled out Westworld coming back next fall. "I think it'll probably [return] in 2018," he says, adding he hopes the season-two premiere will be in "the first half" of 2018. "I'd like to get it on as soon as possible, but for a show of this scope, the most important thing is getting the best version of the show on the air. If it takes some time, we'll take some time." Bloys points to Westworld's now-famous origin story, including the production hiatus, as a reason for patience. While delaying the series resulted in a temporary bout of negative press, "what's nice about how this story turned out is, it paid off," he says. "Taking the time, giving them the room and whatever assistance they needed, paid off. Saying we're just going to take a beat here — it's a hard thing to do. [You have to] assure everybody, 'We've got it, we've got it.' The fact that it actually worked feels good for us and feels good for them."
The original version of this story incorrectly stated that Casey Bloys began supervising Westworld after most principal photography had wrapped. In fact, when Bloys became involved, production on half the episodes had been completed.