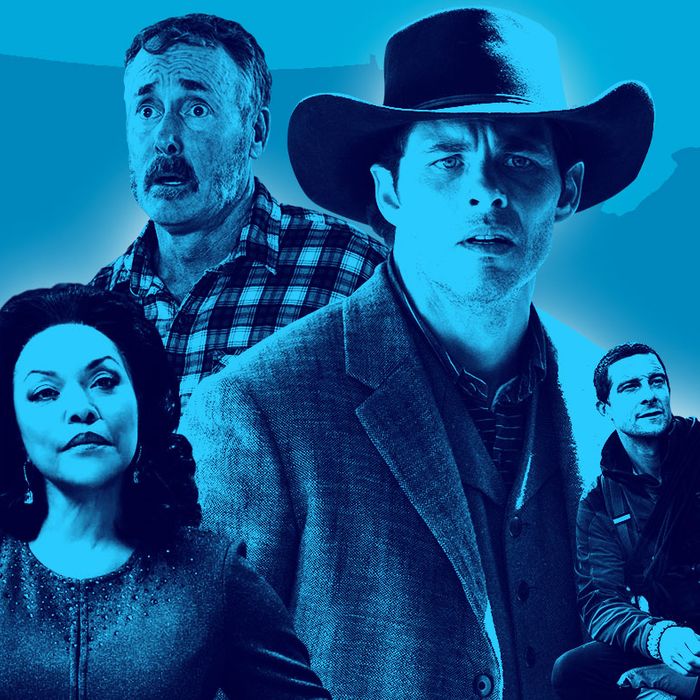 Photo-Illustration: Maya Robinson/Vulture
As has been the case for several years now, the operative word to describe TV ratings in 2016 was, simply, decline: Even hits as massive as The Walking Dead and The Big Bang Theory saw noticeable audience erosion over the past year. But if we might channel Fred Armisen as Joy Behar for a moment: "So what? Who cares?" Viewers still consumed thousands of hours of TV content and hundreds of scripted shows as Peak TV continued to yield something new and interesting to watch almost every week. A good chunk of this content, of course, came via platforms for which accurate ratings aren't readily available. It sure seems like Netflix's Stranger Things was one of 2016's biggest hits, but because the streaming giant (along with rivals Hulu and Amazon) doesn't disclose viewership stats, it could be that the only people watching the show are pop-culture reporters and Donald Trump's mythical 400-pound hacker. Still, for the programming airing on traditional linear TV, Nielsen provides plenty of insights about who watched what this year. So as has become our annual tradition here at Vulture, we took a flying leap down the Nielsen rabbit hole and began exploring the big trends, small quirks, and genuine oddities of American viewing habits during 2016. Keep reading to see what Dolly Parton and Toni Braxton have in common, which city's residents really love John Oliver, and what show does surprisingly well with rich people.
Americans really love their fantastical dramas.
It's not your imagination: Among the ten biggest cable dramas among adults under 50, seven are tinged with elements of sci-fi, fantasy, or historical adventure. AMC's The Walking Dead, of course, towers over everything (on both cable and broadcast), with 2016 episodes averaging a gobsmacking 11.5 million viewers in the key demo (out of a total audience of 18.2 million). But the network's spinoff Fear the Walking Dead and newbie Preacher also crack the top 10 drama list, as do HBO's Game of Thrones and Westworld, FX's American Horror Story: Roanoke, and History's Vikings. With so many big, noisy dramas dominating the culture in 2016, it's all the more impressive that the comparatively quiet Better Call Saul (AMC), Power (Starz), and Pretty Little Liars (Freeform) also reached the upper echelons of popularity in 2016. (Remember when pundits were predicting tough times for AMC after the exits of Breaking Bad and Mad Men within the space of less than two years? The network this year was home to four of the 10 biggest dramas among viewers under 50.) Finally, one of the year's biggest drama hits wasn't a traditional series: FX's Ryan Murphy–produced mini-series The People v. O.J. Simpson: American Crime Story, drew a stunning 7.3 million linear viewers, enough to make it the No. 3 entertainment broadcast on cable this year.
Your mom loves her OWN dramas.
Shows such as The Walking Dead and Game of Thrones are so popular, they're near the top of the ratings in virtually every key demo group. But some series overperform in various age and gender groups. Among women between the ages of 25 to 54, for example, three of 2016's 10 most-watched dramas belonged to Oprah Winfrey's OWN: Tyler Perry's sudsy The Have & Have Nots, and the network's critically admired newcomers Greenleaf and Queen Sugar.

Millennial men are Mr. Robot's biggest fans.
They were the saving grace for the USA show's otherwise disappointing (ratings-wise) second season. While the show doesn't even rank among top 40 in terms of overall audience for cable dramas, it's among the 15 most-watched cable hours among adult men under 35.
Hallmark Channel's Chesapeake Shores drew Westworld-level ratings among older audiences.
It averaged just under 3 million viewers per episode this year, putting it just slightly below HBO's Westworld in terms of overall linear viewership and enough to make it one of the 20 most-watched shows (drama or comedy!) on cable. So why does the series make barely a peep in pop culture? Just 160,000 of its roughly 3 million viewers are adults under 35. For better or worse, shows that appeal to overwhelmingly older audiences struggle for attention in our youth-obsessed society.
East Central America can't get enough of CBS's comedies (and what other regions are watching).
Nielsen divides the country into six different regional territories, and — shocker! — enthusiasm for certain shows can vary wildly based on your zip code. Now, to be sure, there's not a massive amount of difference in overall audience based on region: In the advertiser demo of adults under 50, The Big Bang Theory is this year's No. 1 or No. 2 broadcast show wherever you live. The biggest hits are big everywhere. But Nielsen also has a measure which looks at the concentration of a certain kind of viewer relative to the show's overall audience. And using that metric, it's able to identify which shows do particularly well (or poorly) among the various regions.
For example, Fox's now-canceled The Grinder, ABC's Fresh off the Boat, and Fox's MasterChef aren't Nielsen giants overall, but adults under 50 who live in the Pacific region (which encompasses states as far west as Alaska and California and as far east as parts of Arizona and Utah) are far more enthusiastic about these shows than viewers in the rest of the country. Those on the coast also loved The X-Files, watching the show in bigger overall numbers than national leaders The Big Bang Theory and Empire.
In Nielsen's East Central region (Indiana, Michigan, Ohio, parts of Pennsylvania, and Appalachia), CBS is king, with comedies Man With a Plan and Mom and Kevin Can Wait drawing a disproportionately large chunk of their audience from the region. Over in the Northeast, home to New York and Washington elites, it's perhaps no shock to discover ABC's government-themed Designated Survivor and Quantico, as well as the New York–based NBC procedurals Shades of Blue and Law & Order: SVU are more popular than they are in other regions. A bit more surprising: Both of ABC's Marvel dramas (Agent Carter and Agents of Shield) and the now-dead The Muppets did very well here in 2016.
Over in Nielsen's Southeast region, which encompasses southern states such as Florida, Georgia, and North Carolina, Empire ruled over everything else on network TV by a wide margin. Its halo effect extended to both of its 2016 lead-in shows, Rosewood and Lethal Weapon, while the region's viewers also demonstrated extra passion for ABC's short-lived summer sitcom Uncle Buck (whose overall ratings among southeast viewers nearly matched those of big Alphabet hits such as Dancing With the Stars and The Middle) and NBC's The Carmichael Show. The Nielsen-defined Southwest (which oddly incorporates Texas, New Mexico, Louisiana, Oklahoma, and Arkansas) has some particularly odd passions, demonstrating massive enthusiasm for Fox's modestly rated Sunday night comedy Son of Zorn and ABC's insta-dud Of Kings and Prophets. How great is the Zorn love in these five states? So great that the show is just as popular there among young adults as ABC's national top 20 hit The Goldbergs and slightly higher rated than Dancing With the Stars. Finally, Nielsen's massive West Central region — which stretches from Colorado and Montana all the way east to Wisconsin and Minnesota — is apparently fond of reality shows that push messages of self-reliance. NBC's Running Wild With Bear Grylls has its biggest fan base here, as does the network's The Biggest Loser. And, given the region also includes Illinois, it's perhaps no shock that Chicago Fire burns particularly bright in the region, with the show nearly as popular here as Empire and more popular than Grey's Anatomy or The Voice. What defies explanation: West central viewers are also mysteriously fond of CBS's The Odd Couple.
D.C. likes Power more than Game of Thrones (and what other cities are watching).
Nielsen doesn't issue any national reports on viewership that takes place via cable or satellite video on demand, but thankfully Comcast — the nation's largest cable company, and part of the same media empire that owns NBC — does issue an annual scorecard of how shows do on the platform in its 15 biggest markets. Nationally, the 2016 data contains a mix of the expected (Game of Thrones and The Big Bang Theory are the top two titles) and the surprising (Starz's Power does better on VOD than Fox's Empire, and Keeping Up With the Kardashians is a top 10 show among Comcast's on-demand users.) But as with Nielsen's regional data, there are also some fascinating local viewing preferences.
In Boston, for example, Lifetime's Dance Moms is a top 10 on-demand show, doing slightly better than ABC's Modern Family. HBO's Game of Thrones reigns most places, save for four markets where another show is more popular: Baltimore (Power), Pittsburgh (Big Bang), Washington, D.C. (Power), and the Big South cities of Atlanta, Nashville, Augusta, and Chattanooga (Empire). FX's Atlanta managed to crack the top 10 list in D.C., but not, oddly enough, in Atlanta. Seattle residents are surprisingly smitten by Fox newcomer Lucifer, making it their eighth most-watched VOD title, ahead of ABC's Modern Family. And both Seattle and its Pacific Northwest neighbor Portland put CBS's Big Brother in their top 10. Portland was also really into Last Week Tonight With John Oliver: The HBO current-events comedy comes in at No. 3 in the City of Roses. Finally, the Pittsburgh population apparently appreciates a good prank and a good scare: TruTV's Impractical Jokers and FX's American Horror Story: Roanoke both crack the Comcast VOD top 10 there, and nowhere else.
The whitest show on TV.
IFC's horror-comedy Stan Against Evil has the highest concentration of white viewers of any regularly scheduled scripted series on TV, with twice as many white people watching as a typical TV show. Specifically, among its six-episode average of 188,000 adult viewers under 50, 168,000 were white. Other shows that dramatically overperform with whites: HBO's Togetherness, AMC's Halt and Catch Fire, and FXX's You're the Worst. Among broadcast series, scripted or otherwise, Big Brother's Sunday edition had the highest concentration of white viewers: Of 3 million adults under 50, 2.5 million were white. CBS's Survivor isn't that far behind: It performs particularly poorly with Latino audiences.
Love & Hip Hop (and all its spinoffs) dominates among black audiences.
Fox's Empire is, by far, TV's No. 1 show with black adults. In the key ad demo, Lee Daniels's hip-hop soap reaches nearly 4.5 million younger black viewers, more than doubling its nearest rival. But that No. 2 show — VH1's Love & Hip Hop Atlanta — is part of a six-year-old unscripted franchise that now boasts multiple offshoots, all of which do exceedingly well with black audiences. Indeed, five of the top 20 entertainment series among black viewers in 2016 trace their roots to the LHH family. In addition to the top-rated LHH: Atlanta, the original New York edition, and a Hollywood spinoff, the LHH-inspired Stevie J & Josefine, and the second season of K. Michelle: My Life all ended up in the year's top 20. VH1 has also used LHH's popularity to launch even more super-successful shows with black Americans, including Black Ink Crew and Black Ink Crew Chicago. Add in the even longer-running Basketball Wives, and VH1 boasts eight of the 20 top-rated shows with black viewers this year. Empire may have the most followers, but it's Love & Hip Hop — and the VH1 reality lineup — that boasts the widest, deepest level of fandom. Other networks that overperform with black viewers include OWN (four shows in the top 20) and ABC (three series, including the canceled Uncle Buck). Among the five broadcasters, however, Fox is easily number one with black adults under 50: A whopping 81 percent of its 36 entertainment shows overperform with black audiences, versus about half of ABC's lineup, a quarter of NBC's shows, and just 20 percent of CBS entertainment series.
Asian-Americans aren't excited about every show starring Asian-Americans.
When it premiered two years ago, Fresh Off the Boat was the first network sitcom to feature a mainly Asian cast in more than two decades. No surprise, then, that among adults under 50, the average FOTB viewer is 39 percent more likely to be Asian-American — a higher percentage than any other scripted broadcast show. ABC's Quantico, starring Priyanka Chopra, also overperforms with Asians, as did the final episodes of NBC's Heroes Reborn. But interestingly, ABC's Dr. Ken actually underperforms among Asians relative to the typical TV show — a function, perhaps, of its Friday night adjacency to Tim Allen's Last Man Standing, which has a whiter-than-normal audience.
Latino audiences love Lopez.
Nick at Nite's George Lopez comeback vehicle wasn't the big hit the network had hoped it would be, particularly given how well reruns of his old ABC sitcom had done on the channel. But Hispanic households were enthusiastic about the show, as well as MTV's Teen Wolf and Disney Channel's Best Friends Whenever: All three series' young-adult audience was 50 percent more likely to be Latino than a typical TV show, a better performance with the group than any other English-language scripted shows in prime time this year. (If you count series on Spanish-language networks, literally hundreds of other programs were more popular.) Over on broadcast, CW's Jane the Virgin overperformed in Hispanic homes by a larger percentage than anything else.
Dolly Parton and Toni Braxton were 2016's TV movie titans.
Broadcast networks don't do TV movies all that much anymore, but when they do, they can still draw a (mostly older) crowd. For the second consecutive year, an NBC telepic starring Dolly Parton was the small screen's most-watched movie event, with last month's Christmas of Many Colors outdrawing any other made-for-TV movie this year with just under 14 million viewers. Among the advertiser-driven demo of adults under 50, however, the much more competitive cable movie category still belongs to Lifetime. Its January biopic Toni Braxton: Unbreak My Heart was cable's top movie of the year in the demo, beating out VH1's No. 2 The Breaks and Lifetime's own Surviving Compton. (Lifetime pulled off a similar feat in January 2015, when its Whitney Houston biography ended up as that year's biggest movie in the key demo; next month's Beaches remake looks to continue the tradition.) Meanwhile, props to Hallmark Channel: Despite a lineup of titles aimed at older audiences, the network still managed to land six of cable's biggest movies in 2016, even among adults under 50. The secret to its success: really popular holiday films.
Rich people are all about The Americans.
Even if FX's (finally) Emmy-nominated drama doesn't draw nearly the overall audience it deserves, it turns out there's one kind of viewer for whom the show is definitely must-see TV: wealthy folks. The typical viewer of The Americans lives in a home where the average income is just north of $80,000 per year — a larger amount than all but one basic cable drama. Just edging it out: BBC America's London Spy, whose audience makes an average of $81,600 annually. Interestingly, among comedies, a much more low-brow FX series — the beloved and long-running It's Always Sunny in Philadelphia— actually has the richest audience on basic cable. Sunny viewers take in a healthy $81,300 each year.
America loves a good parade.
As ever, the Super Bowl was the most-watched TV event of the year, with just under 112 million viewers. The first debate between Donald Trump and Hillary Clinton also drew a massive crowd, with 84 million watching on multiple networks. And, as it always is, the Oscars were TV's biggest awards show (34.4 million), with the Grammys also doing well with 24.9 million. But, amazingly, last month's telecast of the Macy's Thanksgiving Day Parade, airing early in the morning, drew a near-record 24.6 million viewers. No entertainment broadcast that aired in the ten months after February's big awards show drew a bigger crowd than NBC's parade telecast. Guess Donald Trump isn't the only thing filled with hot air Americans really dug in 2016.
Yuppies are all in for Chris Hayes.
Back in 2013, MSNBC anchor Chris Hayes wrote a book called Twilight of the Elites, pretty presciently predicting the trends that led to the election of Donald Trump. But despite Hayes's tough love for professional nerds, it turns out elite audiences — or, at least, white-collar professionals under the age of 50 — really dig his 8 p.m. newshour All In. Per Nielsen, Hayes's show has double the number of young-adult professionals than the average TV show, making it proportionally more white collar than any other evening news program on cable. The second most white-collar-skewing cable news hour? Fox News' now-canceled On the Record With Greta Van Susteren, which did about 50 percent better among young professionals than the average show.
More Americans are gravitating toward HBO and FX comedies.
This year saw HBO and FX Networks (FX and FXX) jointly rule the cable comedy universe. While Comedy Central's century-old South Park somehow remains cable's No. 1 half-hour with adults under 50, HBO has more top 10 half-hours among younger viewers than any other cable network, with Silicon Valley (No. 2), Ballers (No. 3), Vice Principals (No. 8), and Veep (No. 9). That sort of performance is particularly amazing given HBO is available in maybe one-third the number of homes as its basic-cable rivals. FX Networks, meanwhile, can boast cable's top-rated new comedy with FX's Atlanta (No. 4 overall), along with perennials Archer (No. 5) and It's Always Sunny in Philadelphia (No. 6). And while the overall ratings for newbie Better Things are good but not great, FX can be very happy that the show is reaching female viewers in a way the network never has before. Fifty-nine percent of the audience for Better Things is made up of women, making it the network's most female-skewing comedy ever.
America's most caffeinated are hooked on Scream Queens and So You Think You Can Dance.
For some reason — probably having to do with advertiser needs — Nielsen actually measures how TV shows do with people who regularly consume caffeinated beverages such as coffee or soda. This stat probably won't show up in a Fox on-air promo, but it turns out Ryan Murphy's horror comedy and the network's long-running summer dance competition reach more caffeinated audience of adults under 50 than anything else on major broadcast networks. Do with this what you will.