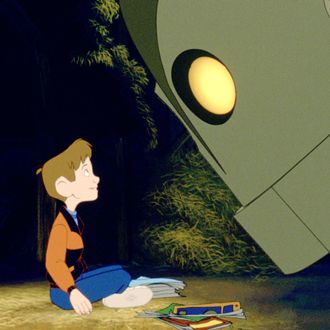 Each month, several films and TV shows leave HBO's catalogue. We provide a list of departing titles so you can watch them before they're gone forever (or are just available on a different site). For more comprehensive coverage of the best titles available on HBO and elsewhere, check out Vulture's What to Stream Now hub, which is updated throughout the month.
For the smart kids: Coraline and The Iron Giant
How about an animation double feature? Here are two of the best cartoons of the past two decades: a wonderfully warped stop-motion nightmare about a little girl who stumbles into an alternate reality where her parents have buttons for eyes, and a deeply resonant fable of a hulking hunk of sentient alien metal programmed as a weapon until an innocent boy shows him a better way. Family viewing is encouraged, but not necessary. This is modern cinema at its finest, with or without kids in the room. Leaving January 31.
Not Bugs Bunny: What's Up, Doc?
This 1972 screwball film is director Peter Bogdanovich's salute to the fun-loving spirit of Howard Hawks comedies, and like those movies, it has a timeless quality. A mix-up of overnight bags at a hotel leads to a series of wacky chases involving jewelry and spy games, with standout roles for Barbra Streisand, Madeline Kahn, and Ryan O'Neal. More than just an expert of imitation, Bogdanovich shows off some eye-catching directorial skills within the confines of his chosen genre, like a precursor to Quentin Tarantino. Leaving January 31.
Get lucky: The Dirty Harry films
All five movies in Clint Eastwood's cop-off-his-case series (Dirty Harry, Magnum Force, The Enforcer, Sudden Impact, and The Dead Pool) will exit HBO at the end of the month. If nothing else, the franchise is valuable as anthropology: It's a perfect illustration of that raw, savage brand of take-no-prisoners violent masculinity that Eastwood's best late-period directing efforts deliberately undermine. If you want the "Do I feel lucky?" taunt, Dirty Harry is your mark; if you want "Go ahead, make my day," the Eastwood-helmed Sudden Impact is the target. Leaving January 31.
Leaving January 28
Black Knight
Leaving January 31
Blackhat
The Bucket List
Charlie Wilson's War
Coraline
Dead Poet's Society
The Dead Pool
Dirty Harry
Enemy at the Gates
The Enforcer
Everest
Freeheld
The Great Outdoors
Harry Potter and the Order of the Phoenix
Hollywoodland
The Intern
The Iron Giant
Kung Fu Panda
Life or Something Like It
Love Potion No. 9
Magnum Force
The Martian
Maze Runner: Scorch Trials
A Perfect Murder
The Pianist
Sometimes a Great Notion
Spy
Stargate
Sudden Impact
Ted 2
National Lampoon's Van Wilder
Wall Street
What's Up, Doc?