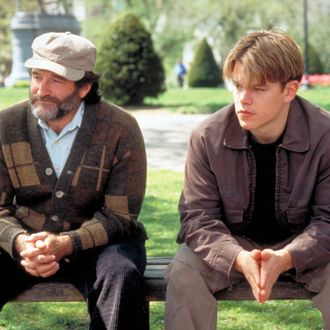 Each month, several films and TV shows leave Hulu's catalogue. We provide a list of departing titles so you can watch them before they're gone forever (or are just available on a different site). For more comprehensive coverage of the best titles available on Hulu and elsewhere, check out Vulture's What to Stream Now hub, which is updated throughout the month.
An ice time: The Cutting Edge
I'll let former Vulture writer Amanda Dobbins speak to the enduring nostalgia power of the 1992 romantic comedy (written by Michael Clayton's Tony Gilroy) that paired a hockey player with a figure skater in a Battle of the Wills … on Ice! Those who did not have basic cable in the '90s will find this Winter Olympics–set toe-picker a nicely comforting wintry treat with a significant other, like a shared mug of hot cocoa. Leaving January 31.
How do you like them apples? Good Will Hunting
Consider this your monthly reminder that the films you see in heaviest rotation on these streaming sites (including Apocalypse Now, Rounders, and this wounded-genius drama that's one of the purest examples of Serious Robin Williams) are ducking back out of Hulu once more. They'll probably resurface on Amazon or Netflix soon enough, so you can keep playing Streaming Whack-a-Mole even if you miss the chance this month. Leaving January 31.
The writer rides again: Hammett
Was Hammett a Wim Wenders film, or a Francis Ford Coppola one? The question is one of the more infamous mysteries of movie folklore. Wenders's 1982 noir homage, a visually lush and impeccably stylish tribute to crime novelist Dashiell Hammett, was made at Coppola's Zoetrope Pictures, but disagreements with the studio led to the director's original cut being discarded and a suspiciously Coppola-like final cut emerging. Who's the true author of this crime saga that questions the very nature of authorship? Decide for yourself. Leaving January 31.
January 31
Apocalypse Now
Apocalypse Now Redux
Bolero
Charlie's Angels: Full Throttle
The Cutting Edge
Enter the Ninja
Good Will Hunting
Hammett
Hoosiers
One from the Heart
Punch Drunk Love
Quigley Down Under
Rounders
Sling Blade
Top Secret!