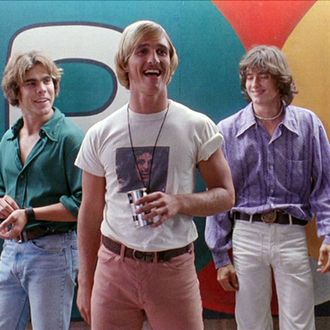 Each month, several films and TV shows leave Netflix's catalogue. We provide a list of departing titles so you can watch them before they're gone forever (or are just available on a different site). For more comprehensive coverage of the best titles available on Netflix and elsewhere, check out Vulture's What to Stream Now hub, which is updated throughout the month.
Sports stories: The Price of Gold and No Crossover: The Trial of Allen Iverson

A whole bunch of ESPN's "30 for 30" sports documentaries are leaving Netflix at the beginning of 2017. But which to recommend? Here are two solid options: The Price of Gold is a no-holds-barred account of the infamous rivalry between Olympic figure skaters Tonya Harding and Nancy Kerrigan that culminated in a shocking assault and a sordid undoing of the sportsmanship myth. No Crossover is a deeply personal recollection, by Hoop Dreams director Steve James, of a 1993 fight with racial undertones that ensnared future NBA star Allen Iverson. Leaving January 1.
All right, all right, all right: Dazed and Confused
When you're young, you love the merciless freshmen hazing and drug-fueled flirtations, not to mention the ageless Matthew McConaughey. But an older generation, perhaps those who recently sought out Everybody Wants Some!!, will find the brief flashes of intellect leave them in a different kind of daze. Remember the hippie teacher who insists to deaf ears that the American bicentennial celebrates "a bunch of slave-owning, aristocratic white males [who] didn't want to pay their taxes"? That's what I love about Richard Linklater's teenage-wasteland vignette, man. We get older, this brilliant film stays the same age. Leaving January 1.
Hell freezes over: South Park: Bigger, Longer, and Uncut
It's unnecessary to insist that a piece of satire is Even More Relevant Now — but Trey Parker and Matt Stone's feature-length naughty cartoon, like pretty much every over-the-top political comedy of another era, does offer its fair share of parallels to today's world. Kyle's mom launches petulant, U.S. government–supported attacks on pieces of culture she doesn't like, while parts of wonderful absurdity, like Satan and Saddam Hussein cavorting together in Hell, remind us that Parker and Stone can wield expert comic control over their crazy universe. If the most recent season of South Park disappointed you with its unfocused ideas, this is a good reminder of their talents. Leaving January 1.
TELEVISION
January 1
Angry Birds Toons: Season 1
Columbo: Seasons 1 – 7
Cupcake Wars Collection: Collection 2
Chopped Collection: Collection 2
Flip or Flop: Season 1
Fixer Upper: Seasons 1 and 2
House Hunters: Collection 3
House Hunters International: Collection 3
House Hunters Renovation: Collection 1
Jake and the Never Land Pirates: Seasons 1 – 3
Law & Order: Special Victims Unit: Season 13
Murder, She Wrote: Seasons 1 – 12
Property Brothers: Seasons 4 and 5
Saved by the Bell: Seasons 1 – 6
You Live in What?: Season 3
MOVIES
January 1
30 for 30: Winning Time: Reggie Miller vs. The New York Knicks
30 for 30: No Crossover: The Trial of Allen Iverson
30 for 30: The Day the Series Stopped
30 for 30: Jordan Rides the Bus
30 for 30: Without Bias
30 for 30: Once Brothers
30 for 30: Bernie and Ernie
30 for 30: Requiem for the Big East
30 for 30: The Price of Gold
Alvin and the Chipmunks Meet Frankenstein
Alvin and the Chipmunks Meet the Wolfman
Bewitched
Blade 2
Bring It On
Bring It On: All or Nothing
Breakfast at Tiffany's
Coming to America
Crash
Dazed and Confused
Final Destination 3
Ghost Town
Hairspray
Little Black Book
Little Man
Maid in Manhattan
Miracle on 34th Street
Nanny McPhee
South Park: Bigger, Longer and Uncut
Stardust
Superstar
The Italian Job
The Painted Veil
Sixteen Candles
Saving Private Ryan
The Fast and the Furious: Tokyo Drift
The Fast and the Furious
The Uninvited
The Amityville Horror
The Wicker Man
Vanity Fair
Zoom: Academy for Superheroes
January 6
The Girl Who Played With Fire
The Girl Who Kicked the Hornet's Nest
January 29
Stephen King's A Good Marriage