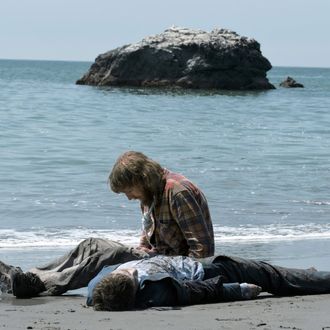 At the beginning of (and throughout) every month, Amazon Prime and Amazon Instant Video add new movies and TV shows to their libraries. Some of these may also have previously been on Amazon, only to have been removed and then added back. For more comprehensive coverage of the best titles available on Amazon and elsewhere, check out Vulture's What to Stream Now hub, which is updated throughout the month.
The other America: American History X
In 1998, a movie centered around a white nationalist in America seemed raw and radical, a bold airing of a nasty underbelly that had mostly lived in the country's shadows for decades. But in 2016, neo-Nazis are back in the political mainstream, and Tony Kaye's troubled, troubling skinhead drama is all the more haunting for how "normal" its characters seem. Edward Norton, in the role that put him on most viewers' maps, plays an aggressive and fiercely philosophical skinhead whose years in prison seem to have finally reformed him, much to the shock of his younger brother and his white-power clan. Norton's post-production battles with Kaye are the stuff of legend, but somehow, the two emerged with a work of unsettling power. Available January 1.
Parenthood: The A-Word
Originally made for the BBC, then acquired in America by SundanceTV, this family-drama series follows two parents from Northwest England struggling to come to terms with the fact that their 5-year-old son displays signs of autism. Despite some maudlin side plots, the show displays an unusual sense of compassion and empathy when it comes to understanding mental behavior, joining the welcome wave of contemporary family programs like Speechless and Switched at Birth that treat difference as a fact of life. All episodes available January 17.
Take the lonely away: Swiss Army Man
Before last year, it's safe to assume that none of us thought we needed a film in which Paul Dano manipulates a farting corpse played by Daniel Radcliffe. If all that directors Dan Kwan and Daniel Scheinert had been able to accomplish in Swiss Army Man was the most unforgettable log line of all time, it would've been enough. But their film is so weird and distinctive and visually arresting that it seems destined to be remembered (and reanimated) for far more than that. Available January 30.
TELEVISION
Available on Prime
We're Going on a Bear Hunt Season 1 (January 9)
Sneaky Pete Season 1 (January 13)
Just Add Magic Season 2 (January 13)
Red Rock Season 2 (January 17)
The A-Word Season 1 (January 17)
America Divided Season 1 (January 26)
Z: The Beginning of Everything Season 1 (January 27)
Mercy Street Season 2 (January 29)
Available for Purchase
Bones Season 12 (January 4)
It's Always Sunny in Philadelphia Season 12 (January 5)
Sleepy Hollow Season 4 (January 7)
MOVIES
Available on Prime
13 Hours: The Secret Soldiers of Benghazi (January 1)
Across the Universe (January 1)
Happy Feet (January 1)
Rent (January 1)
Hellboy (January 1)
Radio (January 1)
Stardust (January 1)
American History X (January 1)
Norm of the North (January 1)
Are We There Yet? (January 1)
Are We Done Yet? (January 1)
Maid in Manhattan (January 1)
She's All That (January 3)
The Infiltrator (January 9)
Where to Invade Next (January 22)
The Choice (January 23)
Dirty Grandpa (January 27)
Swiss Army Man (January 30)

Available for purchase
The Girl on the Train (January 3)
Ouija: Origin of Evil (January 10)
Deepwater Horizon (January 10)
The Accountant (January 10)
Inferno (January 24)