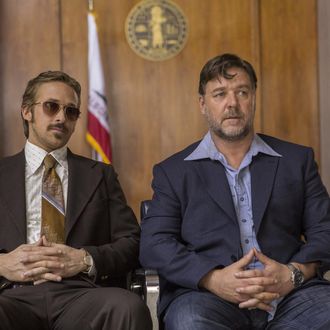 At the beginning of (and during) each month, HBO adds new movies and TV shows to HBO Go and HBO Now. Below, you'll find our January 2017 recommendations. For more comprehensive coverage of the best titles available on HBO and elsewhere, check out Vulture's What to Stream Now hub, which is updated throughout the month.
That's a lot of blood: The Nice Guys
This was the other massively entertaining, Ryan Gosling–starring L.A.-throwback movie of 2016, but unlike La La Land, Shane Black's '70s-set, hyperviolent buddy comedy languished at the box office. An era-appropriate tale of an alcoholic P.I. and a burly enforcer teaming up to investigate an adult-film conspiracy plot, The Nice Guys has zingy banter, a hilariously skuzzy vibe, and one of the best roles for Russell Crowe in ages. Available January 28.
What a twist! Selected works by M. Night Shyamalan
Is this the beginning of the Shyamalanaissance? In advance of the horror director's new film Split, which had a surprise premiere at Fantastic Fest to great reviews, HBO is offering The Visit, his low-key 2015 found-footage shocker about two kids visiting their spooky grandma in the woods that also attracted a much warmer reception than his previous decade-plus of efforts. For comparison's sake, some of those past hits and misfires alike (The Sixth Sense, Unbreakable, Lady in the Water, The Village, and The Happening) will also be available. Will the auteur everyone loves to hate overcome his reputation with the next generation of cinephiles? Keep them away from The Happening and all will be well. The Visit available January 13; all others available January 1.
An offline nightmare: Beware the Slenderman
In May 2014, two Wisconsin girls lured their friend into the woods and stabbed her 19 times as an offering to the fictitious Internet demon "Slenderman." This HBO original documentary, which played festivals last year, digs deep into the crime, the evolving Slenderman legend, and the psychological explanation for how two intelligent, well-behaved preteens could become so dangerously obsessed with a weird online meme — just as children in generations past have followed their own mythical Pied Pipers. Available January 23.
TELEVISION
Sesame Street, season 47 premiere (January 7)
The Young Pope, series premiere (January 15)
Real Time With Bill Maher premiere (January 21)
MOVIES
January 1
Above the Law
Baby Mama
Beautiful Creatures
The Big Lebowski
The Blues Brothers
Blues Brothers 2000
Bringing Out the Dead
The Cell
Cloud Atlas
Cold Mountain
Dallas Buyers Club
Dr. Seuss' Horton Hears a Who!
Evil Dead 2
Fool's Gold
Forgetting Sarah Marshall
Friday
The Happening
Innerspace
Lady in the Water
Lost & Found
Mad Max: Fury Road
My Cousin Vinny
Risky Business
The Road Warrior
The Sixth Sense
Steel (1997)
Unbreakable
The Village
January 7
Demolition
January 8
Genius
January 13
The Visit
January 14
Now You See Me 2
January 21
The Boss: Extended Cut
January 23
Beware the Slenderman
January 28
The Nice Guys
January 30
Becoming Warren Buffett