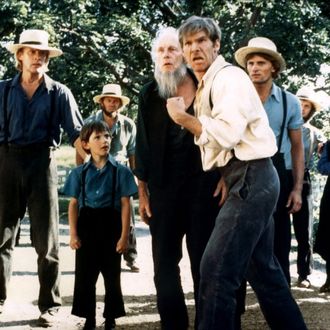 At the beginning of (and during) every month, Hulu adds new movies and TV shows to its library. Below, you'll find our recommendations for January 2017. For more comprehensive coverage of the best titles available on Hulu and elsewhere, check out Vulture's What to Stream Now hub, which is updated throughout the month.
Amish paradise: Witness
One of those rare mainstream thrillers to push the genre forward, Peter Weir's 1985 crime drama follows the investigation of a murder in an Amish community without patronizing or exoticizing the people at its center. Starring Harrison Ford (in his only Oscar-nominated role to date) as the big-city Philadelphia detective who looks after a young witness before being forced to integrate himself into Amish society, Witness still resonates with its chilling message of how the specter of violence can penetrate even the most isolated corners of America. Available January 1.
Making beautiful music: The Piano
A mute woman sits on a beach on the rocky shores of New Zealand next to a gigantic hand-crafted piano. It's her only means of communication, but it must remain on the beach unless she can win it back, key by key, from a new owner who demands payment in the form of sexual favors. With an uncommonly perfect cast that includes Holly Hunter, Harvey Keitel, and Anna Paquin, Jane Campion's haunting feature, winner of multiple Oscars and the Palme d'Or, remains a singular and endearingly odd work of cinematic eroticism. Available January 1.
Moore is less: Where to Invade Next
Michael Moore was never one for subtlety, but his overlooked 2015 documentary carries a more inventive and good-natured spirit than his polemics of yore. Appointing himself as a designated "invader," Moore travels to countries all over the world — okay, mostly Europe — to study aspects of society he believes the U.S. should steal. This could include anything from the quality of school lunches in France to women's rights in Tunisia. His main satirical point is that many of these global initiatives governing free society actually originated as American ideas, so why not claim them back? Available January 22.
TELEVISION
January 1
Chowder Seasons 1-3
The Powerpuff Girls (Classic) Seasons 1-6
Wasted Season 1
January 2
Beyond Season 1
January 3
It's Always Sunny in Philadelphia Season 11
January 10
Amazing World of Gumball Season 4
January 16
Clarence Season 2
January 17
Real Housewives of Potomac Season 1
January 30
Regular Show Complete Season 7B
MOVIES
January 1
Across the Universe
Amelie
The Amityville Horror (2005)
Annie Hall
Baby Boom
Bad Girls From Mars
Beverly Hills Cop 2
Beverly Hills Cop 3
Beverly Hills Vamp
Black Sheep
Blaze You Out
Blow Away
Blue Hill Avenue
Boxcar Bertha
The Brady Bunch Movie
The Burbs
Bug
Cold War
Craig Ferguson: Does This Need to Be Said?
Cruel Intentions
Curse of the Starving Class
Deadly Blessing
Dracula 3000
Duma
The Eternal
Explorers
Extreme Justice
Eyes of an Angel
Footloose (1984)
Gargoyles: Wings of Darkness
Happily N'Ever After
Happily N'Ever After 2
Jackass Number Two
Jackass: The Movie
Jeepers Creepers 2
Jesus' Son
King Kong (1976)
Leaving Las Vegas
Lethal Weapon
Lethal Weapon 2
Lethal Weapon 3
Lethal Weapon 4
The Long Riders
Man in the Moon
Mission Impossible
Mutant Species
Norm of the North
Open Season
The Piano
Primal Fear
Promised Land (1987)
The Relic
Runaway Bride
Senorita Justice
Shooters
Silent Tongue
Six Weeks
Sleepy Hollow
South Park: Bigger, Longer & Uncut
Split Image
The Spy Next Door
Stephen King's Graveyard Shift
Stephen King's Silver Bullet
Teresa's Tattoo
Trading Places
Transporter 3
Trekkies
Trekkies 2
Trucks
The Untouchables
Vanilla Sky
A Very Brady Sequel
War Games
What's Cooking?
Witness
January 3
Love the Coopers (Showtime subscribers)
January 8
Burnt (Showtime subscribers)
January 9
Secret in their Eyes (Showtime subscribers)
January 13
Bird People
January 15
Bridge of Spies (Showtime subscribers)
January 19
What Happened, Ms. Sykes?
January 22
Where to Invade Next
January 23
The Choice
January 27
Days and Nights
Dirty Grandpa
Roseanne for President
January 28
Hostel
Hostel: Part 2