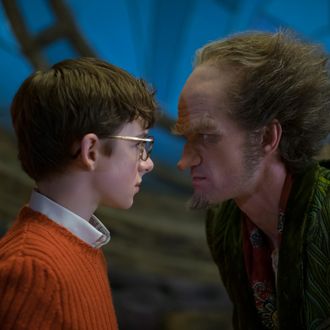 Photo: Joe Lederer/Netflix
At the beginning of (and during) each month, Netflix adds new movies and TV shows to its library. Below, you'll find our January 2017 recommendations. For more comprehensive coverage of the best titles available on Netflix and elsewhere, check out Vulture's What to Stream Now hub, which is updated throughout the month.
A name in neon lights: Boogie Nights
"I'm a star. I am a big, bright, shining star." If you hear those words and don't immediately think of Mark Wahlberg's gigantic member, there is work to be done. A defining film of the 1990s, Paul Thomas Anderson's exhaustive epic of the porno industry finds miraculous humanity brewing under those chintzy sets, atrocious polyester suits, and nonstop sex scenes. It's also one of most swaggering movies in recent memory, with plunging cameras and a relentless pacing, so it's immensely pleasurable to watch. When you're done, parse through Grantland's equally exhaustive oral history. Available January 1.
Beatrice dies again: A Series of Unfortunate Events
For fans of the deliciously macabre Lemony Snicket book series, two things are known to be true: V.F.D. is waiting outside all our windows, and author Daniel Handler's vision was much grander and darker than the (halfway decent) 2004 film adaptation of Snicket could possibly allow. So Netflix is trying again with this new original series, starring Neil Patrick Harris as the sinister Count Olaf, who chases after the three brilliant Baudelaire orphans as they jump between inept guardians. The early trailers indicate that Harris and series creator Mark Hudis have an understanding of the proper gothic-camp tone, and with lavish production design befitting a fantasy epic, we could be in for several years' worth of dire warnings to "stream something more pleasant." Available January 13.
Fear and oppression: Under the Shadow
This brilliant horror debut from filmmaker Babak Anvari is The Babadook crossed with the social commentary of Asghar Farhadi. In the waning days of the Iran-Iraq War, a young mother and her precocious daughter are isolated in their Tehran apartment building, where they are menaced by some mysterious bedtime beast. Or is the threat just in their heads? After a certain point, it's not clear what we should be fearing more: the djinn, which seems determined to snatch up the child, or the Iranian law and order, which would rather prosecute a woman for not wearing a headscarf than figure out what might be chasing her. Available January 7.
TELEVISION
January 1
Real Detective Season 1
January 3
It's Always Sunny in Philadelphia Season 11
January 6
Degrassi: Next Class Season 3
Mar de Plastico Season 1
One Day at a Time Season 1
Tarzan and Jane Season 1
January 10
Best Friends Whenever Season 2
We're Lalaloopsy Season 1
January 13
A Series of Unfortunate Events Season 1
Historia de un Clan Season 1
The Investigator: A British Crime Story Season 1
January 15
Señora Acero Season 3
Wartime Portraits Season 1
January 20
Frontier Season 1
Voltron: Legendary Defender Season 2
January 21
Bates Motel Season 4
Grami's Circus Show Season 2
January 24
Terrace House: Aloha State Season 1: Part 1
January 27
Home: Adventures With Tip & Oh Season 2
Kazoops! Season 2
January 28
Ripper Street Season 4
MOVIES
January 1
Around the World in 80 Days (2004)
After Innocence
Bee Movie
Boogie Nights
Braveheart
Caddyshack
Collateral Damage
Dreamcatcher
El Dorado 
E.T. the Extra-Terrestrial
HALO Legends
Hugo
Justin Bieber: Never Say Never
License to Drive
Nancy Drew
Ocean's Twelve
Superman Returns
Superman II 
Superman III
Superman IV: The Quest for Peace
Superman: The Movie
The Parent Trap (1961)
The Shining
The Perfect Physique
The Rat Race
To Be A Miss
Trudell 
V for Vendetta
Vanilla Sky
January 3
Jen Kirkman: Just Keep Livin'?
January 6
Coin Heist
Growing Up Coy
January 7
Alpha and Omega 7
Miss Sharon Jones!
Under the Shadow
January 9
Best and Most Beautiful Things
Ratchet and Clank
January 10
As I Open My Eyes
Happily Married
Jim Gaffigan: Cinco
January 11
Disney's Alice Through the Looking Glass
January 13
Aquarius 
Casablancas: The Man Who Loved Women Clinical
It Follows
January 14
Camp X-Ray
Cardboard Boxer
Estar O No Estar
January 15
A Beautiful Now
Hostage to the Devil
Twisted Trunk, Big Fat Body
January 16
Flash of Genius
Halloweed
Rezort
January 17
Fatima
Neal Brennan: 3 Mics
Roger Corman's Death Race 2050
January 19
Good Kids
January 20
Papa
Take the 10
January 24
Cristela Alonzo: Lower Classy
Gad Gone Wild
Hieronymus Bosch: Touched by the Devil
Kill Command
January 25
Era el Cielo
January 27
iBOY
Shadows of Truth
Sharknado: The 4th Awakens
January 30
Antibirth
Swing State
January 31
Bill Burr Stand Up Special