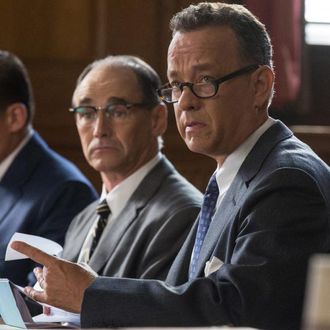 Each month, Showtime adds new movies to its library. Below, you'll find our January 2017 recommendations. For more comprehensive coverage of the best titles available on Showtime and elsewhere, check out Vulture's What to Stream Now hub, which is updated throughout the month.
Negotiation tactics: Bridge of Spies
Dad Movie Night is settled this January. The latest Spielberg/Hanks collaboration, with a script co-written by the Coen brothers, is an expertly crafted nail-biter about an American lawyer negotiating the release of two Soviet hostages in Cold War Berlin. With Oscar-winning supporting work by Mark Rylance as a KGB agent with a complicated heart, this film could have been a modern classic were it not for the fact it goes on for a good 15 minutes after what would have been the perfect final shot. Whom do we call to negotiate the release of the Spielberg ending? Available January 14.
Die comfortable: The Hurt Locker
A Man With No Name update for the Iraq War, Kathryn Bigelow's Oscar-winning war film gave us an indelible modern-day cowboy in Jeremy Renner's thrill-seeking bomb specialist. Tasked with defusing land mines in Iraq to keep his squad safe, Sgt. William James relishes the rush of danger so much you suspect he wouldn't mind if a few of his targets went off once in a while. The Hurt Locker is the thinking viewer's jolt of adrenaline. Available January 1.
Wide awake: Coffee and Cigarettes
Any film where Steve Buscemi, Bill Murray, and Cate Blanchett share billing with RZA, GZA, and Tom Waits is definitely worth attention. Director Jim Jarmusch's collection of black-and-white comic vignettes, filmed in bits over nearly two decades, is a playful storytelling experiment that feeds off of modern society's two biggest addictions — caffeine and nicotine — in order to define onscreen cool. It's nice to think that the movies occasionally allow for such strange brew. Available January 1.
January 1
Anesthesia
Blackway
Cabin Fever
Cinderella Man
Coffee and Cigarettes
Gangs of New York
The Hurt Locker
Love Actually
Love the Coopers
Open Water
A Perfect Day
The Preppie Connection
Up in the Air
January 6
The Nasty Show Volume II
January 7
Burnt
January 8
Secret in Their Eyes (2015)
January 14
Bridge of Spies
January 27
Everything Must Go