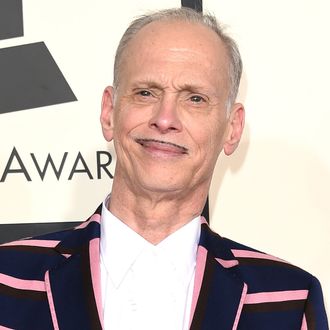 Photo: Jason Merritt/Getty Images
Magnificent oddball John Waters didn't start his career aiming for institutional legitimacy, but the singularly strange collection of work he's produced over the past 50 years has certainly entitled him to it. Variety reports that the Writers Guild of America East will present Waters with the Ian McLellan Hunter Award, which, since 1992, has been bestowed upon film and television writers to honor their complete bodies of work. Previous recipient and fellow Baltimore man David Simon (The Wire, Treme) will present the prize to Waters at the Writers Guild Awards in February, and in the meantime has shared some very nice words about the director.
Time and again, on film and in prose and eventually on Broadway, he has celebrated the very American notion that there is, in fact, no normal. That we are all, if we are honest, at least two standard deviations from the mean. In Baltimore, it is our goddamn birthright. I've shared my crew with this man. I've shared some cast, at points. I've shared some meals and jokes and the very real benefit of his having been a pioneer for a film community that has punched well beyond its weight class. But most of all, like damn near every Baltimorean, I am proud that I share a city with this fine storyteller.
For his part, Maryland's favorite weird son acknowledged the accolade in typically Waters fashion. "Decades ago, a critic once wrote that my screenplays 'were merely clotheslines to hang out my dirty wash,'" he said. "I'm glad the WGAE disagrees — or maybe they DO agree, who knows?  Either way, I couldn't be more honored and excited to get this award."