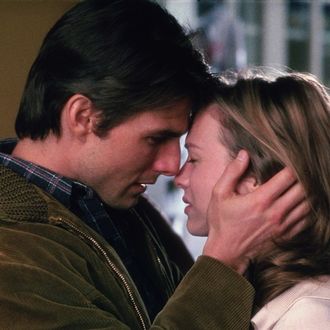 Jerry Maguire, 1996.
Photo: Image Courtesy of TriStar Pictures
Ask yourself what might make your 2017 start our right, and you may be surprised to find the answer is "visiting a reconstructed video store from 1996 that only offers 14,000 VHS copies of Cameron Crowe's beloved rom-com Jerry Maguire, starring Tom Cruise and Renée Zellweger." According to Slashfilm, the video production and performance-art collective Everything Is Terrible! is making that very dream come true (if you live in Los Angeles, or plan to visit between January 13 and 29). The collective is largely known for its almost-decade-long commitment to recapturing the magic of VHS on the web, so this is a definite raising of the proverbial stakes for them.
L.A.'s tech-geekery-themed iam8bit gallery, which in the past has hosted exhibitions like "CONSPIRACIES, MONSTERS & MYTHOLOGY: An X-Files Art Show" and "So You Created a Wormhole," will host the "video store." The 14,000 copies of the VHS were gathered via donation (with 1,300 copies coming from one dedicated, possibly insane, person), and the eventual plan for the tapes is not for you to rent and never return them (sorry), but rather something much grander. Per EIC!'s poster advertising the exhibit:
"All proceeds benefit EIT's lifelong mission to construct a permanent #JerryPyramid in the desert where all Jerrys will live forever. Seriously."
And what, one might ask, might a "Jerry Pyramid" look like? See below, and happy Jerry Maguiring, friends! Help Everything Is Terrible!'s Jerry dreams come true, you know you wanna! Show them the money! Who's coming with me? Jan? Thank you, Jan! You complete me.