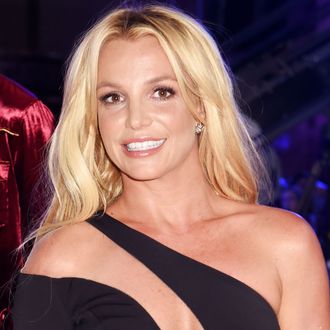 Justice for Britney.
Photo: Jeff Kravitz/FilmMagic/Getty Images
Britney Spears, pop princess and international treasure, is getting her very own Lifetime biopic, much to her chagrin. (She's denied any and all involvement with the movie.) While we're not saying her life story should be made into an Oscar-worthy cinematic experience starring Reese Witherspoon, we only ask that the Britney haters out there take a gander at these first-look photos and consider: Is anyone truly deserving of this much insult? The film stars Australian actress Natasha Bassett as some version of Britney Spears we hardly recognize, plus a who's who of newcomers in all the supporting roles of Brit's life — Justin Timberlake, Kevin Federline, that dude she married for a couple days, etc. Not feeling guilty enough? Consider that tomorrow is Britney's 35th birthday and these photos are Lifetime's only present.