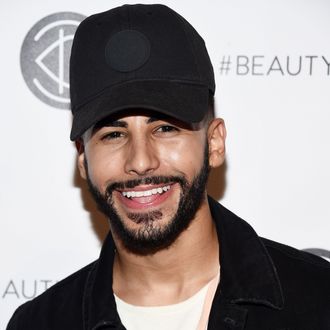 Saleh.
Photo: Amanda Edwards/WireImage/Getty Images
In a clip that has already gone viral, YouTube star and professional prankster Adam Saleh claims he and a friend were kicked off a Delta plane for speaking Arabic. Saleh, who recorded the aftermath of the incident and tweeted it with the now-widespread hashtag #BoycottDelta, can be seen expressing outrage while white onlookers yell "bye." "It's six white people against us bearded men — I feel uncomfortable," Saleh argues to a flight attendant. Meanwhile, another visibly upset person of color on the plane stands up for them, saying, "They should be able to speak whatever language they want." In follow-up tweets, Saleh says he was removed from the flight, spoke with police, put through security again, and, after 30 minutes, rerouted on another flight to New York City. Saleh also Periscoped himself crying after being taken off the flight, expressing anger over being racially profiled. "I'm not gonna let them slide with what they did," he says, threatening to call his lawyer until he's told to stop filming.
"Two customers were removed from this flight and later rebooked after a disturbance in the cabin resulted in more than 20 customers expressing their discomfort. We're conducting a full review to understand what transpired. We are taking allegations of discrimination very seriously; our culture requires treating others with respect," Delta said in a statement given to Vulture. Delta has also been tweeting this statement to Saleh's massive online following.
Saleh, who has more than 3 million subscribers combined between his two channels, is best known for his prank videos. (He calls himself a "professional idiot.") Just last week, Saleh allegedly faked smuggling himself on a flight to another city by hiding in a suitcase for the purposes of a viral video. Tigerair, the airline it appears he pranked, called the incident "inconsistent with reality," citing video evidence that disputed his claim that his stunt was successful.
Saleh now insists that today's video isn't a prank, telling the New York Times before he boarded the new flight: "The only thing I can say is, I would never film a phone video. That's when it's really serious, and I must film." He is referring to the fact that he allegedly did not film the incident with his professional camera. In a new statement to Vulture, Delta says it is "gathering all of the facts before jumping to any conclusion." Saleh has since tweeted that he arrives in New York City at 5:50 p.m. ET, when we'll all surely learn more.
Update: Delta has released the following statement regarding the incident.
Upon landing the crew was debriefed and multiple passenger statements collected. Based on the information collected to date, it appears the customers who were removed sought to disrupt the cabin with provocative behavior, including shouting. This type of conduct is not welcome on any Delta flight. While one, according to media reports, is a known prankster who was video recorded and encouraged by his traveling companion, what is paramount to Delta is the safety and comfort of our passengers and employees. It is clear these individuals sought to violate that priority.
Update: Saleh has issued a new statement, reaffirming his claim that his account of the flight is not a prank and likening the response to the boy who cried wolf. Posting a note on Twitter, he wrote:
Delta never denied anything in the video. Not a single person answered us back to tell us otherwise. But now that the video is out, they are trying to deny it to save their brand. Delta has been previously called out for racist matters. The media has been twisting up my words, so I will not be speaking to any media until I speak with my attorney. What they did was wrong and we deserve to speak up about this and not let this happen again. Yes we're pranksters, and it sounds like the boy who cried wolf but today you can see its as real as it gets.
Read Saleh's full statement below.
This post has been updated throughout.