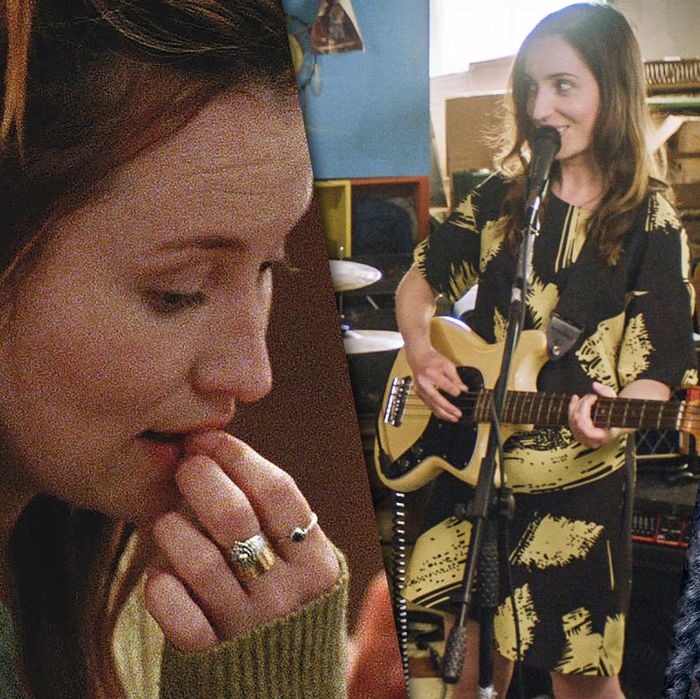 Emily Browning in Golden Exits, Zoe Lister-Jones in Band Aid, and Jessica Williams in The Incredible Jessica James.
Sundance is as much a showcase for people as it is movies. The list of actors and filmmakers who got their first major exposure in Park City is long, and each year's festival promises a new crop of breakouts who will, soon enough, be showing up not only in their Sundance entries but also big Hollywood blockbusters. This year was no different. We've highlighted the ten breakout performers at the festival; some of them are up-and-comers, and some are household names, but all of them are actors we left Park City seeing in a new light.
Timothée Chalamet, Call Me by Your Name
The 21-year-old Chalamet will be every indie director's new muse after his revelatory turn in Luca Guadagnino's Sundance hit Call Me by Your Name. As an intellectually precocious teenager who has mastered everything but matters of the heart, Chalamet holds his own opposite onscreen lover Armie Hammer with a performance that feels real and unpredictable. It all culminates in a remarkable whopper of a final shot that rests on Chalamet's face for minutes as he goes through the emotional gamut. That sort of scrutiny would defeat most young actors, and yet Chalamet soars.
Zoe Lister-Jones, Band Aid
Zoe Lister-Jones happens to have a major role on the CBS sitcom, Life in Pieces, but Band Aid, the movie she wrote, produced, directed, and starred in, showcases an actress with far greater range and power than she gets to show off in prime time. In the film, Lister-Jones plays the whole emotional scale, going from goofy and buoyant — read: stoned — to emotionally ravaged, and she does her most poignant scene naked, over the course of one seriously long take. Her director didn't let her off the hook, but fortunately, she's up for it.
Anya Taylor-Joy and Olivia Cooke, Thoroughbred
Pretending to not feel emotions is a tough task for an actor; that's Olivia Cooke's challenge in Cory Finley's Thoroughbred, and she still manages to create a fully fleshed-out character without the benefit of emoting. Meanwhile, Anya Taylor-Joy, who shined just as bright at the festival two years ago with The Witch, gives a similarly virtuoso performance as a young woman bound, and eventually unwound, by the demands of her upper-class upbringing. Both actresses are rapidly rising through Hollywood, and Thoroughbred is a showcase for why.
O'Shea Jackson Jr., Ingrid Goes West
The Straight Outta Compton crew had a mighty good Sundance: Jason Mitchell scored in Mudbound, and Jackson had audiences howling with a comedic turn as Aubrey Plaza's would-be boyfriend in the social-media satire Ingrid Goes West. A wannabe screenwriter who references Batman Forever a bit too much, Jackson is still the most appealing character by far in a sea of charlatans, and you could power a whole neighborhood with the wattage of his smile. Get this man in more rom-coms.
Emily Browning, Golden Exits
In Golden Exits, Alex Ross Perry's sharp and wounded investigation of temptation in Brooklyn, Emily Browning's Naomi is as much an agent of the ennui-fueled deceit that drives the film as any of the men, who include former Beastie Boy Adam Horovitz and ARP repertory player Jason Schwartzman. But it's a testament to Browning's deft touch that Naomi still possesses a certain clear-eyed decisiveness that makes her seem less nefarious, or at least less obviously lost, than her male counterparts. If the musical God Help the Girl put Browning on the map as a dynamic, engaging performer, Golden Exits reveals her serrated edge.
Mary J. Blige, Mudbound
The Queen of Hip-Hop Soul takes on her most significant acting role yet as a sharecropper's wife in Mudbound, the Dee Rees drama that was one of the most acclaimed films of the festival. It's as muted and human as we've ever seen Blige, with her superstar confidence brought to bear on a woman who just hopes to make it through every day with her family intact, a tougher task than it may seem given the level of racism they encounter in the post–World War II South.
Lily Collins, To the Bone
Collins has been forever on the verge of a breakout, but vehicles like Mirror Mirror and Rules Don't Apply were too muddled to do her any favors. Handed Marti Noxon's razor-sharp screenplay for To the Bone, though, and Collins finally comes into relief. As a young woman battling anorexia, Collins swathes herself in blankets and sarcasm, and she's got spiky, wounded chemistry with everyone in the excellent cast, most notably scene-stealer Alex Sharp as a love interest who pokes, prods, and ultimately protects her.
Harris Dickinson, Beach Rats
Dickinson is the next young Brit ready to snatch great roles away from our Americans. In Eliza Hittman's Beach Rats, he disappears into character as a conflicted Brooklyn bro who prowls the boardwalk with his buddies by day and seeks clandestine hookups with older men by night. It's a film debut that requires Dickinson to bare both body and soul, and he's already in hot demand, tapped to star opposite Amandla Stenberg in the coming YA adaptation The Darkest Minds. 
Kumail Nanjiani, The Big Sick
You know Nanjiani as unlucky-in-love Dinesh from Silicon Valley, which is why it's so refreshing to see him as a heartbreaker of a leading man in this sharp, semi-autobiographical rom-com he wrote with his wife, Emily Gordon. It's rare enough to see a brown guy as a Hollywood-matinee idol, but what makes Nanjiani stand out is his willingness to be a complete ass who cries while doing stand-up comedy, throws fits in line at a drive-through, and takes his awesome girlfriend for granted, yet still has you rooting for him all the way.
Chanté Adams, Roxanne Roxanne
This unknown actress had only eight days to prepare to play the inimitable Roxanne Shanté, a rare female MC who rose to popularity in the early 1980s when she was just 14 years old. Not only does Adams go toe-to-toe with Mahershala Ali and Nia Long in the film, she spits with such fierce conviction that she manages to keep the entire movie afloat even when it descends into melodrama. She's so mesmerizing that the Sundance jury gave her a special award for Breakthrough Performance.
Danielle Macdonald, Patti Cake$
You'd think there wouldn't be room at this festival for two female rappers, but this charming Australian newcomer, playing a plus-sized cater waiter with dreams of rhyming her way out of New Jersey, had whole theaters at Sundance cheering her on. Macdonald spent two years learning to rap, and it shows, but her biggest achievement is in being so relentlessly sure of herself that her physicality becomes way less interesting than her fantasy life or her relationships with her ragtag band, PBNJ, her Nana (Cathy Moriarty), and her alcoholic, karaoke-master mom (comedian Bridget Everett, in her biggest film role).
Daniel Kaluuya, Get Out
As the lead of Jordan Peele's genius new horror-comedy about the terror of being a black man in a white world, the young British actor has to morph from a naïve romantic visiting his white girlfriend's parents, to an amateur detective trying to figure out why all the black people in their neighborhood are acting so strange, to a person running for his life once he finds out what's really going on. In other hands, a premise this outrageous might turn campy, but Kaluuya keeps things subtle; he's just an ordinary guy caught in an impossible situation. And he's so good, you may find yourself weeping in empathy.
Margaret Qualley, Novitiate 
Best known for playing Justin Theroux's disillusioned daughter on The Leftovers (and for being Andie MacDowell's daughter), Qualley radiates with devotion as a young woman who's fallen in love with God and has decided to undergo the rigorous process of becoming a nun. Qualley throws herself into the role, which involves sadistic acts of self-torture, and almost relentless scrutiny from Melissa Leo's unhinged, tradition-bound Reverend Mother, while rhapsodizing about God as if he's a hunk she met at summer camp. You'll never think of nuns as staid and sexless again.
Jessica Williams, The Incredible Jessica James
Writer-director Jim Strouse wrote the lead role of his new film The Incredible Jessica James for the former Daily Show correspondent, and Williams takes full advantage, delivering one of the festival's most talked-about, and most enthusiastic, lead performances. As the titular aspiring playwright, Williams dances, boasts, jokes, and jabs her way across her star vehicle, essentially giving a 90-minute advertisement for her powers. If Strouse's film's title sounds like it could just as easily refer to its lead actress as her character, then rest assured that that was the intention.