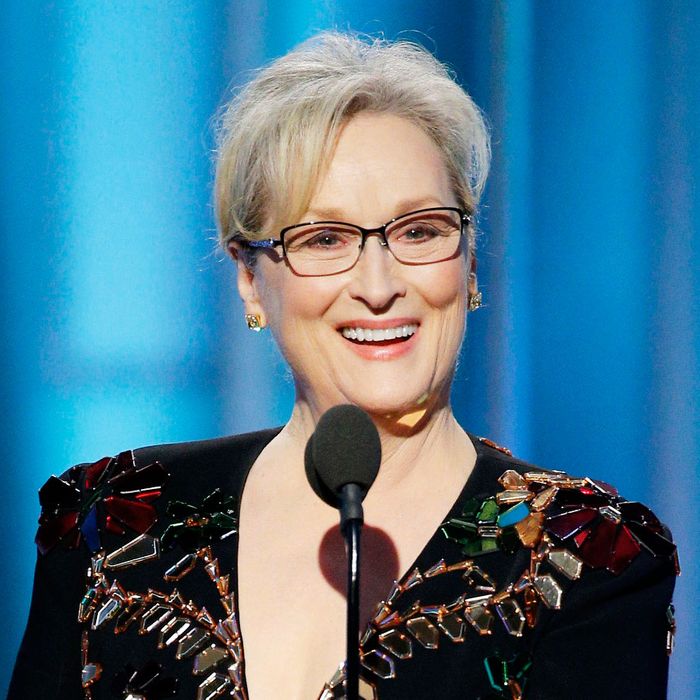 Photo: NBCUniversal Media
If the Golden Globes are any indication, 2017 promises to keep you on your toes. La La Land took home the most hardware, sweeping all seven categories it was nominated in and setting a record for the most wins by a film ever at the awards. On the drama side, Moonlight took Best Picture, but. surprisingly, Mahershala Ali, who has dominated the awards season thus far, lost out to Aaron Taylor-Johnson for Nocturnal Animals. TV kept it more interesting, with wins for Atlanta, Tracee Ellis Ross, and a curiously dominant The Night Manager. Meanwhile, there was a touching tribute to Meryl Streep by way of Viola Davis, and a measly one to Carrie Fisher and Debbie Reynolds by way of Final Cut. So without anymore painful rapping, let's get to it.
HIGH: Tracee Ellis Ross's history-making win for Best Actress in a Comedy.
Well, mama, now your daughter has a Golden Globe, too. Tracee Ellis Ross won the Golden Globe for Best Actress in a Comedy/Musical in a stacked category including Issa Rae, Gina Rodriguez, Julia Louis-Dreyfus, Sarah Jessica Parker, and Rachel Bloom, becoming the first black woman to win since Debbie Allen did back in 1983 for Fame. Moreover, this means that Tracee Ellis Ross is a Golden Globe winner, just like her mom, who won 44 years prior.
LOW: The teleprompter fail.
Things got off to a rocky start when the teleprompter failed to work at the beginning of the show. But it was really Jimmy Fallon who completely malfunctioned when he had to fill the time without a script, literally resorting to tripping over his own feet to kill time. If only he could trip his way out of a comedy career?
HIGH: The resurrection of Barb.
Sure, this was technically in the cold open and not during the ceremony itself, but who could possibly resist Stranger Things' beloved Barb emerging from the water as triumphant and acrobatic as a mermaid? Barb lives.

WHOA: Aaron Taylor-Johnson beating Mahershala Ali.
There are a couple takeaways from Aaron Taylor-Johnson's bonkers win over Mahershala Ali for Best Supporting Actor in a Motion Picture — a category Ali has owned for the entirety of awards season so far. One, the Golden Globes are hopelessly contrarian and don't matter at all, and Ali will have his just desserts when he lifts an Oscar toward the sky. And two, Taylor-Johnson's victory should be celebrated because he was good as hell in Nocturnal Animals. At least we know how the HFPA stands on mutton chops.
HIGH: Questlove DJing the ceremony …
Hollywood award shows aren't particularly known for their hip and modern music choices — instead commonly utilizing a live orchestra — so Quest's funky DJ stylings provided a major breath of fresh air. Name another ceremony where you can find intro music that seamlessly blends DJ Kool, the Hamilton soundtrack, and the Talking Heads. Trick question. You can't.
… and Julia Louis-Dreyfus pretending to be Questlove for a hot second.
LOW: Sofia Vergara's "anus" jokes.
After getting ogled like a human trophy at the Emmys back in 2014, Vergara's back to make some very bad anus jokes. And this time it's to introduce Sylvester Stallone's daughters — Sophia, Sistine, and Scarlet — who are sharing the title of Miss Golden Globe. Vergara really needs to ask award-show writers to give her some better material.
HIGH: Donald Glover shouting out Migos …
Donald Glover shouted out Migos onstage, and then backstage, he called them the "Beatles of this generation"; onstage he thanked the Atlanta rap trio just because while accepting the award for Best Comedy for Atlanta. Paul McCartney has never known such glory.
… oh, and Keith Stanfield's impromptu stage dance.
Iconic.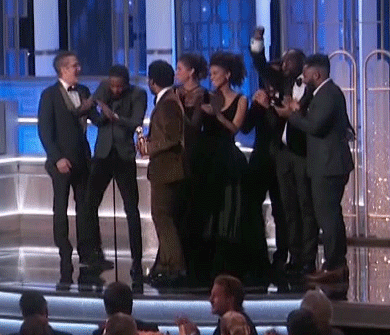 WHOA: All The Night Manager wins.
"This is obviously a terrible mixup," Hugh Laurie said when he was awarded the Golden Globe for Best Supporting Actor in a Limited Series for The Night Manager. But the wins didn't stop there for the John le Carré adaptation: Olivia Colman and Tom Hiddleston would both win Golden Globes for the show. So get to watching The Night Manager: The HFPA commands you!

HIGH: Hugh Laurie's self-deprecating speech about himself and Donald Trump.
One great thing about Hugh Laurie's win: The man can give an off-the-cuff speech when he needs to. Breaking out his classic Laurien charm, he mused about how this would be the "last ever" Globes. "I don't mean to be gloomy. It's just it has the words 'Hollywood,' 'foreign,' and 'press' in the title," he joked. "I also think to some Republicans even the word 'association' is slightly sketchy." Fair points.
LOW: Tom Hiddleston bringing a speech about human rights in Sudan back to himself.
Meanwhile, Laurie's co-star Tom Hiddleston didn't do quite as well. Hiddleston spent the majority of his speech telling an anecdote about his humanitarian work in south Sudan. While you'd think that he would simply give attention to the human-rights violations taking place, Hiddleston brought it back to himself by letting us all know that aid workers found hope in binge-watching The Night Manager. So there you have it: As bad as things get in Sudan, at least some people can watch prestige TV.
HIGH: Sunny Pawar being swept into the arms of Dev Patel.
Here was the night's "and you're pregnant" moment.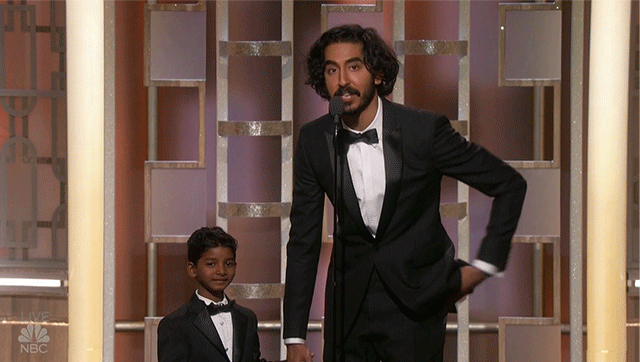 LOW: That movie "Hidden Fences."
As far as we know, Patient Zero was Jenna Bush, who asked Pharrell on the red carpet about his stunning work on the awards contender "Hidden Fences." Of course, no such film exists, and this was a mashup of two films starring black people, Hidden Figures and Fences. But it didn't stop there! Michael Keaton made the same flub when announcing Octavia Spencer as a nominee for "Hidden Fences."
HIGH: Kristen Wiig is a Golden Globes–presenting all-star.
Why isn't Kristen Wiig hosting these awards shows, you're no doubt thinking. Her bit with Will Ferrell at the 2013 ceremony was the most memorable moment of the broadcast, and this year, her turn at the podium with Steve Carell was the evening's best bit of comedy, as the two shared the personal traumas they associate with animated movies. Carell summoned tears on command talking about "Fantasia night" while Wiig looked back on the heartbreak of seeing Bambi the same day she lost three family dogs and her grandpa. Just give them the podium all night long in 2018.

LOW: The Carrie Fisher–Debbie Reynolds tribute.
These two were a legendary mother-daughter pair who brought brilliant vivacity to Hollywood in their own respective ways. What a shame, then, that a tribute to their memory had to come in the form of a too-short montage. Carrie Fisher was more iconic at her own funeral.

HIGH: Ryan Gosling's tribute to Eva Mendes.
When he won a Globe for La La Land, Hollywood's ur-Ryan used his time to thank his partner, Eva Mendes, for not only taking caring of their child while he worked on the film, but doing so while pregnant with their second, all as her brother was dying of cancer. He dedicated the award to her brother, Juan Carlos Mendez, and basically, to women, for doing everything. This was peak feminist Ryan Gosling.
WHOA: Isabelle Huppert winning Best Actress for Elle.
Sure, Isabelle Huppert may be one of the greatest living actresses, but Paul Verhoeven's unsettling French thriller Elle didn't necessarily seem like a crowd-pleaser. Nevertheless, Huppert pulled out a win, beating out Natalie Portman's work on Jackie. Maybe she is going mainstream after all.
HIGH: The Crown reigns.
It came, it saw, it conquered Hollywood. Long live Queen Claire Foy: May her reign at Netflix, though not long (only one more season, sigh), be ever this true.
LOW: Jimmy Fallon rapping.
Many of Fallon's lines fell into the structure of "this thing reminds me of something that sounds like the structure of a joke," which meant there were a whole lot of not-quite-there rap bits. The lowest came when Fallon introduced Eddie Redmayne and Jessica Chastain with an "Insane in the Membrane" joke. We get it!

HIGH: All of Viola Davis's speeches.
Two facts Viola Davis confirmed tonight: She knows how to give a damn good acceptance speech, and she also knows how to make some damn good collard greens. Davis delivered her introduction to Streep (where she brought up their cooking-related squabbles) and her acceptance speech for Best Supporting Actress in Fences (not "Hidden Fences") with signature graciousness, gravity, and humor. Everybody else, take notes.
HIGH: Queen Streep's speech.
When Meryl Streep accepted the Cecil B. DeMille award, she used her speech to take down what she considered 2016's most detestable performance: Donald Trump's. "The person asking to sit in the most respected seat in our country imitated a disabled reporter, someone he outranked in privilege, power, and the capacity to fight back," she said. "It kind of broke my heart when I saw it. I still can't get it out of my head because it wasn't in a movie. It was real life." Streep thanked the HFPA for honoring her, but reminded the room that acting is a privilege and that great art (and journalism) shouldn't cower to bullying. Streep finished with a piece of advice from Carrie Fisher: "As my friend, the dear departed Princess Leia said to me once, 'Take your broken heart, make it into art.'"