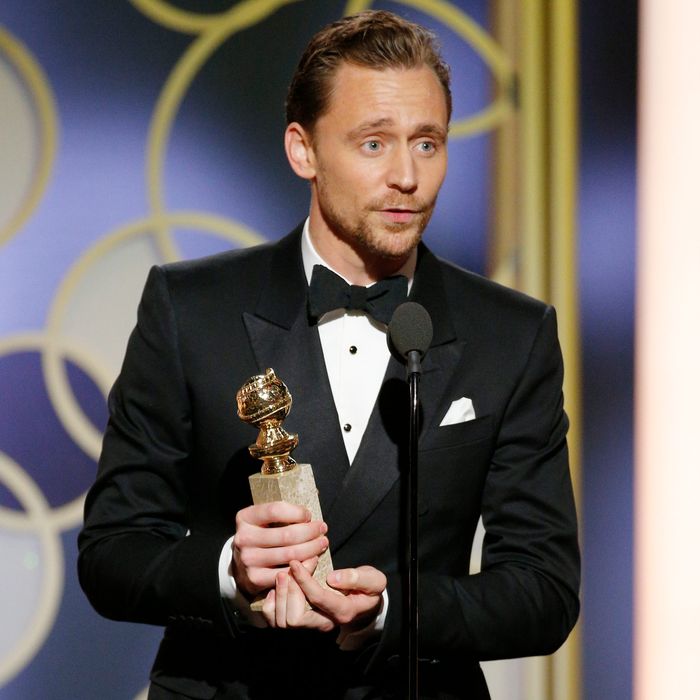 Tom Hiddleston accepts the award for Best Actor for The Night Manager.
Photo: Paul Drinkwater/NBC
The Golden Globes revel in the fact that they don't follow a script. It's basically the award show's guiding principle and its elevator pitch. "Who knows what's going to happen?" NBC's chief Hidden Fences correspondent, Jenna Bush Hager, asked just moments before Sunday's broadcast of the ceremony began. No one knows, Jenna Bush Hager. No one.
As usual when it comes the Golden Globes — a widely watched awards show whose outcomes are decided by a relatively small number of people, a.k.a. the members of the Hollywood Foreign Press Association — the smartest thing to do this year from a television standpoint was to expect the unexpected.
As a piece of televisual entertainment, it offered some surprises right off the bat. Jimmy Fallon's teleprompter briefly broke down in the very beginning of his monologue, prompting him to more or less say: "Help me, Justin Timberlake, you're my only hope." Goldie Hawn acted like she couldn't read the by-then-functioning teleprompter, in what appeared to be a bit with her Snatched co-star Amy Schumer, but quickly felt like something named after another Amy Schumer movie: Trainwreck. The audience chattered loudly every time the show returned from commercial break, forcing multiple presenters to ask their industry peers to settle down, sometimes, in Diego Luna's case, in Spanish. It was messy. But this is why people watch the Golden Globes. They come for the mess.
The awards on the television side were also a little messy, in that they landed in ways we didn't see coming. By my count, for the first time in more than 25 years, HBO walked away from a Golden Globes without a single award, which was especially notable since it led all other networks going into the ceremony, with 14 nominations. Netflix won its first-ever best series Globe for best drama, thanks to The Crown. And The Night Manager — The Night Manager! — won more Globes than any other television program, scoring three.
The one-off AMC drama swept nearly every contest in the limited series or TV-movie category, resulting in wins for Hugh Laurie (supporting actor), Olivia Colman (supporting actress), and Tom Hiddleston (lead actor). (The People v. O.J. Simpson did manage to win for best limited series and the unstoppable best-actress-winner Sarah Paulson.) Those Night Manager victories meant that Emmy-winning performances by Courtney B. Vance and Sterling K. Brown (People v. O.J.) were overlooked, as was excellent work by Riz Ahmed and John Turturro in The Night Of; John Lithgow's portrayal of Winston Churchill in The Crown, which, honestly, had seemed like a shoo-in; and turns by Chrissy Metz and Mandy Moore in This Is Us and Thandie Newton in Westworld, two of the fall's buzzier shows. Given the makeup of the HFPA, which includes a number of members from the U.K., perhaps the embrace of a British one-off series should have been foreseeable. But it still felt like a disproportionate amount of affection was shown toward one show when so many others were worthy.
Other surprises: Tracee Ellis Ross happily winning for her role on ABC's Black-ish, the one major network series to snag a Globe, and, at least to some, Billy Bob Thornton being honored for his work on Amazon's Goliath, a legal drama that, based on social-media reaction, rang no bells for a number of people. (I predicted that Thornton would win and that people would go, "What's Goliath?" It's one of the few things I got right.) Stranger Things, heavily hat-tipped in the La La Land–esque opening number, won zero Globes (sorry, Winona!), while Atlanta very deservedly earned Globes for its star, Donald Glover, and for best comedy, marking the first time a comedy with an all-black cast won that award since The Cosby Show did back in 1986.
There's a lot more analysis that takes place around the movie side of the Golden Globes because the ceremony takes place so close to the announcement of the Oscar nominations. The Emmys are so far off — they'll happen sometime in September this year — that there's barely even a dotted line that connects the two. By default, the HFPA's television choices seem less newsworthy.
But unlike Emmy voters, who tend to honor the same series year after year, the HFPA, nutty though it can be, actually comes closer to reflecting the state of the TV landscape. Television is a vast non-wasteland right now, and the amount of variety in the Globe nominees and winners — in terms of racial and ethnic background, themes explored, and platforms on which the honored shows appeared — reflects that. In other words, TV is all over the place. Even if you don't agree with all the choices the HFPA made this year, you have to admit, they got that much about it exactly right.