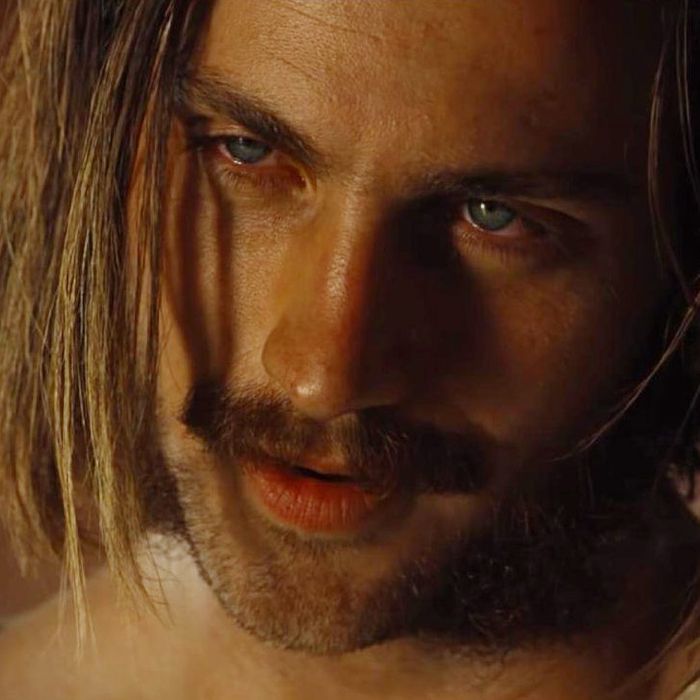 Aaron Taylor-Johnson in Nocturnal Animals.
Photo: Focus Features
When you talk about Aaron Taylor-Johnson in Tom Ford's Nocturnal Animals — a role for which he was recently and surprisingly nominated for a Golden Globe, receiving the nod over his more frequently lauded co-star Michael Shannon — you have to start with his facial hair.
Taylor-Johnson first made an impression with American audiences in 2010, when he played the title character in Matthew Vaughn's teenage wish-fulfillment fantasy Kick-Ass. The English actor was coming off good notices in Nowhere Boy, in which he played a young John Lennon, and both performances shared a sort of misfit-makes-good narrative in which fresh-faced (and clean-shaven) protagonists capitalized on their innate, hitherto misunderstood gifts.
But like plenty of other young, pretty actors before him, Taylor-Johnson's transition into adulthood was more complicated. A second Kick-Ass didn't resonate in the way that the first did, and Oliver Stone's Savages, for which Taylor-Johnson sported some ill-advised dreadlocks, also failed to make much of an impact. Taylor-Johnson then slotted himself into the blockbuster engine in a big way, taking the instantly forgettable part of Quicksilver in Avengers: Age of Ultron and the lead role in Gareth Edwards's Godzilla, a beautiful film that turned out to be, in the words of David Ehrlich, "post-human": Taylor-Johnson's Ford Brody was so bland and anonymous that he seemed more like an action figure than a character in a movie. His path to stardom seemed rough; aside from a strong turn in Joe Wright's richly cast adaptation of Anna Karenina (for which he sported a delightful mustache), he'd become an actor in need of roles that allowed him to actually act.
That brings us to Nocturnal Animals. And facial hair. You might call the style that Taylor-Johnson so gleefully sports in the film "mutton chops," since "sideburns" doesn't really do them justice: They're like two strip steaks that have been stapled to the lines of his jaw. In addition to the prominent chops, he's also got long, stringy hair and a mustache that looks like he nabbed it from Burt Reynolds's face sometime in 1973. It's full-on sleazebag attire, and before you hear or watch a second of Taylor-Johnson's performance, you know that he's working on a different wavelength than he's ever occupied before.
In Nocturnal Animals, Taylor-Johnson plays Ray Marcus, the villain within the thriller written by Jake Gyllenhaal's long-suffering writer character. Gyllenhaal also portrays the protagonist of the book, the unfortunate Edward Sheffield, a mild-mannered father and husband thrust into a hellish West Texas version of Straw Dogs. And it's Marcus who puts him there, giving the Manichean world of the novel its depraved, sneering id.
When you watch Nocturnal Animals, there are a few moments when you can almost see Taylor-Johnson's career turning in real time. The first comes when he forces Sheffield's family off the road, emerging from the car with the olive branch of an accident to report, and you realize that he's more than capable of projecting menace even as he says things that might seem conciliatory. Nocturnal Animals wouldn't work without Marcus's constant danger always lurking in the background, a fact you don't wonder about for a second. Part of this comes from the physicality of Ford's direction, but the lion's share of the credit has to go to Taylor-Johnson and his capacity for derangement. His eyes dance, and his body moves demonically. He seems possessed by the kind of ill will that enlivens the best onscreen villains, and he maintains this evil animation as he continues to tease and torment Gyllenhaal — an actor who in Nightcrawler ably portrayed the same kind of madness.
The second point comes when we see Taylor-Johnson … administer to himself as he sits on a toilet. On a front porch. Outdoors.
And the third follows soon after, when, at the movie's climax, Marcus delivers an immoral line: "It's fun to kill people. You should try it." At that moment, Taylor-Johnson's performance completes the circuit: He's a character so diabolical that he's both story engine and metaphor, encompassing the effect the writer's ex-wife (Amy Adams) had on his life, as well as the more general specter of random violence that all fathers fear. A part like that would've been a boon for plenty of loose-limbed actors who wanted to swallow some scenery after they chewed it. But pulling off those roles is a balancing act that often falls into camp and absurdity, and through his commitment and enthusiasm, Taylor-Johnson manages to stay just on the right side of the line.
While Taylor-Johnson's performance as Marcus is the latest in a thriving tradition of British actors playing people from the American South — see practically the whole cast of 12 Years a Slave — it's also the first part he's gotten since his early breakout to really showcase his specific talents. And it suggests that, Ford Brody notwithstanding, Taylor-Johnson — who, it's easy to forget, is still just 26 — could have plenty more awards ceremonies in his future.