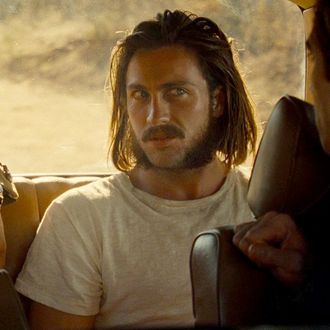 I believe it was Orson Welles who once said, "A great director always shaves his actors," and it looks like Aaron Taylor-Johnson owes a significant part of his shocking Golden Globes win to a great director, Tom Ford.
In the press room after Taylor-Johnson's upset win for Best Performance by an Actor in a Supporting Role in a Motion Picture — for which he topped presumptive Oscar favorite Mahershala Ali, of Moonlight — Vulture asked how he came to sport his "very serious" facial hair in Nocturnal Animals.
"Tom offered me the job in summertime, about three months prior to making the movie, and he just said, 'Grow your hair out, grow your beard, and grow your fingernails out,' so that I had enough to play with," Taylor-Johnson said. "And then that's what he did: He got the razors out and he personally gave me mutton chops." Jump to the 5:20 mark here to listen for yourself:
Unfortunately, or fortunately if you are a loved one of Aaron-Taylor Johnson, those mutton chops have since gone to mutton-chop heaven. But in case you were wondering, yes, Taylor-Johnson did wear a Tom Ford tux to the Golden Globes. Take note, aspiring auteurs.
Reporting by Lisa Butterworth