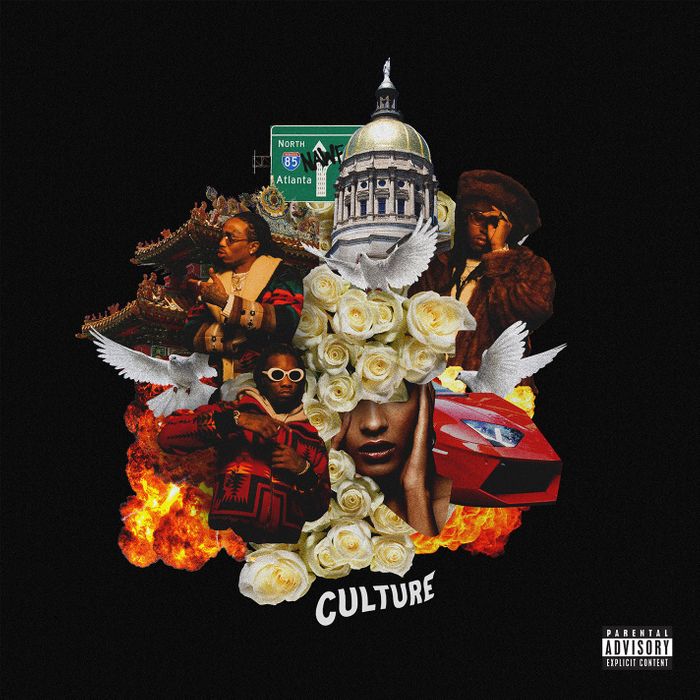 You're gonna read a lot this month about the ascent of Atlanta rap sensations the Migos' first Hot 100 chart-topping single "Bad and Boujee" and how it's this very of-the-moment confluence of social-media savvy and celebrity cosigns from Drake, who remixed their 2013 single "Versace," and Donald Glover, who shouted the song out from the stage of the Golden Globes after a win for Atlanta. And, okay, all of that stuff happened, but zeroing in on the peaks and valleys of marketing and triangulating the selling power of tweets is a stuffy, sorta inside-baseball method of parsing what has at heart been a long campaign of good music. It awards too much credit for the Migos' methodical growth to memes and outside influences when the forces powering this machine have always been hard work, good punch lines, and brotherhood.
Drake was ground zero for the Migos' mainstream explosion but few remember what happened next: The hype kicked up by the "Versace" remix made the group's spitfire signature triplet flow ubiquitous, but put group members Quavo, Takeoff, and Offset themselves out to pasture. You couldn't listen to rap radio for ten without hearing another artist slip into the Migos' flow. The group grew bitter, picking at imitators on cuts like "Copy Me" off 2014's No Label II, while the lyricism tightened up enough to land a pair of minor solo hits in "Fight Night" and "Handsome and Wealthy." Still, Yung Rich Nation, a summer 2015 attempt at capitalizing on the spike in national attention with an official studio album, lacked a certain polish and accessibility. By summer's end, it was Back to the Bando.
The Migos spent much of last year circling the Hot 100 through guest spots on friends' releases; Quavo popped up on the Young Thug and Travis Scott smash "Pick Up the Phone," and Kanye West's G.O.O.D. Music power summit "Champions" (along with the underappreciated Yo Gotti sequel "Castro") and eased into the brash, funny superstar vibrance he always seemed built for. His and Offset's growing comfort with melody and Takeoff's evergreen balance of slapstick and danger laid the groundwork for a new hit parade, winning over audiences too rigid in their hip-hop fandom to appreciate the trio's merits as lyricists verse by show-stealing verse. "Bad and Boujee" took off in part because of the proliferation of "raindrops, drop tops" memes, yes, but everything meme-able about it stems directly from the cleverness of the writing and the outlandish world of mountaintop drug deals and cross-country smuggling this group has laid out on record.
Culture, the Migos' long-promised sophomore studio album, feels like a spoil of the success of "Bad and Boujee" both because it's hard to imagine it happening without a smash hit preceding it, but also because the single's airtight punch lines and pop-trap gloss provide a blueprint for the dozen other cuts. This isn't to say that Culture is just 13 different versions of the same song. It's more like a document of the moment a group zeroes in on its purpose. Really, this is sharpshooting, a pointed case for the group's signature sound and maybe even the scene that birthed it.
Versatility is what pushes Culture a notch above much of the group's back catalogue. These aren't the same Migos that barreled through triplets for 16 bars to choruses where they yelled the name of the song until your brain melted. "All Ass" affects the swing of Future's "Where Ya At" and "Magic" for an anthem about trapping and stripping. "Deadz" balances cocky swag-rap in the vein of Gucci Mane with superhero theme music. "What the Price," "Kelly Price," and "Out Yo Way" are practically R&B ballads, the kind of tunes Travis Scott would make if he were motivated to use his Auto-Tuned yawp for something weightier than self-mythology and pharmacology. (There are those who will cite Scott as an influence for the melodic lyricism Quavo and Offset rely on throughout Culture, but you have to ignore several years of Future, Young Thug, Kid Cudi, and Kanye West to credit Trav as much more than a gifted curator of other people's shiny shit. There's something to be said for that, though, I suppose.) Each member's skill set is varied, and what's more, complementary.
Part of the reason Quavo, Takeoff, and Offset work so well as a group is that they know the value of support as much as that of showboating. There's almost always someone in the background pitching in sounds to dress up the vocal at stage front: Quavo's reverbed Gregorian chants juice up his partners' verses on "T-Shirt" and a few other Culture jams. The mix is full of off-the-wall ad libs too: check the "Brrt, skrrt, skrrt, skrrt" before Quavo's "Call Casting" verse or the unforgettable "Bad and Boujee" call-and-response of "OFFSET! Woo, woo, woo, woo, woo!" Migos' verses and choruses warp, double, and distort voices like fun-house mirrors. They get by without leaning on too many guests because these songs already sound full. Culture's got a handful of features, but the collaborations build off of natural chemistry, not the complex web of posturing and audience cross-pollination that characterizes your average major label rap album.
That's what's cool about Culture: It doesn't give off the impression that it's been tampered with and released to recoup expenses, like a lot of rap albums plagued by delays often do. It's also not the conscious rejection of rap-radio values that guys like J. Cole post up as they bang the gongs of war against rappers under 25 that didn't grow up idolizing 2pac, Nas, or Biggie. With any luck, Culture can be a calling card for young Atlanta, and a pacifier for dudes who grouse that "There's no good rap anymore," because their music tastes suspended in amber back in the era where bulletproof vests were formal wear, who wouldn't let Lil Yachty's ebullient Lil Boat occupy the same space because their ideal vessel for rap music must come wrapped in camo and suede and greasy machismo. And if it doesn't work like that, it doesn't matter. This is what rap looks like now. This is what bars sound like. You can go all Gran Torino and try to swat back a future destined to leave you behind or try to have some fun before we all run out of time. I choose life.