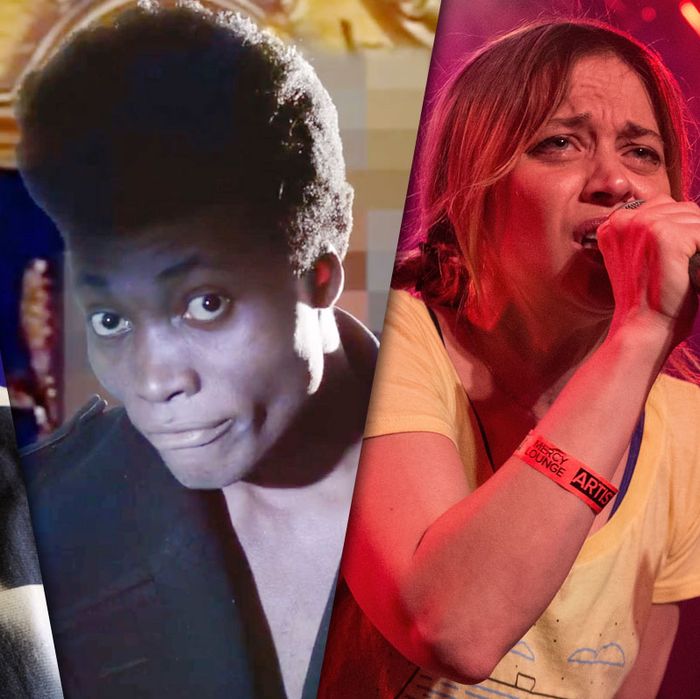 They're singing out.
Photo: Getty Images
It took chutzpah, expert wordplay, and a plain old activist's spirit to write an effective President Trump diss long before he had the title. But releasing a song in such unabashed opposition to the fledgling Trump presidency just days before — or, in some cases, the very same day — requires a certain fuck-all attitude. Prior to the election, hundreds of artists wrote, sang, and performed anti-Trump diatribes. Now that he's taken the oath of office, the barrage of political dissidence in music seems to have only strengthened by the hour. In the week of Trump's inauguration, everyone from Fiona Apple to Moby had something to say about this country's next era and they put it on wax; many of them did so as a preemptive effort to raise money for organizations believed to be in desperate need of protection and funding under Trump's administration. Here's how the music community is responding to Trump officially entering the White House.
Fiona Apple, "Tiny Hands"
What's a march without a rebel yell? Fiona Apple, who previously eviscerated Donald Trump in a Christmas carol making him out to be a pedophile, has come through with an anthem for the Women's March on Washington. It's a minute-long chant that goes a little something like this: "We don't want your tiny hands / anywhere near our underpants." Short, not sweet, and straight to the point of aiming below Trump's belt for a change. It even samples a sound bite of Trump's infamous "Grab them by the pussy" quote, because Fiona Apple doesn't dick around.
Gorillaz, "Hallelujah Money"
The Gorillaz have not always been overtly political, but after six years away, Brexit, and Trump's election to the presidency, it's time for a no-nonsense word. And who better to tell it than Murdoc, via the magnetic voice of Benjamin Clementine on a new song released on Inauguration Eve? Gorillaz, specifically Murdoc, released it to be a "lightning bolt of truth in a black night." Clementine stars in the video, which displays images of great power and evil (often one and the same) in the backdrop, while he sings from Trump Tower. It's neither too hopeful nor too pessimistic. It just is.
Arcade Fire ft. Mavis Staples, "I Give You Power"
Because there can be no power without the people to grant it (in an ideal world, anyway), Arcade Fire returned after a three-year break with none other than the legend Mavis Staples to rein Trump in. "I give you power over me, but now I say I can take it away. Watch me!" she ferociously growls. Just an unfriendly reminder that the presidency is temporary. "It's the eve of the inauguration and I think it's easy to get sucked into sitting on the couch and checking your news feed and watching things on CNN, and we're just musicians and the only thing we have to offer is our music," Win Butler said of why they released it the day before Trump became president.
Joey Bada$$, "Land of the Free"
Joey Bada$$ has gone from saving Elliot on Mr. Robot to rescuing the masses by dropping truth bombs in a new song, the first single from his next album. It protests the failures of America on race and class warfare, criticizing both Obama and Trump, though with much harsher words for the new president. (It was also timed to the inauguration.) "Sorry America I will not be your soldier / Obama just wasn't enough, I need some more closure / And Donald Trump is not equipped to take this country over," he says.
Sleater-Kinney, Boss Hog, Stephen Malkmus, and more, Battle Hymns
Before Sleater-Kinney take the stage at a Women's March after-party in D.C. tomorrow, the band's members have contributed to a compilation benefiting Planned Parenthood, the American Civil Liberties Union, and 350.org, and they're far from alone in doing so. Also on the album are Boss Hog, Stephen Malkmus, Doug Martsch, Mac McCaughan, and so many more protesting the "current political situation in the U.S.A." and "incoming administration" all for a good cause. It's a pay-what-you-want download, so pay the hell up.
CocoRosie ft. Anohni, "Smoke 'Em Out"
Few have unleashed more indictments on American politics than Anohni. Here, with CocoRosie, she "welcomes the new character who will be occupying the White House with a mob of women and children armed with forks and knives" in a new song that envisions the White House going up in flames with Trump. "In the wake of this unnatural disaster, we feel a call to rise, shout, and burn the house down. The future is female," CocoRosie said in a statement, which also comes with an emotional poem on the beginning of the Trump era.
case/lang/veirs, "People Have the Power"
The supergroup of Neko Case, k.d. lang, and Laura Veirs have been performing their version of Patti Smith's timeless call to action "People Have the Power" since last summer. But it's only now, in the wake of a new transition of power in the nation's highest office, that the trio have decided to properly release a live version of their Patti cover. "We hope Patti's message resonates with you as you march in solidarity this weekend, and during the next 4 years," they explained in a message. The song's cover art adopts the logo of the Women's March on Washington and uses it instead with their own likenesses, just in case you missed the point.
Green Day, "Troubled Times"
If the message of Green Day's impromptu anti-Trump chant "No Trump, no KKK, no fascist USA!" during their performance at last year's AMAs was lost on anyone, there's no misinterpreting their latest protest. In the lyric video for "Troubled Times," off last year's Revolution Radio, they depict Trump as a literal cartoon getting attacked by his own orange toupee amid the apocalypse.
Sateen, "Love Makes the World"
Now that noted homophobe Mike Pence is officially vice-president, queer people will need all the love they can get it. Miss Queen Sateen is here to spread it with immediacy by releasing a song not meant to harp on pain (though it admonishes racism), but invoke hope. "They will not ignore us," Sateen sings with her partner Exquisite in a video that features nearly every person of color on the rainbow spectrum of queerness. In a message to accompany the song, they say they wrote the song because "hatred and bigotry have been given a megaphone, and that is simply not ok." Instead, they're amplifying their own voices to rise above Trump's.
Mount Eerie, Pains of Being Pure at Heart, and more, Is There Another Language?
Mount Eerie, Pains of Being Pure at Heart, and more have contributed new songs to a compilation that will donate all proceeds to the ACLU. It begins with a spoken reflection on November 9, and then ruminates on women's reproductive rights and questions if we'll ever feel safe again. It also includes a rarity from Surfer Blood. Download it here.

Moby and the Void Pacific Choir, "Erupt & Matter"
Had Moby (yes, Moby) DJ'd Trump's inauguration, he said he would've curated a playlist of nonstop protest jams. In fact, he made one just for kicks. He also made a lyric video bashing Trump set to his song "Erupt & Matter" using pointed footage of Trump's antics coupled with protests against him that reaches a conclusion that goes without saying, though he'll say it anyway: "We don't trust you anymore."
Entrance, "Not Gonna Say Your Name"
If treating Trump like a villain means likening him to Voldemort from now on, Entrance are already way ahead of you. To raise money for Planned Parenthood, the L.A. band have released a song that doesn't once mention Trump by name, but it's never unclear whom they're addressing when they say they'd "rather not hear it anymore." The song, released just before his inauguration, speaks to resistance and being wary of giving Trump the benefit of the doubt.
Danbert Nobacon, "Revolution 9.01"
Yes, even Danbert Nobacon, the guy from Chumbawamba, has a Trump protest song. It's a folk tune that accuses Trump of being an oligarch who knows zilch about science and is unfit to lead anyone, let alone an entire country. "President couldn't even get a job in a public high school," he mocks Trump. Resist the urge to chuckle, because the man makes some solid points.
Troye Sivan ft. Betty Who, "Heaven"
Though the song's been out since 2015, gay YouTube star Troye Sivan tactically waited until Inauguration Eve to release the video for his uplifting LGBTQ anthem "Heaven." In protest of Vice-President Mike Pence's virulent anti-gay politics, the video features inspiring moments from the gay-rights movement, from Harvey Milk's speeches to the legalization of same-sex marriage, juxtaposed with images supporting the need for a continued fight. It includes footage of conversion therapy and gay men being treated like science experiments instead of human beings — an unmistakable jab at Pence and a reminder that the queer community knows its history and refuses to see its work reversed or undermined during this administration.
Laura Stevenson, the Menzingers, and more, Don't Stop Now
Out of Philly comes a compilation album raising money for the ACLU that features artists singing other artists' songs. It's got Laura Stevenson covering Townes Van Zandt, the Menzingers doing Jason Isbell, Jeff Rosenstock covering Bikini Kill, and Cayetana's Allegra Anka on Pup. "Let it serve as a reminder that the fight for justice is not over, that the celebration of diversity is essential to progress, that we must work together for what is fair and good. Can't stop. Won't Stop. Don't stop now," they said in a statement.
Angel Olsen, "Fly on Your Wall"
The Our First 100 Days charity campaign, which will release one Trump protest song every day for the first 100 days of his presidency, kicked off on Inauguration Day with a new song from Angel Olsen that cuts to the heart of America's bleak mood. She sings of the unshakable disillusionment of having borne witness to the death of a dream. An American one, we can only assume. Oh, to be a fly on the wall in the Oval Office now.