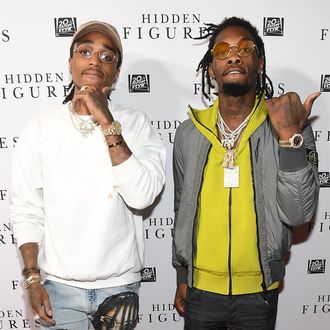 It was only a matter of time.
Photo: Paras Griffin/Getty Images for 20th Century Fox
Rain drop, drop top, 2017 coming in hot hot. Truly, is there a better way to ring in the year than with a new entry into the Hot 100's Top 10 that was lifted by the strength of a meme? Just as 2016 ended with the internet strongly influencing the Billboard charts, 2017 is off to an almost identical start. With Rae Sremmurd's mannequin-challenge-driven "Black Beatles" back at No. 1 after a week away (the Weeknd and Daft Punk's "Starboy" briefly took over), they're now joined at the top by more meme fodder. Migos' "Bad and Boujee," featuring Lil Uzi Vert, has leapfrogged from No. 13 all the way up to No. 2 in a week's time, becoming the most-streamed track of the last seven days and the trio's first-ever Top 10 hit. Usually such a surge is owed to the release of a new video for said song, but that isn't the case with "Bad and Boujee," whose video cameo out back in October. Instead, Migos have you all to thank. Yes, you. The ones who spent your holiday break coming up with a million ways to rhyme "rain drop" and " drop top" with absolutely anything and turn it into a meme. Because of you — especially those of you in Lagos, Nigeria — more than half of those streams came from YouTube, many being viral fan-made clips. Hit your dab accordingly, moms.