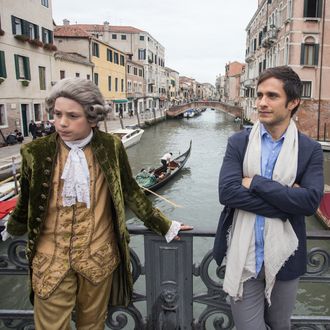 Wait, this isn't a jungle!
Photo: Gianluca Pulcini/Amazon
The Jungle is growing, but Oaks is getting the ax. Amazon announced today that it has renewed its orchestra comedy Mozart in the Jungle for a fourth season, while the '80s-nostalgia comedy Red Oaks will also return for a third and final season. Mozart, a Golden Globe favorite, stars Gael García Bernal, Lola Kirke, and a bunch of actors who make serious faces while playing instruments. Red Oaks stars Craig Roberts, Paul Reiser, and a lot of vintage country-club athletic shorts. Both shows will release their new seasons sometime later this year.