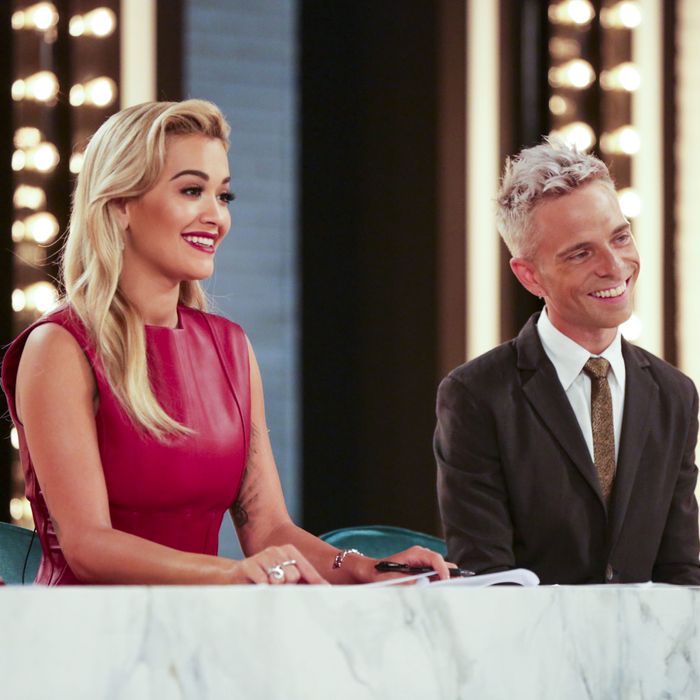 Rita Ora, Drew Elliott.
Photo: VH1
Finally, an avant-garde challenge worthy of Tyra Banks putting a grieving woman into a casket, then lowering that casket into an open grave and making the woman depict one of the seven deadly sins! (It wasn't gluttony, which you might recall was reserved for the cycle-four contestant who had allegedly gained some weight.) Enough with all that social-media branding. It's time to put these gals in a refrigerated meat aisle and let the ANTM magic happen.
Personally, I wish more contestants chose to douse themselves in dairy like always-down-to-clown Marissa, but not everyone is born to be a star. Also, not everyone is born to be a model, a fact that this iteration of America's Next Top Model seems to be particularly unconcerned with. At one point, Rita Ora reminds us all that she "didn't come into this industry as a supermodel. I came into this industry as a musician/entertainer … I don't think you necessarily have to be just a supermodel."
Rita. I understand if you feel the need to explain what it is you do until every American is finally like, "Ohhh, okay. It's like if Rihanna, Kylie Minogue, and Eliza Doolittle from My Fair Lady had a love child. Sure, I get it now." But this is America's Next Top Model and these contestants do have to actually MODEL. If they can't figure out how to do it, then it's time to hit the bricks. (Or call up Carson Daly and pursue a different avenue into the entertainment industry.)
So thank goodness we finally got a real-deal solo photo shoot to separate the strong models from the contestants who are just nice to look at. Interestingly, the episode homes in on the models who best understand their signature "look," since Law Roach is astute enough to know the difference between true personal style and just playing dress-up. He shows up at the house to remind the contestants that "girls are becoming famous just from street style," which, sure, if we're using "famous" relatively and mostly just talking about Zendaya. I don't think we can really say the Kardashians became famous because of their street style.
Nevertheless, a memorable style is certainly a positive, so Law quizzes the contestants on how they'd define their personal style. Naturally, they respond with things like, "sexy royalty" and "sultry glam," which sound like excellent new TV shows coming to the E! Entertainment network. When Law gives them 15 minutes to rifle through their own clothes and prove they know how to show off their signature looks, the wheels quickly fall off for some.
Krislian tries to say she has an eclectic style, but the most noticeable thing about her style is the consistent presence of a neckline that nearly hits her bellybutton; Law tells her she needs to trend classier. Meanwhile, poor Giah knows that she has no signature look to speak of, so her best attempt is colored denim, a loose sweater, and a (not kidding) cargo vest. Coryanne, on the other hand, is sure that she has a very memorable style, but categorizes it as the meaningless "model eclectic." Law informs her he can't remember anything she's ever worn in front of him. Ouch.
Tatiana says she's "model chic" and that slight tweak in terminology seems to be the ticket, because Law loves everything about her tight black skirt and crop top, reflective sunnies, and oversize denim. Yeah, that is what a model would wear. Just look put-together, get your weave right, and don't make Law mad.
Also, don't make Drew Elliot mad because he's shaping up to be our consummate J. Alexander at the photo shoots. This time, after being schooled by Law to have their very own style, the ladies are informed (via RitAlert, natch), that they'll be wearing outrageous clothes that may not suit them at all: "Make sure you wear the clothes, the clothes don't wear you." That's easier said than done, considering that the photo shoot is styled by Nicola Formichetti, artistic director of Diesel and "creator of Lady Gaga's image." In true Gaga form, Drew meets the models in front of the raw-meat aisle of an Associated Foods in Harlem, then informs them that they'll be wearing insane couture dresses, 12-inch-tall shoes, and posing in a grocery store à la Chanel's fall 2014 runway show.
Cody is the first to shoot in a fabulously cascading gown made of tiny Polaroids. (I think.) The judges can tell she's feeling much more confident without her twin sister also competing, but certainly more impressive is the fact that Nicola tells Drew that Cody's androgynous shoot was one of his best editorial shoots ever. Not bad. Also not bad is Paige, who has no problem getting playful in a bunch of plastic-wrapped ground beef while wearing a wedding-cake topper as a headpiece. Drew finally gets exactly what he was hoping for, which is apparently "sexy Britney Spears bride in the meat department."
India stands out for the first time all season — and not because of her purple hair, but because Law says she was able to find her shape in a dress made of hundreds of iridescent gift bows. Binta continues to make it all look effortless, and even though she doesn't move as well as Nicola hoped, her picture is hot-pink fire. Marissa gets the high praise she gets every week for nailing her photos while showing her fun personality (this time with balloons and a weave full of milk!), but for some reason, she seems to still be getting the montage treatment. The model who probably wishes she'd gotten a little less attention is Courtney, who once again serves it up in her photo because "motha has a face," per Law, but per Drew, motha also cannot stop complaining to save her life, and it might lose her the competition.
The stars of tonight's shoot are Tatiana and Coryanne, surprisingly enough. Coryanne started off the competition strong with her supermodel looks, not to mention her supermodel mom, but hasn't delivered in the challenge department. Personally, from all her talk about how much it sucks to miss Coachella with her model friends back home, I think she's just a little too immature. But there's nothing immature about her stunning final photo: She had no problem hopping right up on the grocery shelf to show the full extent of her voluminous black gown, making herself look about 100 feet tall in the process. Tatiana gave the more well-rounded performance, winning the personal style challenge, impressing all the judges with the headway she's made toward becoming her own brand, and giving a high fashion photo with a truly elegant reach for milk.
Coryanne ultimately gets top photo, but as for the less successful, it comes down to those who simply don't have the right look (Giah and Krislian) and those who don't have the right persona (Kyle, and for a later day, Courtney). I've liked Kyle up to this point, but she was pretty surly throughout this episode and didn't exactly give out the vibe that she'd be willing to make the personal sacrifices — of strictly looking edgy and badass, of occasionally wearing uncomfortable one-foot-tall Achilles shoes, of having to speak and interact with other humans — it would take to be a successful model. "I don't necessarily have a natural knack for how to pose my face and how to hang my body. But I do have this fire inside. I am boss and I am a brand," she says. The thing is, no matter what a marketing company told VH1 to shill out this season, those first two things are, like, 100 times more important.
Meanwhile, poor Krislian is still being told she's the sexiest thing since Phoebe Cates in Fast Times at Ridgemont High whether she's wearing a crewneck or just chilling on set getting her hair done. I'm with her when she wonders if it's because she's Latina. I mean, she's hot, but what the hell? The main problem tonight is that she continues to get caught in her billowy black dress and headpiece. She gets one great photo, but Drew says the rest are unusable.
If it weren't for sweet, pure-hearted Giah, it would surely be Krislian's time to go. And, of course, if it weren't for Ashley Graham — you know, the real supermodel — who repeatedly shuts down Rita's attempts to change the otherwise unanimous vote at the last minute because Rita says that they're making a mistake and a brand can be built. Okay, sure.
The problem with Giah isn't just that she doesn't have a signature style — wait, is being kind and adorable not a signature style?! — but that she doesn't give anything special in her photos. That's why she had to go. Giah was never going to win this thing, but if we were going by that criteria, we could probably cut it down to the final four right here, right now. Without her emotional stability in the house, I'm afraid these other women might just start peeing on the walls and lighting each other's hair on fire. Now that's a signature style!