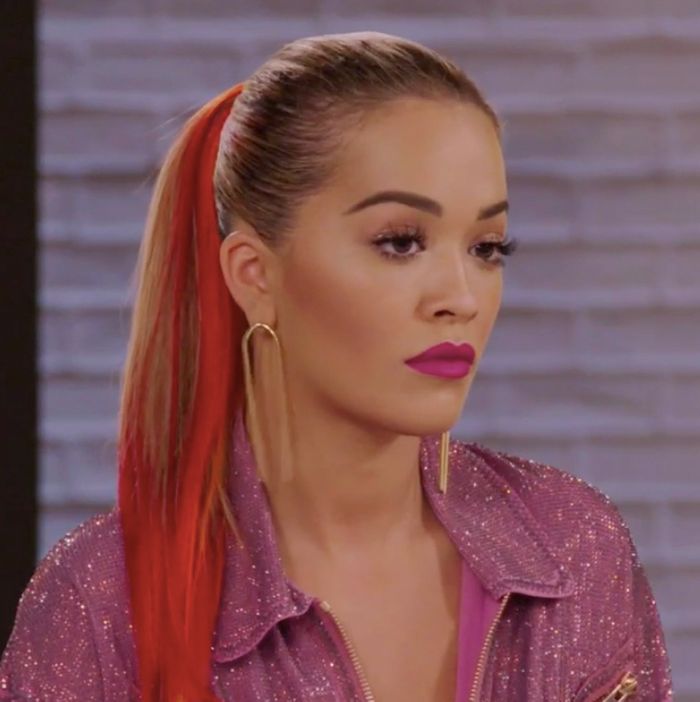 There are two things I forgot about original flavor ANTM: 1) The beef is always better when it's based on modeling drama instead of personal drama; and 2) these girls are young. They're so young! We're not only watching them learn how to model — or how to crump, or be in a fake music video, or conquer their fear of spiders, or whatever — but watching them learn how to be working, professional adults. Or semi-working, pseudo-professional almost-adults.
Both things are exemplified perfectly in Marissa, the 18-year-old who's a good model but doesn't totally know how to be a good person yet. She starts off the episode by laying claim to a recently vacated closet, which she feels entitled to via the following logic: "Because I put my shit in it!" She later talks back to a coach who's trying to help her because "she annoys me," and "I don't want to be rude, but I'm already fabulous." And then she cops a 'tude at panel! What in the name of Tyra is this child thinking?
Speaking of Tyra Banks, I have four words for you: Shake ya body, body. Okay, four more: Move my body, body. That's right, in grand ANTM tradition, the contestants film a music video in this episode — but unlike cycle two's unforgettable original song by Tyra, or cycle nine's video for Enrique Iglesias, the models of cycle 23 won't dance to an actual song by an actual singer. (They should consider it a win that they didn't have to sing their own song like the ladies of cycle 18.) Despite the questionable purpose for this "music video," the episode benefits majorly from two big industry names, the fierce presence of Stacey McKenzie, and — gasp — an actual prize.
The first of those big industry names comes in the episode's challenge, where the contestants learn how to "be modelesque while staying in motion." So basically, choreography. While that's a word that strikes great fear into me, these girls get to learn their choreography from Chris Grant, Beyoncé's personal choreographer. Stacey McKenzie, back in the house for some walking-adjacent mentoring, tells them that Chris took a quick break from Bey's Formation tour to come help, and although I don't know if that's the whole truth, I don't care, it's pretty cool.
Chris has created a routine for the contestants to learn and perform, which requires them to end with a few of their own "signature personality moves." I want you to take a few moments to think of what your own "personality moves" would be. I'll wait.
It's a pretty daunting task, but none of the girls freak out about having to learn a Beyoncé-worthy dance (I mean, y'know, kind of), and some, like Paige, feel especially confident because of previous dance experience. Marissa, however, says she only has experience with "ass shakin'," but that's not what bothers Chris and Stacey. They think Marissa isn't taking the task seriously and just laughing her way through it. They're right. They're also right that Kyle looks completely ill at ease trying to perform hip-hop choreography. On the other side of the spectrum, Paige uses her competitive-dance experience to ace the choreography, and as always, Tatiana is a consummate professional, taking every note to give the effect of a model in motion.
That's how she wins an actual prize. Yes, Tatiana gets to be the "new face" of Gypsy Sport. I wonder how Kyle feels about the fact that she got a selfie for her challenge win, and Tatiana got an entire ad campaign? She also gets to learn more about Gypsy Sport the next day, since the models will be wearing the brand when they — RitAlert! — perform the choreography they just learned in a "scene from a music video."
Once again, I must note that no actual music video is made in the making of this so-called music video. But, also once again, the challenge is elevated by an industry pro with serious street cred. Director X, a music-video director with names like Drake, Rihanna, and (hold onto your hats) Rita herself will be shooting the contestant's scenes. He's a no-nonsense guy, and considering that the girls only get one take to hit their marks, bring the right energy, and show that they can maintain their model status while in motion, it's a pretty challenging task.
Courtney takes a little time to complain about her nut allergy, saying that the makeup artist used an almond-oil-based lip product that's later proven to not, in fact, have any almond oil in it. But the near flirt with an almond must spook her because she gives a poor performance in her video. Director X is no fan of the fact that she misses pretty much every mark, and at panel, Law Roach breaks down the larger issue with Courtney perfectly: "You are Italian Vogue, but you need to know how to be Teen Vogue, too." He says the same comment goes for Cody, whose video Rita likes, but Director X says was lacking because she treated each moment like a still shoot, rather than an ongoing performance in motion.
The judges are also divided on CoryAnne, who impressed Director X with her comfort in the moment and her cool-girl vibe. On the other hand, Law thought that vibe read less "model music video" and more "back-to-school commercial." The man knows how to shade. CoryAnne, who is really growing on me, says she gets it: "More fierce, less smiling." Binta is much more frazzled by her negative feedback, which seems to be a bit of a perception-versus-reality situation. Going into the shoot, Binta assured us multiple times, in a completely monotone voice, that she is a "very energetic and playful person." At panel, the overall effect elicits a "sooooo bad" from Ashley and "batshit crazy" from Law.
Luckily for her, Tatiana has just the right amount of energy and Director X says she owned each moment. Paige somehow overcame a truly dorky bucket hat to be X's favorite shoot of the day, but after watching the finished products, it's India who everyone is most impressed with. She never stopped moving and making things interesting, and perhaps most importantly, she used everything she learned from the challenge to get outside of her normal brand, making herself into a funky, sporty model for the day.

It's India's effort that wins her Top Photo, and Marissa's loss that nearly loses her the competition altogether. After her run-in with Stacey, Marissa comes to panel knowing she's in trouble, and therefore with an attitude that screams, in Ashley's words, "I'm better than this and I don't want to learn." Maybe until that moment, Marissa did believe that. But there's nothing like a big director to remind you that the higher-ups in this industry do talk, and landing in the bottom two guarantees a swift understanding of how this competition works. Still, Marissa's misstep wasn't major enough to overshadow Kyle's continued inability to elevate beyond one note. To Kyle's credit, at least she went out giving it her all.

Plus, she'll always have that Zendaya selfie.