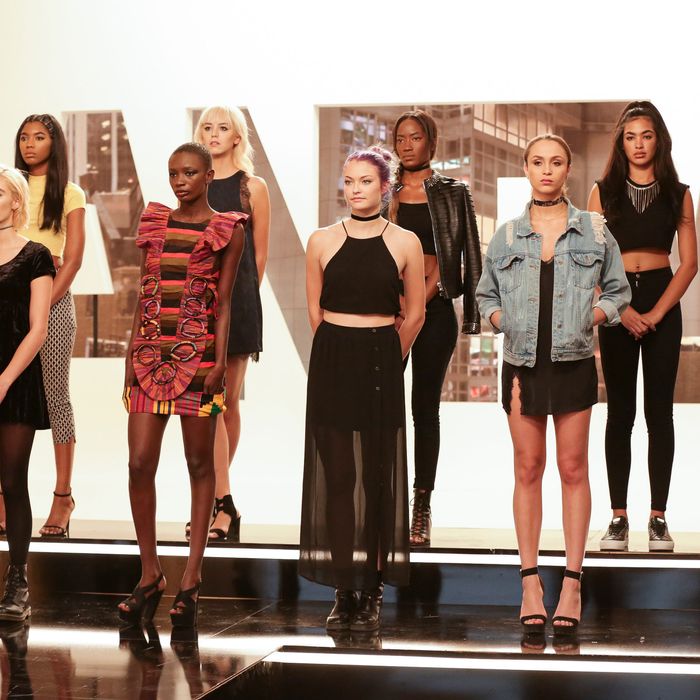 The first Tyra-less cycle of America's Next Top Model has reached its halfway point, and though we've yet to see a fake fainting spell or a beard-weave, the competition has nevertheless been whittled down to eight wannabe models. As far as model looks go, these elite eight seem like a pretty strong bunch — but the halfway point also appears to be when many are primed to crack under the pressure.
As Tatiana, India, Marissa, and Cody rise to the top thanks to their confident approach to every photo shoot, the earlier front-runners like Courtney, Binta, and Cory Anne are sinking fast. Binta's been completely shaken by the negative critiques of weeks past, Cory Anne's head seems to be out of the game and stuck on her "perfect life" back home, and Courtney continues to display a near-pathological need to complain about everything. Oddly, these are the same girls who insist they "need" this competition the most, which we know because we're finally learning a little more about their backstories.
The personal stuff starts after Courtney complains about a cutting board (or, y'know, something) and Cory Anne decides she can no longer take it. She's previously stayed quiet while listening to Courtney complain and speak disrespectfully to others, but now she tells Courtney that her communication style is short and rude. "For future reference," she says, "If I don't like the way that you're treating someone, I will say something." That all seems pretty noble, especially since no one can tolerate Courtney. But then Cory Anne has to top her defense with this testimonial-room statement: "It's not the fucking Courtney show … it's the fucking Cory Anne show! I'm the superstar in this bitch."
See, Cory Anne's whole thing is that she's the daughter of a former supermodel and, by her own admission, is considered high-maintenance and shallow by her parents. "I love my social life, I love how much I go out, I love all the dinners I go to," she says. "My perfect life. Ah, it's perfect!" Explaining her perfect life sparks one of the two times Cory Anne gets emotional this episode; the other happens when she hears how not perfect new-sworn enemy's life has been. Courtney and her mother were homeless when she was younger, and when they finally did find an apartment, her mother was a hoarder and hung out with the wrong people. Courtney had to raise herself until her mom finally kicked her out of their home at age 16.
That is rough stuff. It makes you want to root for Courtney. It also makes it even more infuriating how Courtney and her perfect face cannot see that her attitude is the only thing keeping her from dominating this competition and probably being a really successful model. But I'll let Drew Elliott explain that at panel.
For now, it's time for a RitAlert (filmed in an outfit and setting we have 100 percent seen before): "It's time for a taste of the high life." In other words, they'll be heading to Philipp Plein's home — you may remember him as the meaner designer from the premiere's go-sees — styled in some of his incredible couture gowns, to act as a "fashion editorial come to life" for party guests. Law and Drew are there to oversee, and Law points out that this is the same way Diane von Furstenberg showed her most recent collection.
The models are paired off and placed in different rooms of Philipp's gorgeous home to act as opulent living art. Tatiana and Cory Anne, who says her friend does this for Gucci all the time, strike dramatic poses around their room. Courtney and India lounge in dramatic poses all over their room. For some reason, Paige and Binta choose to stay in one position and just lie all over each other, even when Drew, Philipp, and Law tell them it's not entertaining in the least. According to the partygoers, who get to vote on who wins the challenge, no one holds a candle to Marissa and Cody. Even though it's a little cringey to listen to them "act" in their room (sample dialogue: "Give me the purse!" "No, give me the purse!"), if you were snapping photos of this "live editorial," theirs would undoubtedly be the best.
That's how they wind up winning this cycle's second actual prize: a trip to Philipp Plein's Madison Avenue store to pick out anything they want. Presumably there's some kind of limit, but Marissa and Cody both walk out with dope leather jackets and purses, so who knows. And it means they're extra comfortable with the next, as Marissa would say, "fancy shit" challenge: The models will be sporting more Philipp Plein goods to shoot a high-end editorial spread in and around a private jet. Oh, and their scene mate for the shoot is none other than Jason Derulo — an actual famous person!
Jason was also at the party challenge, but this is the first time the models really interact with him, and some of them rise to the jet-setting supermodel role more naturally than others. Marissa, who says she lives paycheck to paycheck in the real world, is totally comfortable draping herself over Jason inside the jet. That, on top of winning the challenge, seem to have erased her bad attitude in the panel's eyes: Law says she's serving total Baby Phat realness in her fresh-faced photo, making her look like Kimora Lee Simmons's daughter — a very accurate compliment.
Meanwhile, the girls who had to pose on the steps of the plane seem to have a harder time. The judges tell Paige she looks fine, but isn't telling any sort of story with her body or face. Law says he disagrees: She's selling the goods and that is precisely her job as a model. Cory Anne, conceivably the only one of these young women who might have ridden on a private jet before, doesn't manage to sell Philipp's designs or the idea that this particular private plane belongs to her. Rita tells her it looks like it's Jason's plane and she's just the hot airline attendant. Yikes.
It's Cody who looks most at ease with the private jet life. As Ashley says, her long legs and sultry elegance announce that this is her plane. India is also serving "fierce luxury" vibes with that killer face of hers. Law is feeling all sorts of '90s Versace, plus this pretty major compliment: "Pictures like this and faces like that are what made me want to be in fashion." But even India can't top Tatiana, who finally gets the win she's been after by steadily elevating from good to great to the fire she's giving in her indulgent jet-setting photo.
Which probably makes Binta and Courtney wish they were Tatiana right about now. Courtney. Just. Can't. Help. Herself! She's said over and over that this competition is everything to her, and I believe her. That's why it feels like some sick joke when she claims that she "had really bad allergies on set" after the judges aren't impressed with her photo. COURTNEY! Drew, who has completely had it with her, asks if she knows how much a photo shoot like this costs, not to mention getting Jason Derulo. If the model doesn't feel well, he's supposed to … what? Scrap it? She says she understands, but he knows (and we know) that she doesn't.
Or at least she hasn't up to this point. Against all odds, Courtney still has one more week to show that she can figure it out — because Binta's rising insecurities affected her photos one too many times for the judges. After they see her disappointing work, Rita tells her, "I don't think it's us, I don't think it's the competition, I think it's you," and she's sent home. Judging by the hellish-looking previews for the next episode, it might not be the worst time for Binta to take a little me-time. So don't forget that ANTM is moving to Wednesdays, starting on February 1.