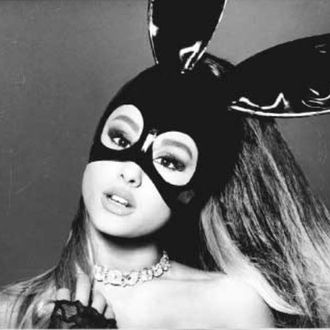 Ariana Grande, renegade rabbit.
Photo: arianagrande.com
Sure, Final Fantasy is one of the best-known, longest-lasting, and most medium-spanning game series of all time, but there is one thing that has eluded the franchise until now, at least according to Ariana Grande. That thing is "the cutest thing i've ever seen in my entire life," Grande herself. Grande will be a character in the new update of mobile game Final Fantasy: Brave Exvius, and, well, the singer is pumped. Revealing the news with an Instagram photo of her attending a meeting with some Final Fantasy higher-ups, Grande gushed: "I'm SO so excited to finally share that I'll be featured in FINAL FANTASY BRAVE EXVIUS *crying* 🌌♡ check out my character in the game, it's the cutest thing i've ever seen in my entire life and i'm so excited and in love with it i cannot contain myself." She also posted an early look at her character, who has the likeness of Grande in Dangerous Woman leather-bunny-ears mode. The headgear means Grande's hair is down, so the whip of that sky-high ponytail is not a weapon, alas. Given that the sneak peek shows Grande's character emanating some punch-packing musical notes, however, Grande could still kill you in the ballroom with her pipes. Check out Grande's adorably compact fury below.
pretty lil thing holds her own in a room of men in suits ♡ 👋🏼 I'm SO so excited to finally share that I'll be featured in FINAL FANTASY BRAVE EXVIUS *crying* 🌌♡
check out my character in the game, it's the cutest thing i've ever seen in my entire life and i'm so excited and in love with it i cannot contain myself. #FFBEWW 🌌🌌🌌🌌🌌🌌🌌🌌🌌🌌